Air Quality Trends
Photo by Perry Quan / Flickr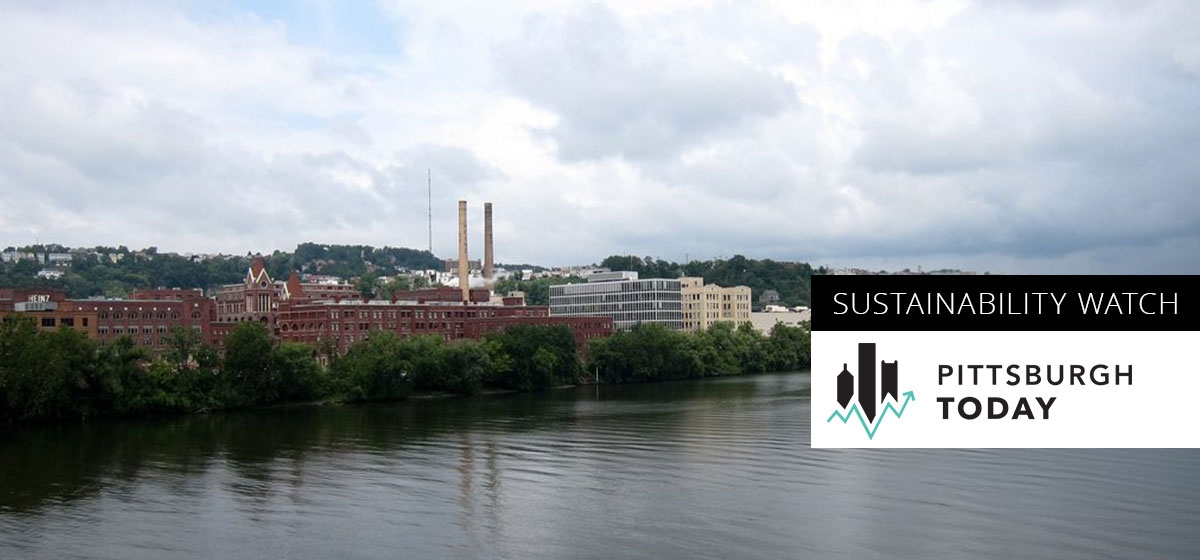 December 19, 2016
The days when Pittsburgh earned the reputation as the "Smokey City" may be long gone, but the quality of the region's air remains a concern.

Air quality has improved across the region for more than two decades due to a number of factors, including the decline of local steel and other heavy manufacturing, tighter air quality regulations, advocacy efforts to improve compliance, technological advances and industry investment.
More 'healthy' days
The number of unhealthy days in the Pittsburgh Metropolitan Statistical Area for all groups of people as calculated by the U.S. Environmental Protection Agency Air Quality Index (AQI) has generally followed a downward trend since 2003. Annual measures of two widespread air pollutants, ozone and PM2.5, have also declined.
The AQI is reported daily to inform the public of the quality of their air and the level of health risk it poses. The index includes measures of five major air pollutants regulated under the Clean Air Act: ground-level ozone, particulate matter, carbon monoxide, sulfur dioxide and nitrogen dioxide. The AQI reports uses color-coded categories ranging from good to very unhealthy, which includes air considered hazardous.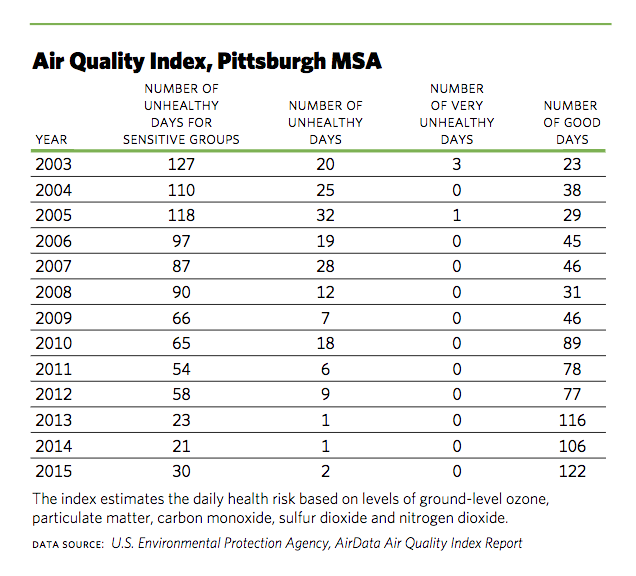 Better, but not good enough
In 2015, the AQI recorded 122 "good" air quality days in the region – the highest single-year total on record. Still, only one-third of the days that year fell into the healthiest AQI category.
While the skies appear much cleaner than when steel and other heavy industry were the backbone of the region's economy, it's pollution the eye can't easily detect that remains an issue, including ground-level ozone and fine particulate matter known as PM2.5.
Levels of ground-level ozone and PM2.5 have decreased across the region in the past decade. But better air is not necessarily healthy air when evidence that links pollution to disease, disability and premature death is considered. Studies increasingly report stronger evidence tying lower levels of air pollutants to disease. Exposure levels once considered adequate to protect human health are regularly rendered obsolete in light of new, more ominous evidence of a pollutant's potential to harm, leading the EPA to periodically tighten the National Ambient Air Quality Standards.
All seven Pittsburgh MSA counties were listed as being in nonattainment of current air quality standards for ground-level ozone, 8-hour annual average in 2015. Allegheny County was one of only 20 U.S. counties in nonattainment of the annual PM2.5 standard. And the air in parts of Allegheny, Armstrong and Beaver counties failed to meet the federal sulfur dioxide limit.
This brief is a summary of a more detailed analysis published in the 2016 Sustainable Pittsburgh Southwestern Pennsylvania Sustainability Goals and Indicators Report.