ACMSF Awards Gala Salutes Physician Heroism
March 2, 2019
Photo by Viglione Photography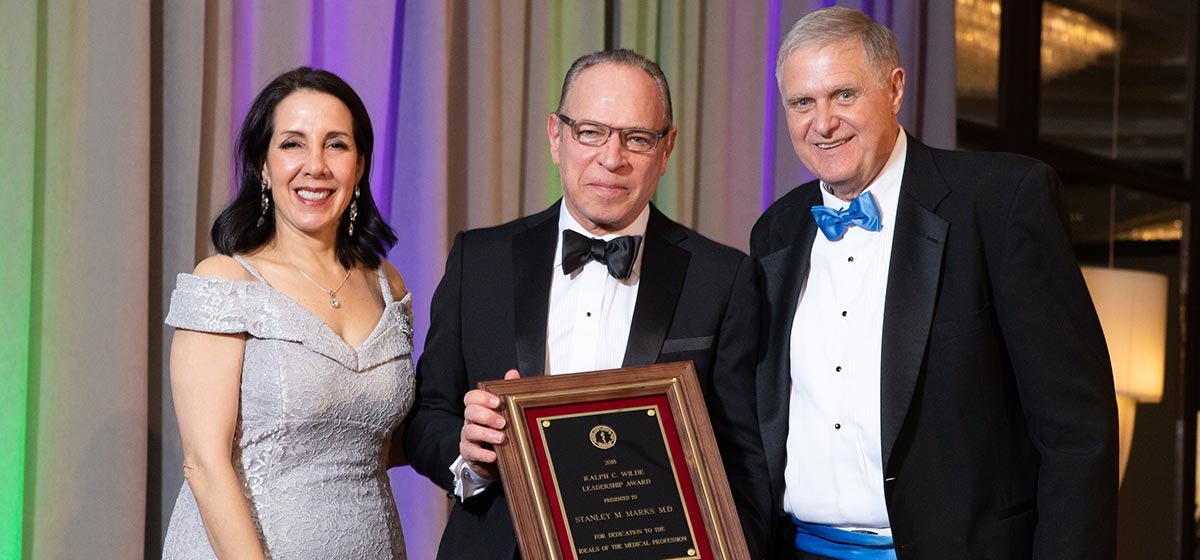 March 4, 2019
More than 300 guests gathered for the Allegheny County Medical Society Foundation (ACMSF) Celebration of Excellence Awards Gala at the Westin Convention Center Hotel, downtown Pittsburgh, on March 2.
---
---
An intimate champagne VIP reception kicked off the evening which recognized top gala sponsors and honored 2019 ACMS president, Adele L. Towers, MD, MPH, FACP, and ACMS immediate past president, Robert C. Cicco, MD, for their dedication and leadership to the society.
An open reception featured musical entertainment provided by Steven Vance, a silent auction organized by Sammar Accessories, beautiful jewelry selections provided by Sabika, a wine-pull and photo booth.
Proceeds from the gala benefited the ACMSF which supports home and community environments that nurture and develop healthy children and families for a healthy Allegheny County.
A formal program saluted physician heroism in extraordinary and every day circumstances and honored the memory of Dr. Jerry Rabinowitz, who was one of the victims of the Tree of Life tragedy on October 27, 2018. The Jerry Rabinowitz Physician Heroism Award was presented to representatives from the healthcare teams at Allegheny Health Network and the University of Pittsburgh Medical Center, as well as the City of Pittsburgh, to acknowledge all the men and women who performed so valiantly in the aftermath of the Tree of Life shooting.
Other ACMS award recipients honored at the gala included Ann L. McGaffey, MD, Nathaniel Bedford Primary Care Award recipient; Jan W. Madison, MD, Physician Volunteer Award recipient; Thomas B. Julian, MD, Richard E. Deitrick Humanity in Medicine Award recipient; Stanley M. Marks, MD, Ralph C. Wilde Leadership Award recipient; Mr. James Collins and G. Alan Yeasted, MD, John G. Krah Executive Leadership Award recipient; Mr. Bill Strickland Jr., Benjamin Rush Individual Award recipient; and Global Links, Benjamin Rush Community Organization Award recipient.
The society also honored a distinguished group of 22 physicians who have dedicated their lives to the practice of medicine for 50 years, as well as recognized the recipients of the Pennsylvania Medical Society's Forty Under Forty award that recognizes the top 40 young physicians in Pennsylvania under the age of forty, five of whom practice in Allegheny County.
Other notable attendees included Jeremy Bonfini, CEO, ACMS; Mayor Bill Peduto; Miri Rabinowitz, PhD; Jessica Walls-Lavelle, southwest region director for Governor Tom Wolf; Julie Strickland-Gilliard, director, western Pennsylvania office of Lieutenant Governor John Fetterman; Ronald Roth, MD, medical director of Emergency Medical Services and First-responders, City of Pittsburgh; Thomas Campbell, MD, chair, Emergency Medicine, Allegheny Health Network; Donald Yealy, MD, chair, Emergency Medicine, University of Pittsburgh Medical Center; Bill Johnjulio, MD, president-elect, ACMS; Patricia Bononi, MD, vice president, ACMS; Peter Ellis, MD, secretary, ACMS; Matthew Straka, MD, treasurer, ACMS Lawrence John, MD, president-elect, Pennsylvania Medical Society; Michael DellaVecchia, MD, vice president, Pennsylvania Medical Society; 50-Year Award recipients, Drs. Roger Ferguson, Anthony Gentile, William Hetrick, Arwind Koimattur, Stephen Lorenz,III, Harry Null and Bernard Zidar; 40 Under 40 Award recipients Drs. Maria Guyette and Amanda Michael.