A Mountain in the Winter
The scenic view at Laurel Hill State Park
Photo courtesy of Western Pennsylvania Conservancy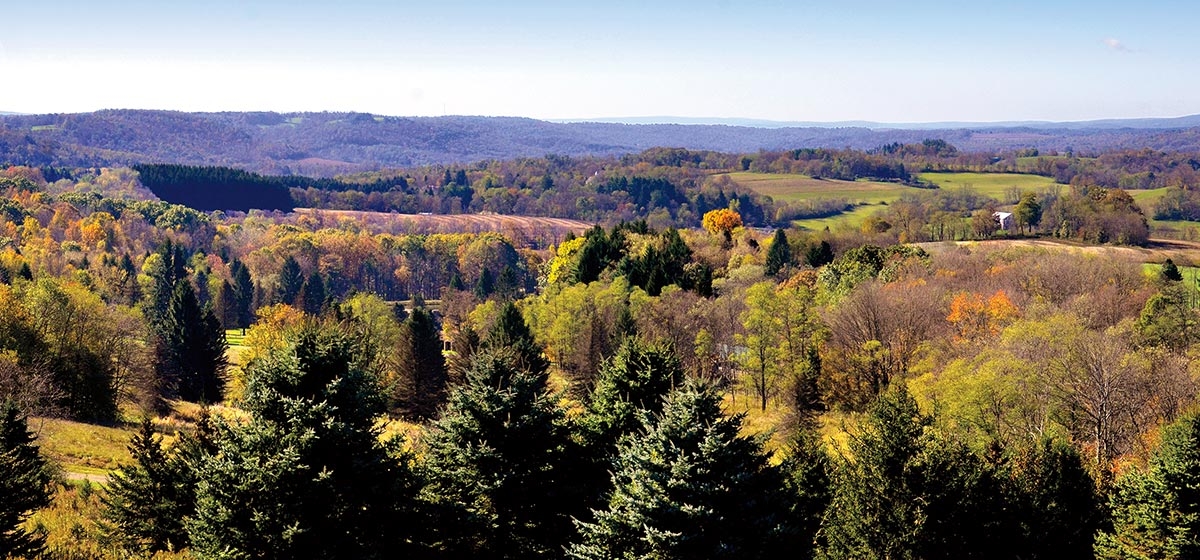 January 29, 2018
People often hike through landscapes without having a real sense of the place. In the Laurel Highlands, there is an opportunity to get a "sense of place" before or after your trek, by taking advantage of a sweeping bird's-eye view of the east flank of Laurel Hill and the Laurel Hill Creek valley, at the Scenic View property at Laurel Hill State Park in Somerset County.

Scenic View, which includes an observation tower, provides a stunning vista in all four seasons. But the best views occur during winter, when leaves are off the trees and snow blankets the mountains. The view is both beautiful and inspiring, as it shows the vast amount of protected land preserved timelessly as open space.
Laurel Mountain, also known as Laurel Ridge, is one of the four massive folds of the 325 million-year-old Allegheny Mountains, which stretch southward into Maryland and West Virginia. Laurel Hill Creek is a cold-water stream that skirts the bottom of the ridge southward until it feeds into the Youghiogheny River at the town of Confluence. These mountains, and the creek valley, can be viewed from the tower.
The area is a mecca for outdoor adventures. The state parks, including Laurel Hill, Laurel Ridge, Ohiopyle, Kooser and Linn Run, along with Forbes State Forest and state game lands, include many miles of hiking trails that traverse tens of thousands of acres of conserved lands.
Visit the Laurel Hill State Park office for directions to Scenic View. This overlook is part of a 184-acre property conserved in 2016 by the Western Pennsylvania Conservancy and added to the park. For information about the park, visit dcnr.pa.gov. To learn about the Conservancy, visit WaterLandLife.org.