A Lasting Impact
College graduates recall what made the difference at their alma maters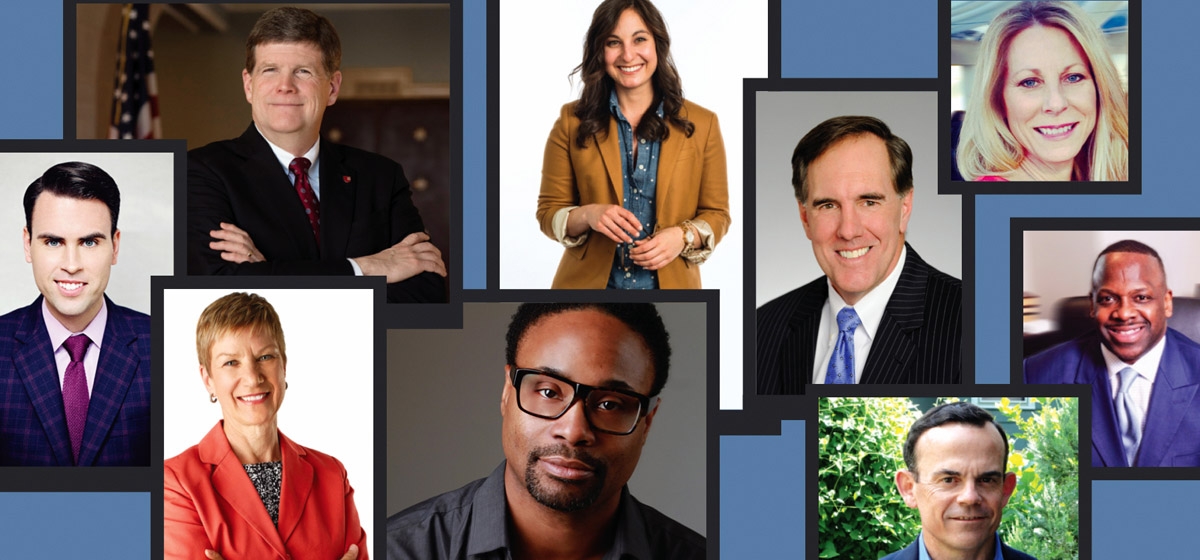 August 20, 2015
We asked regional colleges and universities to each choose a graduate who would give his or her thoughts on how the school made an impact on their lives.
Allegheny College
Chris Allison '83
Former CEO, Tollgrade Communication, Inc.; Member, Allegheny College Board of Trustees; Entrepreneur in Residence, Allegheny College
I vividly remember the late-night phone call from my father. I had just left my account executive job at Ketchum Public Relations and started as the "PR and advertising guy" at a fledgling startup my dad founded called Tollgrade Communication, Inc. That night he said, "Look. You've got to run Tollgrade. I need to pay attention to the other company (his construction firm)." Being an Allegheny College graduate, I headed straight to the Carnegie Library and checked out as many management books as I could. I taught myself how to run a tech startup. A few years later, we turned a profit. Two years after that, I became CEO and we went public. And five years after that, we were valued on the NASDAQ exchange at $2 billion. Had it not been for the critical analytical skills, ability to work in teams, and writing and speaking skills all learned at Allegheny, I don't know how things would have worked out. By the way, I majored in English.
---
Carlow University
Michele Rehfeld Atkins '82
Executive Director, Shady Lane School
Carlow University helped to shape why I did what I did with my professional life. My husband and I were both the first in our families to go to college. I had completed one year of college, but was forced to take time off to earn funding for my education. Soon after, I married and started a family, but I always regretted never finishing my degree. And I knew I wanted a job where I could make a difference. When our children were of school age, my husband encouraged me to find the right program and enroll in college. I accepted the challenge and enrolled at Carlow University as a 32-year-old undergraduate.
---
Carnegie Mellon University
Billy Porter '91
Tony Award-winning Broadway actor and singer
When I finished high school, I thought I was ready to go straight into the entertainment business. Two of my teachers at CAPA, Lenore Nemetz and Peggy Hughes-Ruslander, told me I wasn't ready and encouraged me to apply to Carnegie Mellon, so I did. I'm glad I did; it prepared me in so many ways for my future. I learned things I still use every day, and that's why I'm committed to arts education. I think arts education is really important because if we didn't have arts education when I was coming up, I don't know where I would be today. I think we, as Americans and as a country, are understanding that the arts is how we create well-rounded individuals. I'm thrilled that we're continually moving in that direction.
---
Chatham University
Dr. Margaret V. Ragni '71
Professor of Medicine at the University of Pittsburgh; Medical Director of the Hemophilia Center of Western PA
Chatham gave me the opportunity to learn about other cultures, customs and religions. I studied my loves—science and piano—while also sampling new disciplines, like poetry, art history and philosophy. I became involved in extracurricular events, including student government, local politics and choir. At Chatham I experienced the city beyond the college, such as the Pittsburgh Symphony Orchestra, art shows, museums, restaurants and classes at other nearby universities. There were opportunities to work closely with professors and local physicians, to publish a paper and present it at a national meeting, and to spend the summer working at a biologic laboratory in Maine. Chatham provided a nurturing environment and the education, knowledge and experiences I needed to confidently pursue my career in medicine.
---
Community College of Allegheny County
Charlene Gambino Petrelli '85
Vice President and Chief Human Resources Officer, EQT Corporation; President of the EQT Foundation
When I decided to get a college degree, I was working full time in the South Hills. CCAC had a campus nearby and flexible scheduling, which made it an easy choice for me. I soon discovered that CCAC had much more to offer than convenience, affordability and flexibility. What impressed me most was the tremendous quality of the curriculum and instructors; they were every bit as good as what I later received at four-year institutions. As a non-traditional student, the smaller class sizes made me feel more comfortable and provided better interaction with my instructors, who incidentally genuinely cared about their students' success. The advisors also made sure that I was well prepared for a seamless transfer to Duquesne University. I am passionate about continuous learning. Serving on CCAC's Board of Trustees is extremely rewarding because CCAC started me on a clear path to success. It's very gratifying to see people continue to achieve their dreams, just as CCAC helped me to do.
---
Duquesne University
Joseph E. Rockey '86
Executive Vice President and Chief Risk Officer, PNC Financial Services Group
Duquesne University provided me with a business education that served as the foundation for a long career in banking. At Duquesne, I developed the quantitative skills essential for anyone in accounting and finance, but I received much more from the university. A commitment to ethical behavior and an emphasis on service to others—values Duquesne cultivates in every student—are a part of me whether I am interacting with shareholders or volunteering my time in the community. They were key components of my education at Duquesne, and they have informed my job as a corporate executive and animated my life outside of the office for almost 30 years.
---
Grove City College
The Hon. Paul J. McNulty '80
Former U.S. Deputy Attorney General; President, Grove City College
At Grove City College, I discovered the difference between ambition and calling. As a young student of history, I dreamed of making my mark on the world, perhaps as a lawyer in public service. I knew that college was a necessary step in that direction, but I had little appreciation for the extraordinary value of a Christian liberal arts education in preparing me for the road ahead. At GCC, I received a personalized values-based education that grounded me in lasting truths. I learned that my purpose in life was to serve the common good in accord with God's wise providence and not simply to make a name for myself. It was and remains a beautiful place that set me on a firm vocational path.
---
La Roche College
Kathryn A. Jolley '81
Prinicpal and Director of Marketing, DRS Architects
I feel I can make a difference in the world because La Roche College made such a difference in mine. Attending this small, Catholic, liberal arts college in Pittsburgh enabled me to graduate with a B.S. in interior design, become a principal for DRS Architects, and travel to Rome on behalf of the college. Those experiences have given me the confidence and skills to fulfill a higher calling: to share my distinguished education with others, serving La Roche as an advisor, adjunct professor, mentor, donor, and now as chair of the board of trustees. My father would have called it "Divine Coincidence." La Roche calls it "Providence."
---
Point Park University
Ryan Stana '02
CEO of New York-based production company RWS & Associates; Point Park Trustee
I majored in musical theater and loved to perform on the stage, but I also knew I enjoyed being where the director and producer sit. Point Park showed me I could do both. It offered me flexibility that was probably unheard of at the time. The university's support helped me reach my professional goals and allowed me to be who I am today. It inspired me to show others there's more than one way to get something done. As a trustee, I recently helped coordinate the Senior Showcase, an annual event that introduces Point Park student talent to the New York theater industry. We organize a top-level industry panel to mentor students and show them everything expected of a professional performer. The result—several students were offered auditions for "The Book of Mormon" on Broadway—not surprising given the level of focus, determination and talent fostered at Point Park. I count myself lucky to be a product.
---
Robert Morris University
Richard Harshman '78
Chairman, President and CEO of ATI
I attribute a significant part of my success to Robert Morris University, which has consistently provided students a professionally focused education that allows them to make an impact at work from day one. RMU also has a tradition of helping first-generation college students. Neither of my parents went to college, having instead to get jobs to help support their families. But my parents valued education, and their love and guidance propelled me to attend college. I paid my way, and when my financial aid fell $1,000 short before my senior year, a financial aid counselor at RMU scrambled to fill the gap. That person changed my life, and I've never forgotten it.
---
Seton Hill University
Kelley Skoloda '86
Partner/Director of Ketchum's Global Brand Marketing Practice; author of "Too Busy to Shop: Marketing to Multi-Minding Women"
Seton Hill certainly prepared me academically, as I later pursued an MBA, and ultimately provided me with a great foundation to manage a multimillion-dollar global brand marketing practice. The skills I developed at Seton Hill go well beyond those I learned in the classroom. Seton Hill enabled me to take on leadership roles that empowered me as a female executive and gave me the confidence to even write a book. Importantly, Seton Hill fostered my spiritual development in a profound way. Professors made sure we grew as people, not just as students. They helped us develop skills for a well-rounded and successful life—and this is perhaps what I cherish most about my time at Seton Hill.
---
St. Vincent College
Marianne Reid Anderson '87
Executive Editor, Swanson Publishing
Saint Vincent College gave me a world-class education that was both classical and modern, but more important, it taught me to think. Being able to think means being able to create content, make decisions, lead teams and communicate effectively. It also inspires one to never stop learning. Thanks to my education, I was able to excel in my career from my early days in New York and my tenure at Microsoft to becoming a best-selling, award-winning writer, to my current career as executive editor for Swanson Publishing. The entire Saint Vincent community continued, long after graduation, to educate my mind, support my endeavors and guide my spirituality. I am also very grateful to serve on the Saint Vincent College Board of Directors and teach as an adjunct professor.
---
Slippery Rock University
Charles "Chuck" Sanders '86
CEO of Urban Lending Solutions; owner of Savoy Restaurant; former Steelers running back
I found my way to Slippery Rock University via football. Before I got there, I was an immature kid who had no idea what he wanted to do. Football was great, but in the classroom I was challenged by professors who convinced me I could go a long way and make something of myself. My coaches and professors at SRU preached to me to get my degree—to focus on my education, not just football. That really came through. When it was time to move on from football and get a job, SRU made the difference for me. Having my degree in business allowed me to begin my career. I truly love SRU. It changed my life and the life of my family forever.
---
University of Pittsburgh
Harold Hayes '75
Reporter, KDKA-TV
As I look back at my 35 years of covering local news at KDKA-TV, I can point to my junior and senior years at Pitt as formative ones in shaping my career. I was always interested in media, but during the summer of 1974, I took a communications course offered by Peter Longini called "Prime Time" wherein students played the role of networks, production companies and advertisers—a course that really explained how the media works. That fall, I had an internship at Pittsburgh's NBC affiliate WPXI, then called WIIC-TV. I followed reporters, watched producers and writers, and solidified my desire to report the news. Ironically, I also took a course on evidence, taught by the legendary Robert P. Newman, former director of Pitt's debating union. Since I cover a number of court cases, to this day what I learned in that class helps me evaluate and assess the credibility of evidence. Experience may have honed my craft, but it all began at Pitt.
---
Waynesburg University
Terry Wiltrout '09
President of Washington Health System Greene
I am always looking for challenges, and that is why I decided to pursue an MBA at Waynesburg University. Once I completed my degree, I took what I learned and challenged myself in my career—and here I am, president of a hospital. Waynesburg's MBA program expanded my personal and business network and helped develop my leadership skills, drive for results and ability to collaborate, enabling me to excel within my career path. With a career and a family, the accelerated program fit conveniently into my schedule, and the flexibility allowed me to complete my degree in my own timeframe.
---
West Virginia University
Paige Lavender '11
Senior Politics Editor, The Huffington Post
Going to West Virginia University was such a great choice. The resources offered through the school allowed me to have incredible experiences and build my resume before ever graduating college. I felt confident and excited to use the skills I gained at the WVU Reed College of Media when I started working at The Huffington Post four years ago. It wasn't just work and classroom experiences that made WVU so great for me. During my time at WVU, I had opportunities to meet an interesting, diverse group of people and have life-changing experiences, like living abroad. Every day I use skills and knowledge I obtained while attending WVU, and I continue to build on my experience there and appreciate the time I spent in Morgantown.
---
Wheeling Jesuit University
Tim Murphy '74
U.S. Congressman
From starting out as a psychologist to my role today as a U.S. congressman, Wheeling Jesuit University has made an everlasting impact on my life and career. WJU's rigorous curriculum provided me an education and set of values that I could use outside the classroom doors. My mentors taught me discernment, commitment to service and to be driven by faith. In my theology and philosophy classes, I learned to build an internal, thoughtful debate by using a path of questioning and understanding that helps me excel in times of uncertainty or doubt. And ultimately, WJU instilled in me the Jesuit tradition of commitment to service and a sense of purpose; that I can withstand angst by working towards not only the greater good, but the greater glory of God.