A Crisis in Higher Education
The region's higher education leaders address their greatest challenges and offer solutions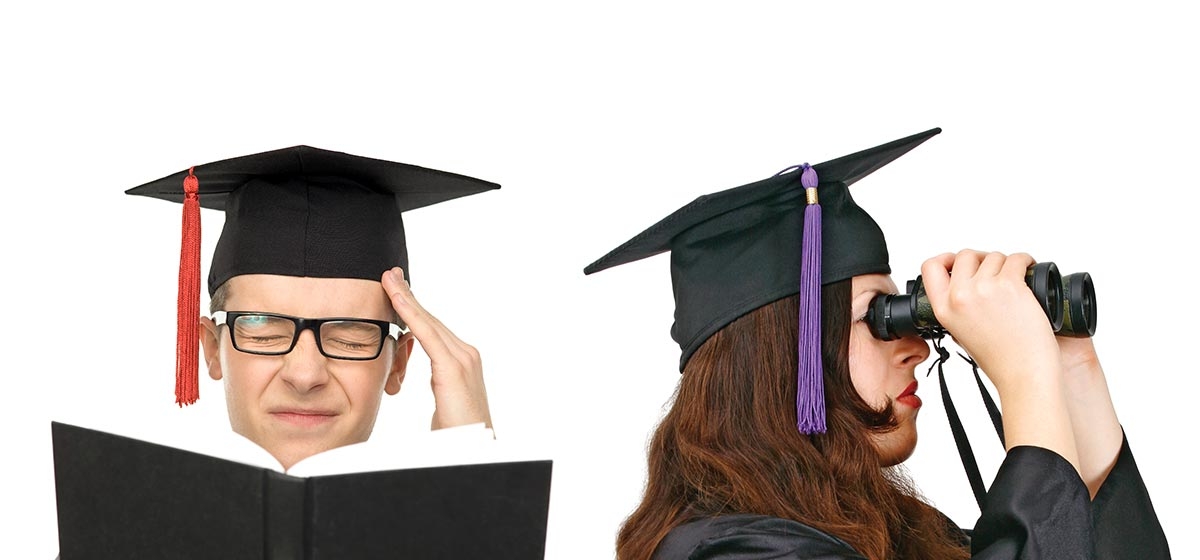 August 30, 2012
The headline is the same across the nation, and it describes a seemingly inexorable vise that is tightening on colleges and universities. They are attacked for being too expensive and their relevance is questioned as students graduate with higher debt and lower prospects in a tight economy.

As public aid is slashed and private donors are strained, academic institutions are asked to rein in costs and increase their economic relevance. And they are expected to continue their basic mission of educating Americans who will be able to think, adapt to change and be good citizens. In this context, we asked the presidents of this region's leading colleges and universities to offer their insights (in 200 words or less) to the following question: What is the biggest issue or issues facing your institution and/or higher education today, and what are possible solutions? We thank them for their thoughts and invite you to read them carefully, because in Greater Pittsburgh, higher education is important not only for students; it is one of the key sectors of our region's economy and its future. —Editor's Note
Allegheny College

James H. Mullen Jr., president
The most important issues in higher education are affordability, access, student indebtedness and career preparation, and, like our peers, Allegheny is focused on them all. But we are perhaps unique in urging the inclusion of another issue on that list: the declining state of civility in our nation's public discourse. At Allegheny, we believe preparing college students for the responsibilities of citizenship is of equal importance. For our society to continue to flourish, we believe colleges and universities must not only provide students with the skills necessary to succeed in a rapidly changing global economy, they must also inspire a commitment to civil participation in the public arena. If the cynical and uncivil state of our public conversations turns young people away from public service and participation—and our national research shows just that—our nation will suffer dearly.
As a college almost as old as America itself, Allegheny feels a special obligation: to graduate students who know and value the virtue of combining rigorous conviction with civility. Because we consider it a fundamental responsibility of liberal arts education, we have taken on national leadership on the issue of civility in public life.
Carnegie Mellon University

Jared L. Cohon, president
In a time of enduring economic challenges, universities must educate their students to become the next generation of innovators, helping to bring research to market and creating businesses and jobs.
Carnegie Mellon University is at the forefront of greenlighting businesses and creating new jobs through innovation. The groundbreaking research of our award-winning faculty and world-class students has resulted in more than 300 companies and 9,000 jobs in the past 15 years (an average of 15–20 new companies per year). CMU's innovative and entrepreneurial culture has attracted leading companies—such as Google, Apple, Disney, Intel and Lockheed Martin—to bring research and development operations to Pittsburgh.
A key ingredient in innovation, locally and globally, is a capable workforce educated in many fields, including science, technology, engineering, mathematics, humanities and the arts, and the place where these disciplines intersect. Universities play a vital role in supporting student learning and experiences in creativity, risk-taking and interdisciplinary thinking.
For these and many other reasons, CMU has explored the impact technology can have in the delivery of education and on student achievement through its Open Learning Initiative (OLI). Studies have shown that OLI students demonstrate learning outcomes equal to or better than a traditional class, in half the time. And that six months later, OLI students also retained the material just as well as a traditional class. Our programs are making education affordable and accessible for students in community colleges and statewide systems by providing gateway courses essential for students entering the global knowledge economy.
Carlow University

Dr. Mary Hines, president
Educational institutions at all levels are being challenged to change from a 20th century industrial model of education, where "one size fits all" and the focus is on teaching content. What is needed is learning for and in the 21st century, with clear assessments of progress in one's learning journey. As a result of technological advancements and a pervasive digital environment, access to information is ubiquitous and rapidly changing. However, learning is more than seeing and using data that appears on a screen, and it is more than acquiring a specific job skill. Effective learning must be aligned with the world, providing multiple learning opportunities that persons need to live and to labor. Such learning results from careful design, conscious discernment, intellectual discipline, critical assessment, values propositions, and nimble application to multiple purposes. In a rapidly changing environment and a global knowledge economy, institutions at all levels of society must recognize that effective education for everyone is a matter of justice, a right and not a privilege. The question for higher education is how to best provide access and success to learners who attend our institutions.
In keeping with its values, Carlow respects the individual learner and facilitates her/his learning journey. Recognizing its responsibility to provide a relevant and meaningful educational experience aligned with the world, Carlow, including its Campus School, is developing intensive, interactive and individualized learning experiences that empower each student to achieve success, expect learners to become practitioners and practitioners to be learners, and contribute knowledge and skills to multiple communities of practice that serve society's needs.
Chatham University

Esther L. Barazzone, president
Access and affordability are among the greatest challenges facing higher education today. Once leading the world in college completion rates, the U.S. now ranks 16th. Furthermore, less than 40 percent of Americans complete two years of college, and older Americans are better educated than younger generations. Higher education institutions are working to make high-quality education accessible and affordable through online classes, cost cutting, and the generous provision of student scholarships that come from our already strained resources. However, it grows ever more challenging to keep costs affordable for students, who are often left to shoulder the burden, while continuing to maintain our high standards of quality. We need a new national policy for financing higher education and student access, one that returns to thinking of education as a greater public good rather than as a benefit to the individual. When the country offered programs that reflected the public value in education, such as the GI Bill and the National Defense Education Act, that helped make us the world leader in college completion rates. Our future prosperity and national security depend on our response to this challenge of successfully making higher education possible for more of our citizenry.
Community College of Allegheny County

Dr. Alex Johnson, president
The workforce of the future will provide limited opportunities for those with only a high school diploma. Growing fields such as manufacturing, energy and health care require advanced certificates and degrees, although often not at the bachelor's level. Filling this skills gap is a challenge that is being embraced by our nation's community colleges.
Yet community colleges dedicate too much time and resources remediating those students who are not adequately prepared for college, with too little success. Community college graduation rates nationally remain far too low.
The Community College of Allegheny County is among those institutions finding innovative solutions to these problems. A Leader College with the student success organization Achieving the Dream, CCAC has focused on data-driven policy and programmatic changes to improve student performance in developmental, or remedial, mathematics. We were a pilot college to help develop the national Voluntary Framework of Accountability, which has established fair standards for measuring community colleges' success.
That accountability extends, of course, to our students, who must take responsibility for their own education. But I am pleased that CCAC and many other community colleges are taking up the challenge to strengthen our educational landscape and our workforce for a global economy.
Duquesne University

Charles J. Dougherty, president
Among the struggling groups in post-Civil War Pittsburgh were largely Catholic German and Irish immigrants. The one reliable way out of poverty was education. So in 1878, priests of the Congregation of the Holy Spirit founded the Pittsburgh Catholic College, which became Duquesne University of the Holy Spirit. The university thus began with a mission to serve those who were marginalized and not financially well off. In later generations, the university reached out early to other immigrant groups, members of other religions and races, and to women.
At the outset, the university charged little to no tuition but relied on the free labor of its priests and brothers and on donations from friends and supporters. As Duquesne grew and became national in its reach, that policy was no longer practical. But we remember our heritage. Duquesne's tuition, while higher than we would like, is the lowest of all the leading national Catholic universities.
To maintain that position of affordability in the face of the pressures that lead to inflation in higher education, we carefully examine all our expenditures. And we ask our alums and friends to help us fund scholarships. Today, as it has been in each of our six generations, Duquesne's main challenge is producing an increasingly superior national education while staying within reach of the students we want to serve.
Geneva College

Kenneth A. Smith, president
Colleges and universities in our region are currently facing a very challenging environment. Heightened debt sensitivity, tight demographics, rising operating costs, and shrinking federal and state budgets necessitate economic restructuring. And as government agencies establish greater control over the funds they provide, political intervention is also on the rise. In addition, new players such as for-profit institutions have created increased competition for prospective students. Add to that the challenges to traditional educational delivery methods brought on by new technology, as well as the emergence of new postsecondary credentials, and one can easily identify why higher education institutions are having difficulty operating successfully.
However, an environment full of challenges is also full of opportunity. For example, we have experienced growth in non-traditional programs such as our Adult Degree Completion Program, and computer technology provides the ability to support growth with a relatively small investment. At Geneva College, a task force comprised of faculty, staff and administration has been commissioned to identify new programs and methods that will address these challenges we face. We are aggressively exploring and pursuing new populations of students and new delivery methods to strengthen Geneva's ability to deliver an academically challenging Christian higher education.
Grove City College

Richard G. Jewell, president
Since 2008, few have escaped the effects of the diminished economy. In higher education, greater public concern and scrutiny have focused on student costs, student loan indebtedness and institutional business practices. It is more difficult for colleges and universities to generate revenue, as consumer pressure limits tuition increases. Financial gifts to colleges and universities have declined, and (for those institutions that rely on it) taxpayer-supported funding is in much shorter supply. The practice of discounting is unsustainable because it puts the bottom line at risk. (Many private institutions discount, sometimes to more than 40 percent off their list prices).
The advance of online distance education also poses long-term risks to traditional higher education, financially as well as pedagogically. Especially for schools like mine (a Christian college), it is hard to envision incorporating the matters of virtue we strive to reinforce in our programs into a strictly online format.
The solution is simple but difficult to implement because it requires reducing costs and/or finding other revenue streams. Reducing costs could mean cutting jobs, programs and support functions—and the academy is not used to making such choices. We think of ourselves as educational nonprofits organized for the sole purpose of teaching others (certainly a good and noble endeavor)—but we are a business enterprise, and not immune from a whole set of economic variables. There is no need to change our missions, but we may have to adjust our respective business practices.
Indiana University of Pennsylvania

Michael A. Driscoll, president
IUP, like all of public higher education, continues to face growing expectations and a budget inadequate to meet all of those expectations. We are called upon to provide access to more students at various levels of preparation, to generate new knowledge that can further economic development and improve the human condition, and to reduce our costs. To continue to be successful in the face of these challenges, universities must do three things. First, they must develop a clear, shared and actionable understanding of the most important elements of their mission, and decisions about which activities to add and to subtract follow. Second, we must harness the incredible intelligence and creativity of our faculty and staff to find innovative and less expensive ways to keep delivering high-quality education and research. Finally, we must tirelessly demonstrate the return on investments made in us by students, government and the taxpayers of Pennsylvania. One of my first tasks as IUP's new president is to enhance communication and involve all stakeholders, internal and external, in discussions of who we are, our shared vision for IUP and Pennsylvania's future, and the ways we can all invest in and benefit from that future.
La Roche College

Sister Candace Introcaso, president
The current financial model of increasing tuition and fees in order to remain competitive will not be sustainable in the future; higher education institutions will be overpricing themselves out of the market. As a result, access to quality higher education will become increasingly limited.
La Roche College has, and continues to be, one of the most affordable private four-year liberal arts colleges in the region. We are exploring many avenues to ensure this tradition of value and quality continues well into the 21st century, including the 2011 restructuring of the Merit Award Matrix, which raised the college's maximum award.
Point Park University

Paul Hennigan, president
The greatest challenge facing higher education in the U.S. is finding more ways to make it affordable for more students. The research regarding the return on investment clearly shows that, on average, people with an undergraduate degree will earn significantly more than those without a degree. For students who need to borrow to help pay for college, the research also shows that, on average, the total amount borrowed will be offset by earnings within the first two years of employment.
One of the largest drivers of cost is America's insatiable drive for quality. The rich fabric of higher education in the U.S. is the greatest in the world and has provided most of the significant contributions throughout the world toward the betterment of humankind.
Higher education is not for everyone. However, if our country is to achieve President Obama's goal of having the highest proportion of students graduating from college in the world by 2020, we must make it a national policy to provide more aid to students. Simply pounding on the enterprise to reduce costs will not be enough.
Robert Morris University

Gregory G. Dell'Omo, president
Colleges and universities confront two interwoven challenges: declining state support for higher education (direct funding for public universities and financial aid for students attending private and public institutions) and the increasingly fashionable belief that a college degree is no longer worth the cost.
These issues are related because, as a college degree becomes more expensive, critics insist the benefits no longer outweigh the costs. Yet college graduates still out-earn those without a degree and are increasingly in demand. By 2018, our nation will have created 22 million new jobs requiring a college diploma but will face a shortfall of 7 million qualified people to fill them, according to Georgetown University's Center for Education and the Workforce.
Critics of government-funded student aid claim it only encourages colleges and universities to raise prices. Years of research, however, have failed to document such a relationship. RMU, for one, has increased dramatically the amount of our own funds we provide to students for financial aid, in part to compensate for declining government aid.
That does not relieve us of our responsibility to hold costs in check. Colleges and universities like Robert Morris have held down expenses in the same manner as many businesses—paring staff, freezing salaries, outsourcing non-core functions, and using technology to achieve efficiencies. And we still offer the greatest system of higher education in the world. Keeping that system accessible while ensuring sufficient quality to launch students in their careers and prepare them as educated citizens is our third challenge, for our institutions and our society.
St. Vincent College

Brother Norman W. Hipps, president
From its earliest days, Saint Vincent College has striven to embody the ideals and character of the 1,500-year-old heritage of Benedictine education and scholarship. This heritage has contributed to both the survival and dissemination of Western culture. It has been an enduring heritage because of its capacity to adjust to the exigencies of successive ages.
So, too, must higher education change as it faces many issues such as the relationship between professional education and the liberal arts, the application of quickly expanding capabilities in technology, and affordability.
Changes must be made in ways that are faithful to the values on which institutions of higher education were founded. For instance, at Saint Vincent we have constructed a new science facility that is aligned with our core value of community, because it was designed for collaborative work among the disciplines in fields such as biochemistry and bioinformatics. The Fred M. Rogers Center for Early Learning and Children's Media at Saint Vincent College is supporting the development and evaluation of children's programming using digital media and technology as Fred once did with television. Higher education needs to be faithful to its traditions while embracing appropriate change.
Seton Hill University

JoAnne Boyle, president
At Seton Hill, we are obsessed with several issues that can be turned into the following questions: How do we harness the energy, power and potential of technology to improve learning? Given a changing and challenging new student population, how can we be more creative, innovative and effective when we teach? What opportunities for deepening learning and understanding are offered by the mobile devices students carry everywhere? Are we ready for the changes that loom on the landscape of higher education? Can we be an exciting part of that change?
From these questions have come some of Seton Hill's solutions. First, we established a central place for innovative thinking about teaching, the Center for Innovative Teaching, where we could consider our most vexing questions, including how will we know that student learning has improved. Second, we provided every faculty member, administrator, staff member, student and board member in the institution with an iPad, a MacBook or both. Through the Center we offer in-depth training, coaching, electronic hand-holding and counseling as we discover, explore and experiment with the capacity and power of go-with-you-anywhere learning tools. Together, we have decided to face the challenge of putting technology in its place, of understanding its limits as well as its possibilities, and to embrace it as the transformational partner we have been looking for.
Slippery Rock University

Dr. Cheryl Norton, president
There are many issues that keep presidents awake at night. One that has generated a broad-based concern is funding for public education. There has been a dramatic decrease in the financial support states contribute to public education and, consequently, an increase in the amount that students and their families must provide. As a result, there is an increasing risk that finances may prevent capable students from accessing a college degree. In an economy that requires postsecondary education for employment and expansion, financial barriers are restrictive not only to the individual, but to our workforce development. We need to be creative in developing ways of financially supporting students through their college experiences to ensure educational opportunities are available to all who can profit.
Presidents are also concerned about preparing students for a changing world. At SRU, our institutional strategic plan utilizes global trends to create a flexible and dynamic educational experience that responds to these trends and their associated challenges. The ongoing curricular goal is to encourage students to be collaborative individuals responsible for addressing the changing needs of the next decade and beyond. This approach, rooted in our commitment to community, will hopefully develop a globally aware and active student body.
Thiel College

Dr. Troy VanAkenn, president
The biggest issue facing Thiel College and higher education in general is actually three intertwined challenges: cost, affordability and graduation rates. The cost of providing quality higher education is growing, and it is becoming increasingly unaffordable for many students and their families. At Thiel, a typical student's college costs are covered by college-sponsored scholarships, state and federal aid, loans, savings and student and parent direct support. When things work out and a student graduates, everyone wins. When it does not, then all involved question whether the investment was worth it. Graduation rates are key. College presidents can focus on reining in costs and increasing affordability, but without graduating students, the investment equation will never work. We continue to search for the correct balance of services and programs to support students on their way to graduation while keeping costs in check and an eye on affordability, but at the same time, students need to be better prepared for the work and expectations that await them in college—namely learning to think, not just "do," which will help them become critical and creative members of the workforce, their communities and the world.
University of Pittsburgh

Mark Nordenberg, chancellor
The National Research Council recently released a report titled "Research Universities and the Future of America." In it, a 22-member, blue-ribbon panel advanced a number of themes that are important to America and have special significance for this region: that our country is driven by innovation; that our primary source of new knowledge and of graduates with advanced skills continues to be our research universities; but that these institutions now face an array of daunting challenges.
Western Pennsylvania has direct experience with both the power of research universities and the challenges that they face. Over the course of the past quarter century, university research has been a major driver of regional job growth and economic strength. More recently, though, Pennsylvania's public research universities have suffered from a deep erosion in state support.
If this pattern persists, this region's young will be deprived of the affordable educational opportunities made available to past generations, and prospects for a vibrant regional economy will plummet. In the words of the report, research universities are "a major national asset—perhaps even its most potent one." Those who care about building a bright future, for our children and for our community, should be concerned about the weakening of this key asset through dramatically declining state support.
Washington & Jefferson College

Tori Haring-Smith, president
We're developing a national narrative that devalues education. We used to tell children to get a good education so that they could succeed in life. Today we read articles claiming that degrees guarantee only debt. We have forgotten that education is the foundation of both our economy and our democracy.
No economy prospers without thoughtful, informed leadership that not only sustains our present but guides us through an unknown future. To develop that leadership requires more than mere credentialing—it requires a broad understanding of the world and a flexibility of mind that allows us to solve complex problems.
Democracies require educated citizens who can distinguish fact from opinion and who are broadly informed about our history, culture and natural environment. This knowledge and the skills of critical analysis are best learned over time in small classes led by devoted teachers.
We must recognize that education is indispensable and is not a luxury. It cannot be done fast; it cannot be done cheaply. Whereas some industries can both improve their products and reduce their costs through the use of technology, education cannot. It requires human-to-human contact. It requires conversation. It is personal.
We must reinvest in education, valuing it as an essential public good.
West Virginia University

James P. Clements, president
WVU is fortunate to be in a great position, with strong enrollments, fiscal stability and exciting prospects to increase our profile in fields from energy to public health. Like many institutions, however, we are challenged by funding constraints at all levels of government. As West Virginia's public, land-grant, flagship, research university, WVU has an obligation to provide our students with access to higher education and to provide our residents with solutions to problems. We believe in regional collaboration to take full advantage of our academic, industrial and natural resources to make our region a world leader. Our work depends on investments in the form of appropriations and research grants. We generate excellent returns on these investments by creating knowledge, jobs, and opportunity. We must make the case that universities are good investments. WVU will continue to work hard in collaboration with other universities to strengthen the long-standing partnership between universities and government, so that higher education can continue to meet the needs of our states and the nation.
Wheeling Jesuit University

Richard A. Beyer, president
Today's parents and students demand higher education that delivers quality programs at affordable prices. Wheeling Jesuit University leverages its 450-year Jesuit tradition of academic excellence to surpass expectations. Despite the Nation's economy, our 23 percent enrollment increase demonstrates WJU's quality and value. To make college affordable for families in the Ohio River Valley, WJU launched the Community Connection Grant that enables students to enroll at significantly discounted rates. Beginning in their first year, WJU students develop critical thinking through research-based inquiry and community engagement.
WJU students achieve a 100 percent national board pass-rate in health sciences. Law school acceptance rates of 100 percent are considered normal performance. Over the last seven years, 100 percent of our students who applied were accepted to medical school. Our graduating seniors regularly report that WJU's research-oriented, rigorous academic foundation influences acceptance into job placement and graduate schools.
A quality education is out of reach for most families. Fortunately, WJU's tuition, compared with other private institutions, is simply lower. WJU gives institutional scholarships that support our students to graduate and launch successful careers. Consequently, our students and parents tell us that WJU is America's best value in higher education.