A Calling on Campus
Pitt's remarkable dean of students is committed to helping people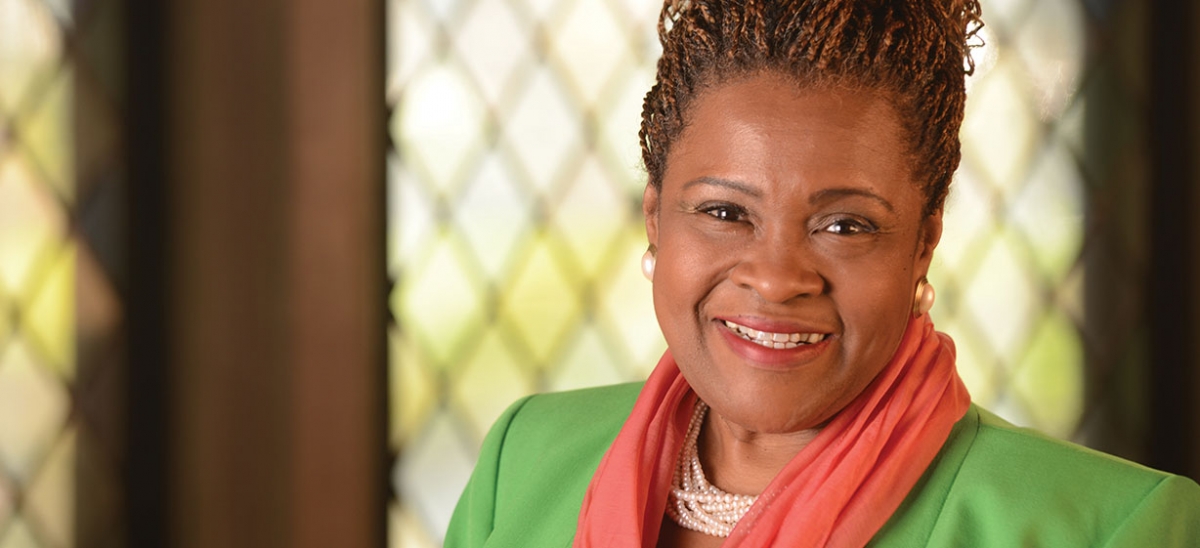 May 20, 2014
When Kathy Humphrey was born, she was already an aunt, part of a family of 11 siblings and, now, 86 nieces and nephews.
As a girl, she not only loved school, she played school outside of classroom hours with her hometown friends in Kansas City, Mo. And when she couldn't find friends to join her, she taught make-believe students in empty chairs. Her calling, which she calls "my piece of the puzzle," was never in doubt.
"Children have always been a part of my life," said Humphrey, 52. "I was placed here to work with young people and have a positive impact on their lives. It's my purpose. And it's always been clear to me that this is what I would do."
The large-family upbringing also accounts for Humphrey's sense of herself as a woman born to help college students hone their futures. She and others believe she is perfectly placed as vice provost and dean of students at the University of Pittsburgh.
"For me, this just does not feel like work. Don't get me wrong: It's not always fun. I recently had to suspend a student, and that's definitely not the best experience to go through. But my job is always rewarding. Everything I do has a purpose."
Nine years ago, Humphrey arrived in Pittsburgh with her husband, Lyle, and twin sons, Daniel and David. She had been working at St. Louis University as vice president for student development when the recruiting call from Pitt came.
Humphrey earned a bachelor's degree in education at Central Missouri State University, a master's in higher education administration at the University of Missouri-Kansas City, and a doctorate in educational leadership at Saint Louis University.
"I never intended on coming here," she said with a laugh. "Honestly, our next move was going to be to a place with a warm climate. But when I visited Pitt and met with the chancellor and provost, I was thoroughly impressed with what I thought the university could do. They were looking for someone to help strengthen the student experience, and they promised to give me the latitude to help build something special."
Now, after suburban living in Wexford and city living in Oakland, Pittsburgh has become home. She and her husband love the city's topography, the differing neighborhoods, and the ability to ride bikes around town on the river trails.
"Without sounding morbid, I've asked my husband before, 'Would you stay here if I died?' And he's told me he would," Humphrey said. "We really have become a part of this community. It took getting used to—St. Louis is much more diverse—but we enjoy it here."
She also serves on the board of directors of the Pittsburgh American Red Cross, the Three Rivers Adoption Council and the Merchant Marine Academy Advisory Board. Her awards are numerous: She holds a YWCA Tribute to Women Leadership Award (in education) and was selected as a member of the New Pittsburgh Courier 50 Women of Excellence. She also received the University of Pittsburgh African American Alumni Council inaugural Sankofa Award, and was one of 32 women from 13 countries chosen to participate in the International Women's Forum Leadership Foundation Fellows Program. Humphrey has been chosen the Pitt Administrator of the Year for three consecutive years by the student body.
When Humphrey's colleagues talk about her career at Pitt, they sound honored to work alongside her.
"Kathy is an inspiring and dynamic leader who has brought tremendous energy to student life since she arrived on campus in 2005," said Pitt Provost and Senior Vice Chancellor Patricia E. Beeson. "Whether she's entertaining student groups in her home, spending holidays with international students, holding monthly dean's hours at Nordy's Place, or just walking across campus, she is a personable and accessible leader. Above all, she's dedicated to helping each of our students develop the foundation that will prepare them for lives of significance, lives of impact. She is a unique asset for the university and for the broader community, and we are fortunate that she has decided to share her many talents with the Pitt community."
Outside of the university's walls, Humphrey's second place of paradise is without question her church, Macedonia Church of Pittsburgh on Bedford Avenue in the Hill District. It's there, just a couple miles away from campus, that she began organizing Saturday women's ministry breakfasts.
"The crowds came because of the way she empowered women and ministered to their needs," said Macedonia's Senior Pastor Brian Edmonds. "Kathy has a magnetic personality. She really draws people to her. God has gifted her with an ability to connect with others and bring out the best in them."
She is also a facilitator for the church's weekly student group that draws more than 150 women per session. She's a leader in the church's marriage ministry, helping plan marriage retreats for couples, and she has sung in the choir. Her reputation as a powerful, engaging speaker is legendary at Macedonia, home to 2,000 members.
"Kathy is an integral component of this church and the ministry that we do," Edmonds said. "She has become an encouragement to so many women in our ministry and an example of a how a godly woman can impact the lives of so many."
Dr. Shady Henien, a resident at Yale New Haven Health System at Bridgeport Hospital in Connecticut, is well on his way to a medical career, but he views his undergraduate days at Pitt and Humphrey's help as the elements that shaped his foundation. When Henien was student government board president in 2007, he met with Humphrey sometimes weekly for her advice. He was among a group of students who wanted to initiate an annual competition among student organizations to paint and decorate 10 five-foot panther statues on campus.
"For whatever reason, some people didn't like the idea," Dr. Henien said. "There was a lot of back and forth. Dr. Humphrey coached me through the process, talking to me about why I thought the statues were important and how to pitch the idea."
In the end, it passed 4-3, with Henien casting the deciding vote. And the contest has become a tradition, with more than 350 student organizations taking part since its inception.
"My perseverance all stems from Dr. Humphrey's message: 'If you believe you are doing the right thing, that's all that matters,' " Dr. Henien said. "Dr. Humphrey is amazing—she is always the first person I would go to for academic and even personal advice. She is a strong, Christian woman devoted to her family and work. She won't bend her principles for anyone. Students at Pitt know that she is out there for them and she is their advocate. For me, truly, she was a mother figure."
In 2008, Humphrey led Pitt's Outside the Classroom Curriculum initiative, which engages students in a series of developmental experiences, such as leadership training and communication skills, complementing their academics. As Beeson said, Humphrey is committed to building "the whole student."
For Humphrey, the praise and accolades are nice, but she believes they're the result of her answering her calling: "These awards come because I do the work I love to do. I believe God intended this for me and for my life. I take great joy in it."