2021 Economic Outlook
Pittsburgh faces slow recovery, will lag other regions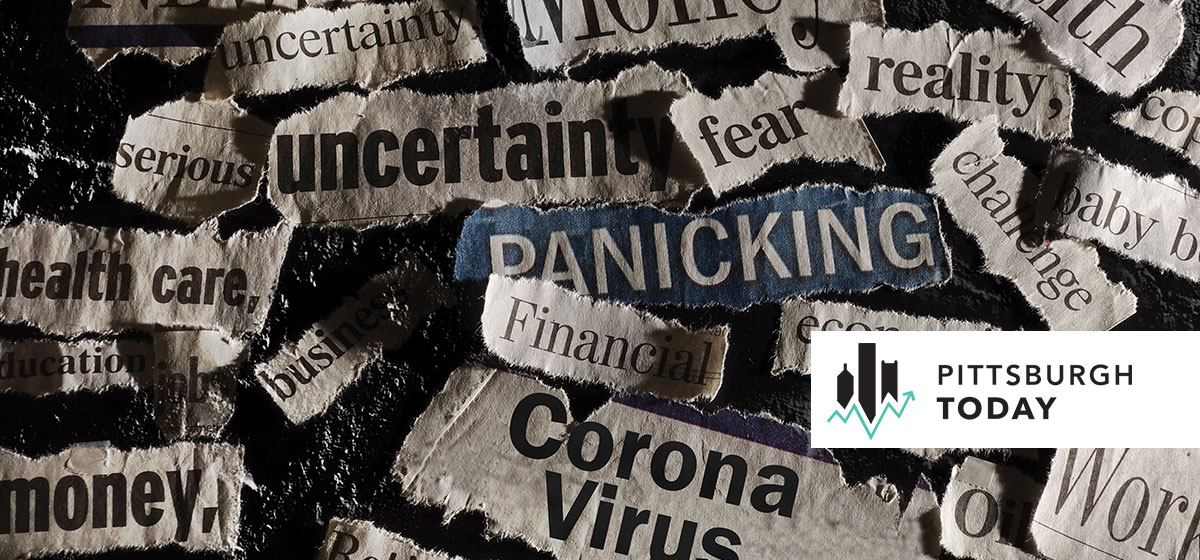 March 1, 2021
Economic recovery prospects in the Pittsburgh metro region are challenging for 2021. Government-mandated business closures and capacity limitations have sunk the metropolitan area's labor force into steeper-than-average declines, undermining the ability of existing household consumption and business expenditures to reignite economic gains in the near term.

New stimulus from the federal government may well provide a floor to the freefall and vacuum faced by both households and businesses. The recovery of local economies will be based upon their ability to recreate jobs and incomes once business and consumer activity is allowed to resume in full. Pittsburgh's labor force deficit will present it with higher economic hurdles to clear this year.
Job creation in Pittsburgh ground to a halt to close out 2020. Renewed business closures from state government restrictions left employment in the metropolitan area at 7 percent below 2019 as of the November 2020 data release (latest available as of this writing). This compares with the national average of 6 percent below year-ago levels, and the U.S. job market experienced renewed declines in December, which are likely to have been mirrored in Pittsburgh.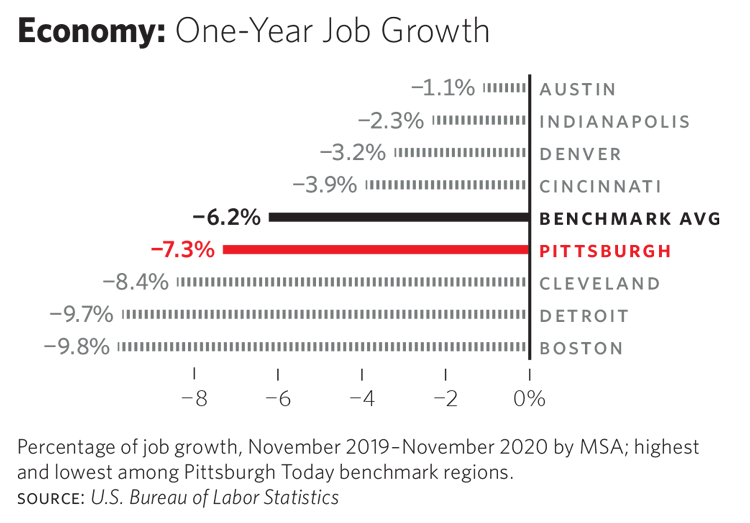 Pittsburgh's labor market, however, faces more acute concerns unlike other Pennsylvania markets or the nation. Pittsburgh's labor force (workers and those seeking work) shrank to more than 4 percent below its year-ago level as 2020 came to a close, whereas the national labor force trend has been down 2.5 percent versus the prior year since mid-2020. Philadelphia maintained year-over-year labor force increases through September, only to see that number finally fall into negative territory (-2.3 percent) as state officials reinstituted business closures and capacity limitations late last year.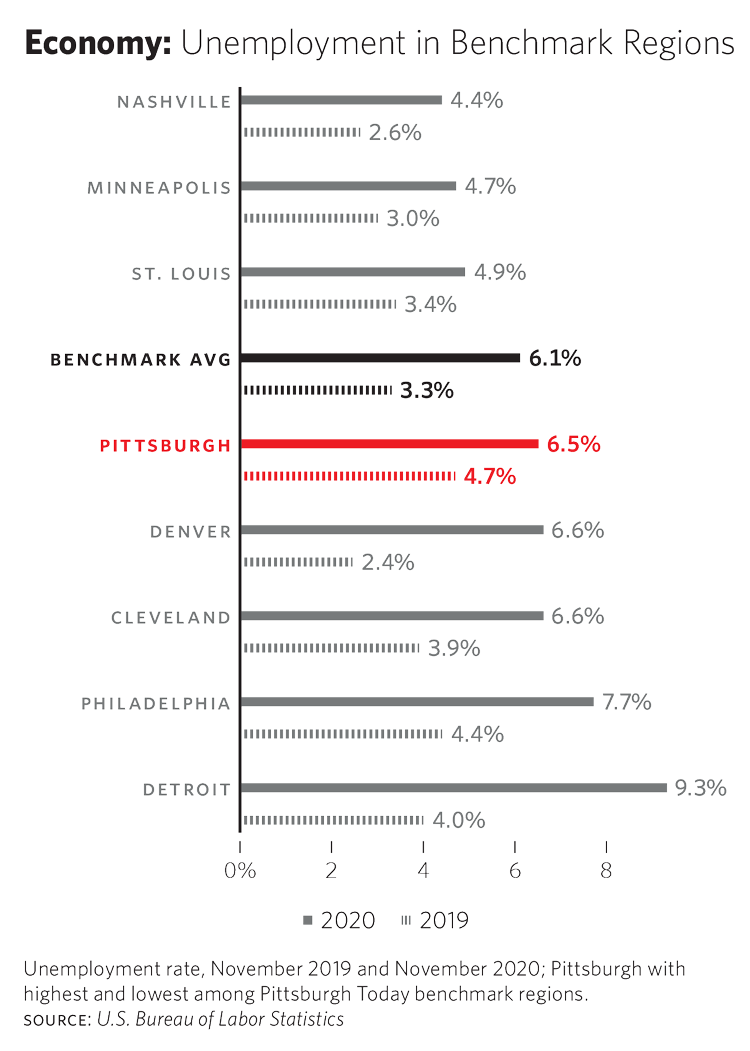 With job re-creation near a standstill and fewer people looking for work, a pall will hang over Pittsburgh as it attempts to spark new job creation in 2021. Compared with national trends, Pittsburgh already had been mired in a below-average job growth pace since mid-2018. Hamstrung labor force engagement and worker discouragement add further drag to the metropolitan area economy's near-term outlook.
Small businesses were likely less prepared to endure the business interruptions endured throughout 2020. Businesses will spend 2021 planning ways to return to pre-pandemic business as usual—incentivizing consumers to purchase their goods and services versus those offered by competitors in what may be the most competitive economic environment in decades.
However, they also will have to plan for the prospect of rising minimum wage requirements if current policy chatter gains traction. Both the legislative and executive branches of the federal government have voiced support for such a move, making it a real consideration for small businesses, despite their coinciding need to recover from lost revenue over the past year. In short, Pittsburgh's small business community has a maze of near-term and long-term challenges converging upon it this year.
If pre-pandemic conditions give any guidance, wage growth potential in the Pittsburgh economy will be less likely this year. Average hourly wages finished 2019 slightly negative on a year-ago growth basis. And while pre-pandemic trends offer little predictive power given the likely volatility of the 2021 recovery, they do offer some perspective on what Pittsburgh's job market is capable of generating when near full capacity.
Here again though, structural labor force weakness rears its head. Below-average labor force growth—even once the effects of the pandemic have waned—means that Pittsburgh's job seekers, or those looking to transition between positions in the local economy, do not have the bargaining power as their counterparts in more competitive markets do.
Pittsburgh's low cost of living is a helpful offset for those who are already established in their careers. But this often-touted benefit of Pittsburgh's economy does little for those looking to enter the job market and quickly establish household financial stability, especially if their financial burdens include student loan debt or other obligations that bear the same costs regardless of day-to-day affordability in a particular market. Nevertheless, Pittsburgh's low-cost qualities may never see a more opportune time to shine in terms of attracting new talent to the region than this year—as the local economy attempts to move on from the economic quagmire that was 2020.
Looking at Pittsburgh's recovery by industry, business and professional services employment was on a stronger recovery trajectory in Pittsburgh in the latter half of 2020 than that seen for the nation as a whole. This makes sense, as many jobs in this sector would be able to be performed on a work-from-home basis. However, the above-average performance in this segment of the local job market—and therefore, the incomes generated from those jobs—has not translated to job re-creation in consumer-oriented industries.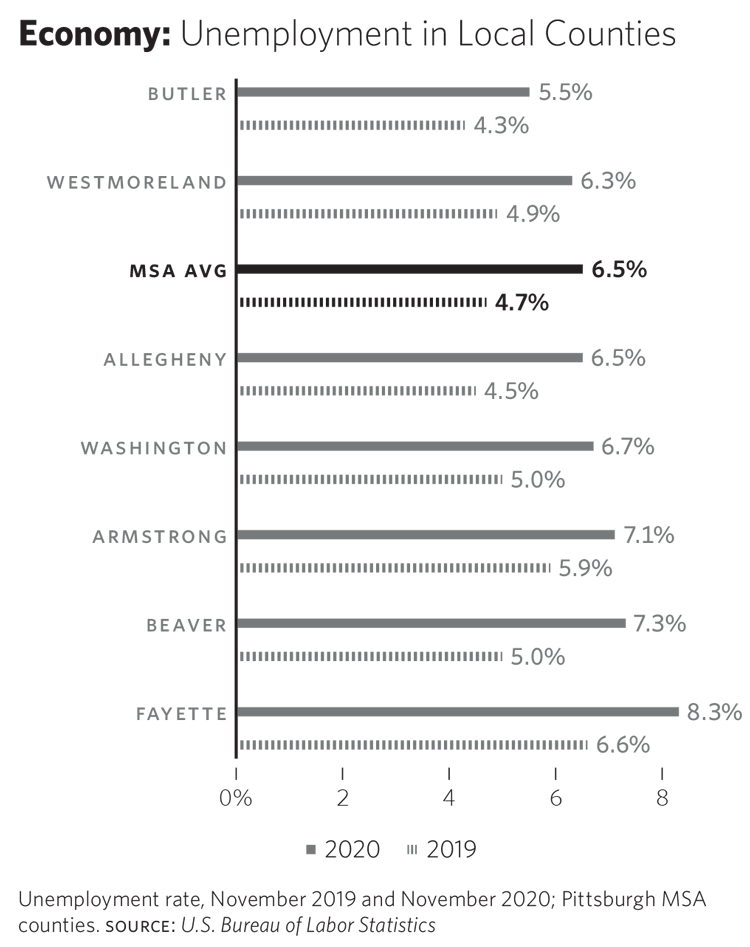 The job count in leisure and hospitality services remains well below the national average (-28.8 percent year-over-year in Pittsburgh, versus -19.6 percent nationally in November 2020). So incomes from jobs preserved—and recovered, going forward—in Pittsburgh have some greater potential to boost 2021 growth, but only if and when businesses are allowed to safely reopen on a broader basis as vaccinations become more widespread.
Other high-income industries in Pittsburgh remain below the national average in terms of recovering jobs. Local jobs in manufacturing, construction, and transportation and utilities also were further below year-ago levels than their national-level counterparts in November 2020.
Health care and social services, as well as government jobs, were ahead of the pace of the U.S. recovery, but are still below year-ago levels in November 2020. Only financial services employment in Pittsburgh in November was both above year-ago levels (+0.6 percent) and outpacing the national average growth rate. Disposable income recovery, and therefore consumer confidence and willingness to spend, will return only as quickly as these higher-paying industries are able to rebuild their payrolls, and through consumer spending, generate the demand that will support the rehiring of workers in retail and leisure and hospitality services industries.
In all, Pittsburgh's economy will lag the national pace of recovery in 2021. A diverse industrial base will help Pittsburgh eventually regain pre-pandemic economic conditions, but achieving that before a full national recovery is unlikely. Federal fiscal stimulus policies targeted at households and consumers will be of increased importance for markets such as Pittsburgh, where internal deficiencies will prolong recovery efforts and support. As a result, the pandemic's economic damage will linger that much longer in this region.