Your Fantasy Football Guide to Week One
Otto Greule Jr / Getty Images Sport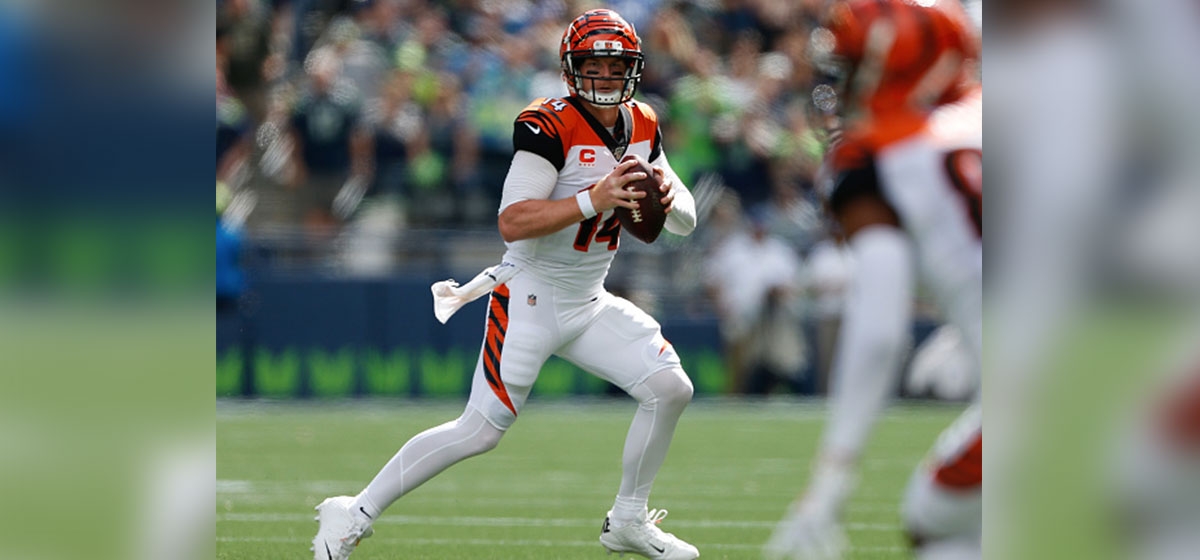 September 10, 2019
So you played John Ross over Davante Adams, and benched Aaron Rodgers for Lamar Jackson's five touchdown performance? Me neither.

Week one showcased a lot of favorable performances, many of which were left on your bench or waiver wire. The trick is in deciding whether or not these are indicative of a trend or a flash in the pan. Beating your opponent is one thing; beating them on the waiver wire is how you win your league.
Fantasy football is a fickle creature, but a tameable one. Below is a sampling of guys owned in less than 50 percent of fantasy leagues that can either help you stay on course or right the ship. Let's get to it:
Quarterbacks
Tough start for a number of highly owned options this week; it's not a common occurrence to see names like Rodgers, Roethlisberger, Newton and Goff at the bottom of the barrel.
No need to hit the panic button, but there are some contingency plans to be had on the wire. Many are already writing off Matt Stafford's Sunday performance as an anomaly; it would have gone down as his best outing last year. Don't wait around to find out—this offense, while not elite, has playmakers at all positions (see TE T.J. Hockenson below).
Andy Dalton is another guy worth monitoring; was this career performance a fluke, or are we seeing what he can do without Marvin Lewis calling the shots? He'll have a favorable matchup against the 49ers in week 2.
Case Keenum, on the other hand, can be safely avoided. The stat line is enticing, but this offense will be too unreliable to count on. It doesn't get any easier against Dallas in week 2, either.
Running Backs
While Rams RB Malcolm Brown headlines the list of under-owned top performers, it will be difficult to trust Todd Gurley's supporting cast to produce consistent results. Head coach Sean McVay will undoubtedly look to get 3rd rounder Darrell Henderson involved, making this rotation even more murky.
Outside of that, most of the top dogs ate on Sunday; waivers may be a little thin this week. Two situations to monitor closely are the status of lead backs Joe Mixon and Derrius Guice—both went down with injury and as of this writing have no firm timetables. Neither backup is worthy of heavy investment, but worth a pickup if you're in a pinch. Giovani Bernard was mostly inefficient on the ground filling in for Mixon, but he's made a career out of the receiving game. Adrian Peterson achieved a 1,000-yard season in Guice's absence last season, but was inactive this Sunday. He's a serviceable option, but not long term.
Finally, while owned in well over 50 percent of leagues, this is the time where owners start cutting bait in favor of upside. If either Kareem Hunt or Melvin Gordon are dropped, don't hesitate to scoop them up if you have the room. They will not be available until the 2nd half of the season, but may jump start your team down the stretch or serve as enticing trade bait as hype begins to build upon their return.
Wide Receivers
Talent doesn't matter if you're not getting opportunity, and we saw a ton of opportunity for some lesser known commodities. A double-digit target share was awarded to WRs John Ross III (12 targets), Danny Amendola (13), and Jamison Crowder (17). Of the 3, Crowder is likely the safest bet to continue to get extra looks; he was a favorite of QB Sam Darnold's all summer, and the only thing standing in the way of a 100 catch season is health. Ross is enticing, but let's see how the encore goes. With AJ Green's imminent return, expectations should be tempered.
It was also a busy day for some rookie wide outs as well, particularly the boys from Ole Miss. Former teammates AJ Brown and DK Metcalf had encouraging debuts leading their teams in receiving. 6th rounder KeeSean Johnson saw double digit targets in this new look Arizona offense. Despite all that, Baltimore's 1st rounder Marquise Brown stole the show to the tune of 147 yards and 2 touchdowns. Marquise Brown and DK Metcalf are both worthy pickups this week, while it's probably too early to project AJ and KeeSean due to lack of volume and competition for targets.
Tight Ends
When tight ends go in the 1st round of the NFL draft, expectations are generally high. When they go in the top 10, they're astronomical.
T.J. Hockenson's opening act was out of this world, setting the record for most yards at the position in a debut since the league merger in 1950. There's no time to wait on this one; if you're in need and he's available, scoop him immediately. Tight ends are notoriously difficult to project, especially to start their career. Hockenson looked a lot further along than most out, and saw a healthy 9 targets – don't overthink this one.
35-year-old Vernon Davis showed some of the juice that made him a former top-10 pick as well, but don't jump the gun to add him despite his highlight reel play from Sunday. Starter Jordan Reed will be back before too long from a concussion.
In deeper leagues, you could do worse than former Pro Bowler Tyler Eifert. It wasn't anything fancy, but Andy Dalton threw his way 6 times on Sunday. That may not seem like a ton, but it's Eifert's touchdown prowess we're after. Should he stay healthy, there's no reason Eifert can't finish as a top-20 tight end. If Dalton carries some of that offensive momentum forward, there's even more upside here—keep an eye on him.