With the Local Newspaper in Decline, What is the Fate of Local Reporting?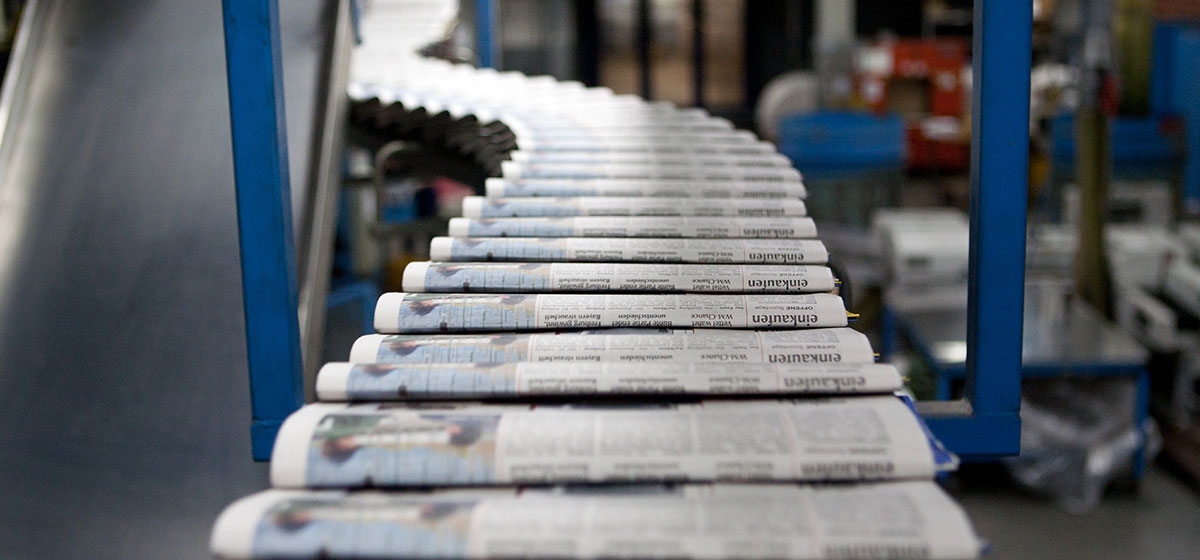 October 9, 2018
Local newspapers have struggled for more than a decade to secure a foothold in the digital era and stay in business. Dwindling revenues and flagging demand for print editions have led some southwestern Pennsylvania papers to close and others to downsize their newsrooms, affecting coverage of local news. To make matters worse, there doesn't appear to be a solution in sight.
"No one is quite sure how to stop that process from happening," University of Iowa professor David Ryfe said. "There are lots of people who are worried about it, but no one has found a solution in the 15 years [since] the digital world has erupted and called attention to the issue. No one has found a solution at the regional or local level."
Ryfe is the director at University of Iowa's School for Journalism and Mass Communication and an expert on local and modern journalism who has written two books on the topic. "All the local newspapers have left is local advertising. There's not going to be any salvation for newspapers in multimedia, in digital media, or online."
According to a 2018 Pew Research Study, weekday newspaper circulation in 1990 was around 62 million nationwide. That number dropped to 55.7 million in 2000. In 2017 the estimated circulation fell to only 30.9 million.
As circulation has declined, local newspapers have had to adjust for the loss in revenue, sometimes by shrinking the size of their staffs, sometimes by selling out or closing up shop all together.
The Greater Pittsburgh area has lost five daily newspapers since 2015, with a host of others changing ownership. These changes pose a risk to both the quality and quantity of local content.
The downsizing of local news
Such changes have buffeted the southwestern Pennsylvania's newspaper industry for years without relief. In August, the area's largest newspaper, the Pittsburgh Post-Gazette, announced it would stop publishing print editions on Tuesdays and Saturdays as part of its transition to an all-digital platform. The newspaper publishes digital editions seven days a week. But a seven-day-a-week printed newspaper is no longer available in Pittsburgh. The Post-Gazette's chief competitor, Trib Total Media's Tribune Review, stopped publishing a print edition in the city in 2016.
Over the last three years, a number of daily and weekly newspapers in the surrounding area have also undergone changes.
In 2015, the Daily News in McKeesport and the Valley Independent in Monessen were among the first local papers in the region to cease operations. Both daily newspapers were owned by Trib Total Media.
The company sold eight publications in 2015, including the Leader Times in Kittanning and the Daily Courier in Connellsville, to West Penn Media, an affiliate of Sample Media Group, which had established footprint in the area with the Latrobe Bulletin in Westmoreland County.
Trib Total Media's largest daily, the Pittsburgh Tribune-Review, moved to a solely digital platform in December 2016. The Pittsburgh City Paper, an alt-weekly, would also be purchased by the Butler, Pennsylvania, based Eagle Media Corporation that same year.
In 2017, Calkins Media, headquartered in Pennsylvania, followed by selling off its local publications. The Ellwood City Ledger and Beaver County Times became properties of GateHouse Media, a division of New Media Investment Group—the largest publisher in the nation today.
Calkins would also sell the Uniontown Herald-Standard to Ogden Newspapers Inc., a West Virginia-based company with more than 3,500 employees at its more than 40 daily papers. Recently Ogden, announced the purchase of the Washington Observer-Reporter from the Observer Publishing Company. With this purchase Ogden now controls the two largest daily newspapers within Washington, Fayette and Greene counties.
But the selling of small town and regional papers to national media companies isn't specific to southwestern Pennsylvania. According to a 2016 study by the University of North Carolina, the 3 largest investment groups at the time—New Media, Digital First, and Gannett—own a combined 900 newspapers in the U.S. with a circulation of 12.7 million.
Does Newspaper Ownership Matter?
As these local papers are gobbled up by out-of-town companies, things start to change, according to Ryfe.
"The first thing that happens is there is correspondingly less local news that is published in the newspaper," he said, which he explained is largely the result of downsizing in newsrooms. UNC's 2016 report attempts to explain why that's happening. Researchers found many of these investment groups purchase newspapers that are in debt. In acquiring these debts, the investors usually employ a formulaic approach to management, which is focused on cutting spending and trimming budgets through "laid off staff, frozen wages, reduced benefits and consolidated sales and editorial functions."
Rebecca Devereaux, 25, experienced the cost cutting measures brought on by a newspaper's sale firsthand when she worked for Uniontown's Herald-Standard.
A multimedia editor, Devereaux was hired by the paper, which was then owned by Calkin Media, to help increase its video and digital storytelling capabilities, but in 2017, the Herald-Standard was sold to Ogden. Devereaux was notified of the sale via email while she was on vacation.
"We didn't know the paper was for sale, at least at my level we didn't know," Devereaux said. "It was very sudden."
Under Ogden, the paper's entire visual media department was let go, leaving one of Devereaux's colleagues to ask: "Who is going to hire a 60-year-old photographer?" she recalled.
Since 2004, employment in the newspaper industry has dipped by 45 percent. In 2017, 39,210 people worked in the industry, according to the Bureau of Labor Statistics.
Reductions in staffing and consolidations of departments, or the outsourcing of certain newspaper functions, are meant to help the papers climb out of debt and start generating a profit, even if short-term. The UNC study says those "profits derived from the cost-cutting have not been reinvested to improve their newspapers' journalism, but [are] used instead to pay loans, management fees and shareholder dividends."
Ryfe acknowledged this profit-driven approach can create a problem not just for those working in the industry, but also their readers. As more newspapers are absorbed into larger corporations, the coverage turns away from local issues and instead becomes nationalized.
"There used to be a mediating layer of political conversation that was local that had to do with potholes in the street and where to put the waste management facility, very basic problems," Ryfe said. "The loss of that level of news has contributed to polarization and partisanship at the national level. All politics have become national, strangely enough, as this has happened."
Ryfe said the reduction of local reporters covering local government, keeping an eye on the inner workings of a community, can prevent the misuse of power– even if covering a city council meeting may seem trivial to the average person. "The fact of a journalist being on the beat tends to reduce the amount of political corruption," he said. Fewer local journalists could lead to more substandard or negligent decision making from government officials.
News Deserts in Rural Markets
As newspapers downsize or dissolve altogether, an information gap is created, especially in rural communities where access to information doesn't come as easy as in the nation's more urban areas.
Metro markets usually have a surplus of news outlets, but also have something many rural communities do not—access to reliable, high speed Internet that makes gathering news and information quick and accessible.
According to a 2018 Federal Communications Commission (FCC) report, 68.6 percent of residents in rural areas are without broadband capabilities that meet federal guidelines for minimum upload and download speeds. This includes counties in western Pennsylvania where local news is declining, like Washington, Butler and Fayette. Approximately 14.9 million Americans are without access to high-speed Internet today.
The 2016 UNC study highlights an earlier FCC report that found only 10 percent of evening television news shows are committed to local or regional news. In addition, "fewer than 40 percent of residents live in an area where they can receive all-news radio," leaving newspapers, as sometimes, the only source of local news in rural areas.
This creates the risk of "news deserts," or, "places that have such a small market they can support relatively little news at all. And don't have much news provided for them," according to Ryfe.
Ryfe acknowledged the Internet isn't the main cause of the daily newspaper's death and the rise of these coalescing media companies, however, it "exacerbated and accelerated it."
Some local papers double down on print
With strained Internet access in some rural communities, it may make sense for local newsrooms to focus on the traditional print medium. After all, a 2018 Pew Research study found newspapers still make significantly more revenue from the print advertisements on their pages than on digital platforms—56 percent of their revenue, according to the study.
But for Mike Palm, the executive editor of Uniontown's Herald-Standard, his paper is choosing print for a different reason: competition.
"When you're trying to compete in a digital world, you're competing with more [media outlets]. The Tribune, the Post-Gazette, all the TV stations, the Observer-Reporter—in the digital realm all those become competitors," Palm said prior to his paper's owner, Ogden, purchase of the Washington Observer-Reporter. "In the newspaper realm—in hard copy—we have competitors, but in this area, there's not much."
Palm's publisher, Michael Scott, has been with Ogden for 19 years and believes Ogden made the right decision, albeit through a series of difficult choices, when they changed their priorities from online back to print after buying the paper in 2017. That's when Rebecca Devereaux and her colleagues in the visual media department were let go.
"Calkins [Media] was focused on digital," Scott said, referring to the paper's previous owner. "We're focused on print. Having a good, solid print product, it comes with a good, solid business model where digital does not, and in order to keep the content the level we firmly believe we should be at for a local newspaper, we need to be [in] print."
Scott estimated the Herald-Standard's current circulation to be approximately 50,000 and said they have 115 distribution racks throughout their coverage area. Calkins Media had previously removed all of the racks.
Scott believes newspapers made a mistake when "they offered their product for free" online. Yet, pay walls have not proven to be the answer for rural markets either.
"Newspapers have not made money online. Their revenues have been flat as a whole and that includes the larger regional newspapers like the Boston Globe and Dallas Morning News," Ryfe said.
According to the Pew Research Center's 2016 State of the Media Report, weekday print circulation in 2015 still made up 78 percent of a newspaper's distribution. Fifty-one percent of adults who read a newspaper did so in a print-only format, compared to 5 percent who preferred digital-only.
But those findings aren't conclusive for the industry as a whole. In the same report, Pew found audiences are still gathering a large portion of their news from online sources when compared to the print newspaper.
Regardless of whether a consumer first saw an article on Facebook, Twitter, Instagram, or LinkedIn, only 20 percent of the original content came from a daily newspaper, while 25 percent came from radio and 28 percent came from digital publications and apps.
While the Herald-Standard is doubling down on print, its neighbors to the north like the Pittsburgh Post-Gazette and the Pittsburgh Tribune-Review are betting on digital.
Author and New York University journalism professor Samuel Freedman said those publications will have to find a way to make readers want to pay. "You need to make the content strong enough that people want to pay for it. What can you provide to your [readers and advertisers] that they can't get anywhere else?"
The Counter Argument
With all of the external pressures on the industry, whether a newspaper is family-owned or held by an investment firm can be irrelevant. Statistics may indicate a reduction in the size of local newsrooms and, in turn, a reduction in local news coverage when they are acquired by larger corporations. But that isn't always the case.
"There's nothing magical about local ownership," Freedman said. "It is about who owns the paper. [The] problem isn't that they're outsiders, it is if there's no commitment towards journalism."
A former New York Times columnist and reporter, Freedman pointed to billionaire Glen Taylor who bought Minneapolis' Star-Tribune as an owner who has aggressively worked to grow the audience of his paper, vowing to make it a "statewide" publication.
Freedman agreed that there should be concern over media conglomerates buying all of the publications in one geographic area since history has shown they often have the "short-term" goal of debt cutting rather than growth. But as a former writer for New Jersey's Courier News, owned by Gannett and part of the USA Today Network, Freedman said his own experience wasn't that of drastic cuts.
"Everyone hated Gannett [at the time], but we were never removed [from a job] and were never strained for resources," Freedman said.
Some local newsrooms today are finding benefits to being owned by the same large media company. Ellwood City Ledger managing editor Patrick O'Shea noted he utilizes a type of "network journalism" with the Beaver County Times.
As a former employee of the nearby paper, O'Shea said he has previously established relationships at the Times and he will often use local and regional stories from their reporters to fill his pages at the Ledger rather than national news. He said this type of resource sharing has been valuable for him.
According to Ryfe, this is common practice when chains buy local newspapers. "These companies buy up papers in a geographic area so they can ring different kinds of efficiencies out of the chain. That means they share content across the newspapers."
Ownership change and reader perceptions
When newspapers are bought by a larger conglomerate, the regional approach they sometimes implement with their coverage can lead to resentment from local residents.
Joyce Blaho, a former marketing and advertising employee of the Herald-Standard in Uniontown, believes the paper has quashed its local content with their extended Mon Valley coverage.
"The paper isn't the same since being bought out by the Nuttings," she said, referring to the owners of Ogden Newspaper Inc. Blaho isn't alone in her newfound discontent.
Sara Meyer, who works at the Free Carnegie Library in Connellsville, Pennsylvania, doesn't read the local Daily Courier because she believe it is "too depressing." For her, the coverage is unappealing, too many stories about car crashes and arrests. "Every patron that comes in tells me a story," said Meyer, who prefers to see more human interest stories in her daily newspaper. "Something like that would help balance all the depressing news."
Meyer, who has a brother-in-law who works at the Herald-Standard, is empathic, though. She said she understands that local newsrooms don't have enough manpower to successfully cover the area. Yet, she still can't bring herself to purchase either paper regularly.
"I can't justify buying it when I can get everything online," she said.
While a number of people in these communities interviewed for this story admitted while they don't read their local newspaper, they'd be more upset if the paper closed its doors entirely.
And that is the problem local newspapers are facing today: people want them, but they don't want to pay for them.
"[Readers are] expressing a kind of ambivalence. They value journalism and yet relatively few of them are willing to pay enough money to sustain this journalism in their community," Ryfe said.
O'Shea has been the managing editor of the Ellwood City Ledger since the GateHouse Media merger in June 2017. He said there were 5 staffers in the Ledger's newsroom at the time. Now, it is operated by O'Shea along with one other full-time reporter, a part-timer and an 80-year-old contributing writer. The paper itself is laid out in Austin, Texas, at New Media's Center for News and Design, a design hub that serves 90 daily newspapers and 203 weekly papers, according to their website.
He's not sure if any of the Ledger's 2,500 readers are aware of the staffing reductions that have taken place under GateHouse's ownership, but said the lack of empathy between readers and newsrooms "plays a role" in some of the hardships facing the newspaper industry. Residents are "almost always understanding" once the situation is discussed, but those conversations can be few and far between.
Ideally, O'Shea would like to utilize additional staff to help allocate time to tackle more in-depth stories, but said he isn't holding out hope for the increased resources. "If it were up to a local administration, I think there might be more chance of that happening But unfortunately, when you are part of a larger organization, the attention isn't really there.
"This is a service the [residents] rely on. This is a business they rely on." O'Shea believes if the paper were to shut down, "it would leave a serious hole in the community."
The only problem is someone still has to pay for the news.
This story was supported by The Pittsburgh Pitch, a project of 100 Days in Appalachia and the Center for Media Innovation at Point Park University. It was originally published by 100 Days in Appalachia.