Washington & Jefferson College Inaugurates Knapp as 13th President
October 19, 2017
Photos courtesy of Washington & Jefferson College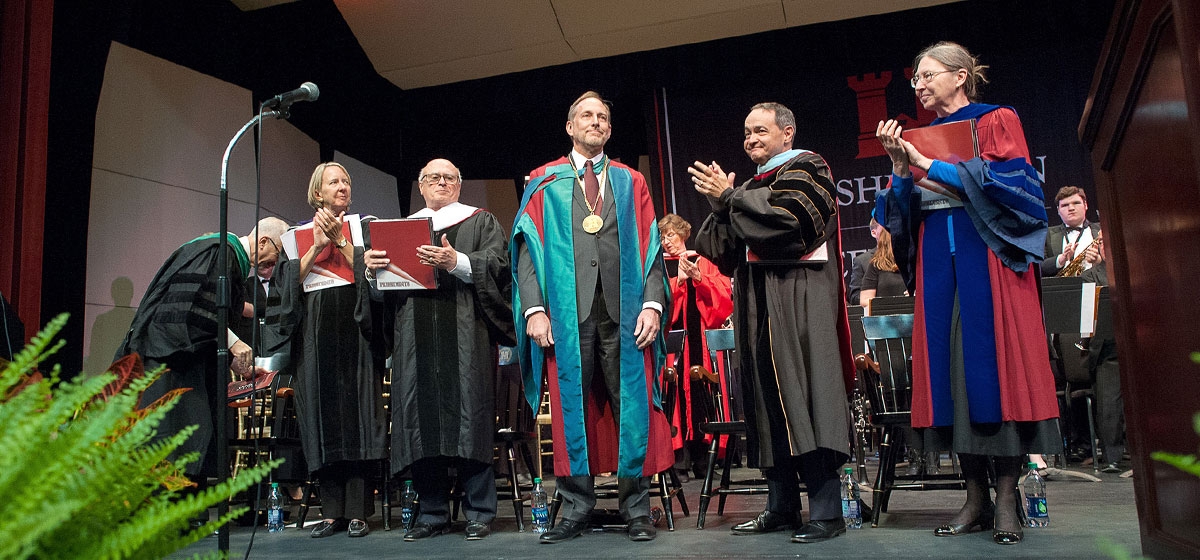 October 23, 2017
Washington & Jefferson College inaugurated John C. Knapp, Ph.D., on Oct. 19, 2017 as the institution's thirteenth president. The ceremony was held at Olin Fine Arts Center on the W&J College campus.
---
---
Dr. Knapp began his appointment at W&J on Aug. 1, 2017, following the retirement of former W&J President Dr. Tori Haring-Smith in June.
A number of speakers welcomed Dr. Knapp to the college, including: Dr. T. Andrew Westmoreland, President of Samford University; City of Washington Mayor Scott Putnam; Diana L. Reed, Trustee and Chair of the Presidential Search committee; and Richard T. Clark, Chairman of W&J's Board of Trustees and former CEO and Chairman of Merck Pharmaceuticals; among other members of the W&J faculty, staff, and student body.
Dr. Knapp's career includes serving as president of Hope College in Holland, Mich.,
for four years prior to his appointment at W&J. A renowned expert in ethics as well as a
seasoned academic, administrator, professor, author, consultant and community leader, Dr.
Knapp was founding director of the Frances Marlin Mann Center for Ethics and Leadership
at Samford University in Birmingham, Ala. He also established and directed the Center for
Ethics and Corporate Responsibility at the J. Mack Robinson College of Business at Georgia
State University in Atlanta, Ga.
Additionally, he founded and chaired the Atlanta Diversity Management Network, a
project dedicated to sharing best practices among the region's largest employers, including five universities. Prior to his academic career, Dr. Knapp was a successful entrepreneur,
trusted advisor and president of a communications consulting firm in Atlanta.