26 + 6 = 1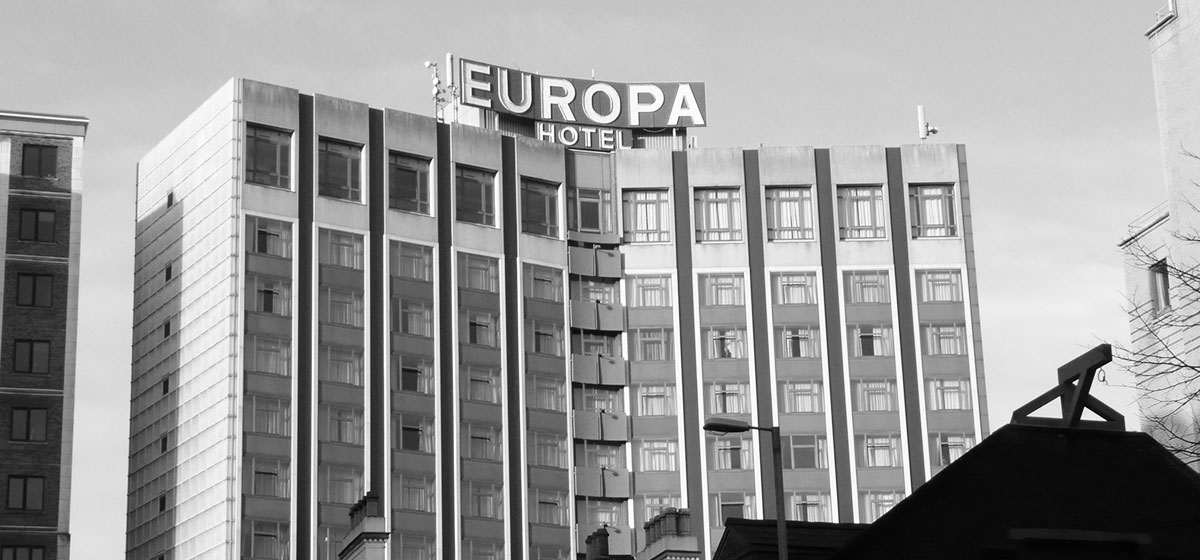 April 9, 2018
The first time I went up north to Belfast,
a helicopter hovered overhead.
Very young and very nervous soldiers
with guns too large for their skinny bodies
carried their fears across the darkened streets.
In the Europa lobby, the guide bragged,
"This is the most bombed hotel in the world."
We stayed in a lovely place out of town,
jumped in a pool that felt like the Arctic
Circle had slid out of its boundaries.
Now science says the circle is on the move.
Three decades pass and I arrive again
in the capital of the lost six counties
of Ireland. We stay at the Europa,
with protective barriers out front.
Still demo-central for Catholics and Prods
with any complaints about each other.
The concierge shows us the Clinton suite:
two rooms—one large for meetings and eating;
the other with bed big enough for them
to ignore each other if they should choose.
We bus to the Titanic museum,
the building, a gem of bright, frozen waves.
The anchor chain strong enough to hold back
a typhoon. Built by men of both religions.
with lifeboats hung at the highest level.
Not the company that wouldn't hire Catholics.
Forget that myth about hull number
3909-04 sort of saying NO POPE read in a mirror.
Greatest number of survivors were male.
Sixty-six percent of third class children lost.
Meanwhile, back at the Europa, a crowd
of enthusiastic protesters waves
signs that say real peace happens in pieces.
He and she, you and me—all pieces of peace.
---
Pittsburgh Quarterly is now accepting submissions for its online poetry feature. PQ Poem is seeking poetry from local, national and international poets that highlight a strong voice and good use of imagery, among other criteria. To have your work featured, send up to three previously unpublished poems in Word or PDF format as well as a brief bio to pittsburghquarterlymag@gmail.com. Simultaneous submissions are accepted, but if work is accepted elsewhere, please alert us.