Treating Patients As People
Doctor argues for more humanity in healthcare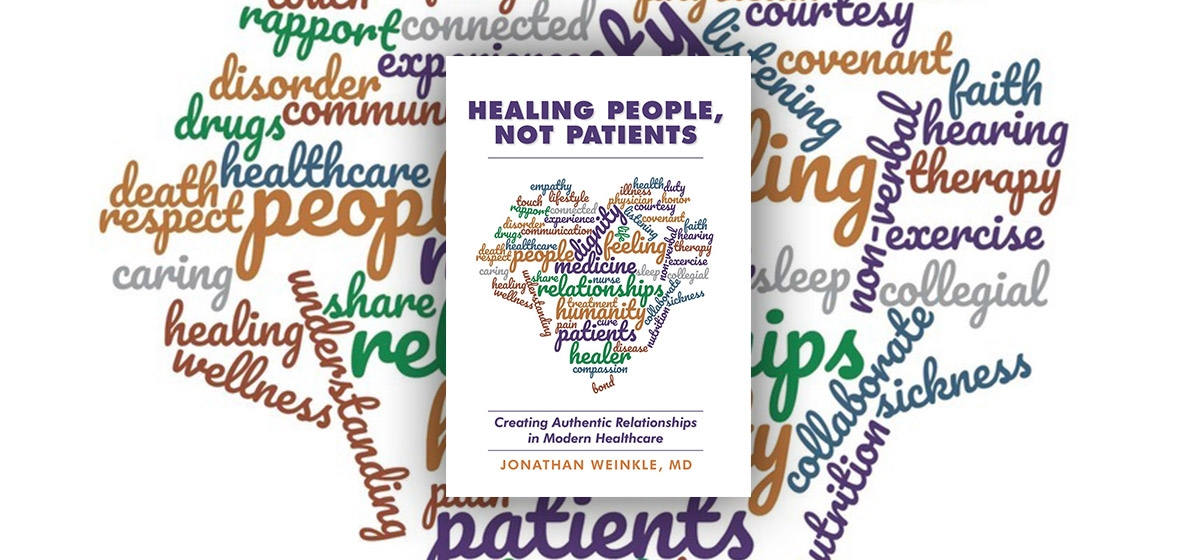 April 1, 2019
Healthcare often gets treated as if the only issue is economic: Health insurance-Goliaths Highmark and UPMC are in a coverage standoff; a "Medicare-for-all" bill that could cost up $32 trillion is unveiled in the U.S House of Representatives; insurance rates tick upward. But what about the emotional plight of flesh-and-blood patients facing uncertain outcomes while often dealing with doctors stretched thin for time?

For some, what's needed is a change in outlook by an often-impersonal medical-industrial complex that brings patient relationships back to the forefront for physicians. It's a shift endorsed by local physician, Jonathan Weinkle, MD, who uses a potent, but compassionate voice supported by his experiences to advocate for dynamic, yet commonsensical, changes in care in his recent book, "Healing People, Not Patients: Creating Authentic Relationships in Modern Healthcare" (Healthy Learning Books). It's the patient as a person that matters most.
Dr. Weinkle brings credibility to the page. He attended the University of Pittsburgh School of Medicine, graduating cum laude in 2004, and completed his internal medicine and pediatrics residency at UPMC Children's Hospital of Pittsburgh. Since then, he has developed environmental oncology programs for the Pittsburgh Cancer Institute and has taught at Pitt's School of Medicine. The passion and perspective for much of the book, however, is derived from his years practicing at the Squirrel Hill Health Center, which he describes as "a multi-specialty practice focused on overcoming economic, cultural, and logistical barriers to health care."
He writes reverently of his profession, sharing, that "Practicing medicine is a privilege, a gift—a sacred trust." In fact, much of the book centers on "how to make the day-to-day practice of medicine reflect that sacredness, even when internal and external forces drag doctors and patients away from the trusting relationship between two human beings and into the mundane, or even the profane. It is to ensure that the fundamental building block of that relationship, the face-to-face encounter between one who seeks healing and one who heals, benefits from open, honest communication, mutual respect, and shared purpose, even when systemic problems push them into adversarial positions." Using well-written prose, the doctor draws from both patients' stories and his own to portray an uneven process that allows some of the sickest to fall through the cracks.
As a religious rationalist with a background in science, Dr. Weinkle nevertheless understands the power of pathos. Much of the book made up of extended anecdotes about interactions with both patients and colleagues. He writes of an early medical experience in which patients are seen less as "human beings with a divine spark inside," and more often defined as "diseases, room numbers and procedures: 'The cystic on 7 has burholderia cepacia.' '3313 needs her pain meds.'" "Patients that make us uncomfortable," he writes, "become nicknames, names like GOMER or 'shake and bake.'" He balances this honesty by relying on the idiosyncratic training he sometimes received. In one example, instead of med students dealing with cadavers, his class spent the day getting to know a six-year old girl with cystic fibrosis. After that, "she would forever be a girl first and a patient second."
Readers are offered many personal stories and powerful analogies, such as one from Rabbi Heimer, who works in spiritual services for UPMC. When he says, "I like stories," he's speaking of how culture is organized around narratives. He compares illness to the Exodus story. For many patients, it's "like Egypt, a narrow place where people get stuck. They can't breathe, and they're stuck carrying around heavy tanks of oxygen that run out of gas (literally) halfway through an errand. They can't stand up straight from chronic back pain, ever since they fell six feet from a rickety stepladder at work, or out of a dead rotting tree they climbed when they were 10 years old. They keep getting fired because their ADHD prevents them from concentrating or because their bi-polar disorder makes them so irritable they can't help getting into arguments with their coworkers." Using wise and sometimes religious overtones, Healing People, Not Patients allows readers to process the lives of others in meaningful ways that won't push non-believers away.
Holistic is a word that gets bandied around a lot. In the new order of patient-centered medicine Dr. Weinkle advocates, it's the details that count. When he wonders what it is about the doctor-patient relationship that makes patients "behave like children about to be scolded by their parents," he considers the issue of "white coat syndrome," which represents the power differential between doctors and patients. Should he wear semi-formal dress or go casual? The answer, for his Nepali patients anyway, is to look "smart" in a tie, making "dress-down days a moral dilemma." Consideration is also given for what the patient is wearing, the gown, in particular, which he defines as "a necessary evil" that requires them to endure an "embarrassing, degrading, humiliating state" that detracts from thoughtful interactions.
Dr. Weinkle is at his even-keeled best when he writes of his own bias against those who don't vaccinate. He tempers his opposition by honoring their reasons and arguing his view, trying "to salvage a lot of common ground" – protecting a child from preventable disease. His dealings with those struggling with addiction are often captivating as well as he withholds judgement of the patients he treats, even when one is tattooed with a Nazi swastika.
He also writes movingly about his interactions with immigrants who have fled suffering. One fellow, Purna, characterizes his experience this way: "When you are a refugee, you are nowhere." These stories prove most poignant at a time when immigration and immigrants is a hotly debated issue in the nation.
"Healing People, Not Patients" absorbs the reader best through its cast of characters, some immigrant, some indigent, but all thoughtfully considered as human beings in scenarios artfully conveyed by Weinkle. His prose is, at turns, hopefully philosophical and down to earth. He channels both legendary UCLA basketball coach John Wooden and the Torah, conveying empathy for even the most difficult of patients and exploring ways to fix the system from the inside out.