Tommy the Unlikely Donut Man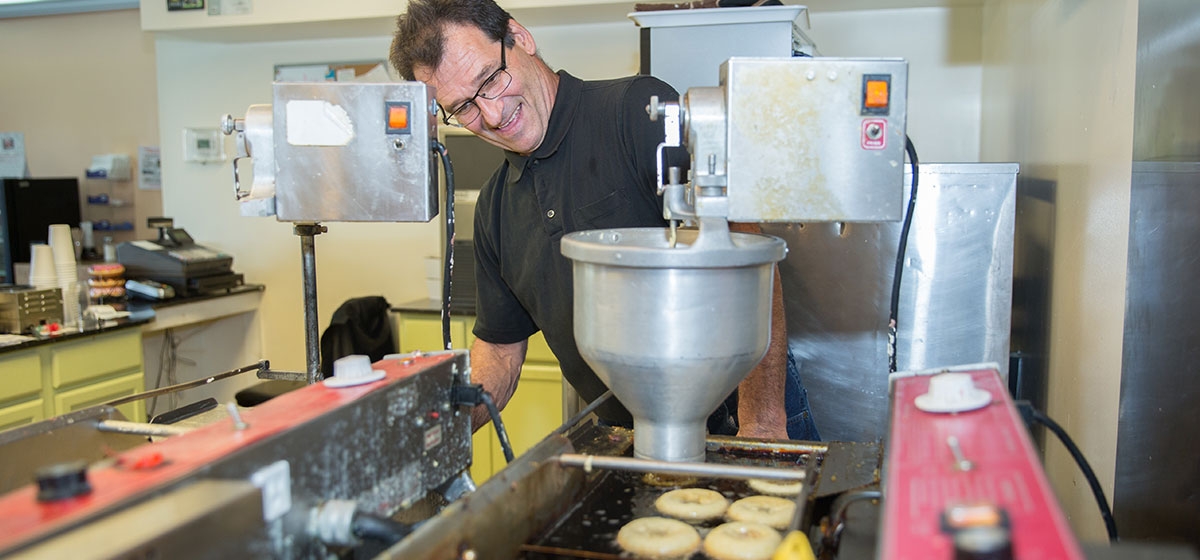 October 30, 2017
Tommy Gozion had never made a donut in his entire life. Which was weird, given the fact that he tacked some neon to the storefront along Route 8 and announced to the world that Valencia Donut was open for business.

---
---
The idea of donuts popped into his head when he was at the beach a few years ago. He saw someone else making them and thought, I can do that.
You're kidding, right? His dad hoped.
Nope, came the answer. "I never look before I leap," Tommy explains. He was 52 at the time, 52 years of been-there-done-that.
There was the scalloping job he got at the age of 19 after sitting on the New Jersey docks for two weeks.
"Wasn't for me."
So, he moved back to the area, found a girl, got down on one knee, said a vow.
"Didn't work out."
He got a son out of the deal though, so it was worth it. Being a single dad has taught him a lot.
But the jobs, well… he did work for one year at the Clairton Mill.
"I saw people who were 45 looking like they were 60."
Then there was the gold prospecting he did in Virginia.
"I'd like to go to Alaska and look for gold."
He built a saw mill which was fantastic. Until he found how much work it was.
"I sold it to my buddy."
Then he tried raising lobsters. Went to school for it, actually. When he got them they were this long and he grew them to this long, he explains, motioning with his hands.
"I lost three generations on a November day. They froze."
Along the way, he also managed to spend 27 years working as a machinist.
"I didn't care for my new boss. It was time to do something different."
But the donuts, well, he must be doing something right this time. They were voted #5 in the State by the Best of Pennsylvania website or something. "I don't know who it was," he says. "They just emailed me and told me we were voted fifth best."
He always gets to the shop two hours before it opens; 4 a.m. on the weekdays and 5 a.m. on the weekends. In the summer, it's kinda slow but it picks up in September so it all evens out. Best day of the week is Saturday.
Everyone says his donuts are small which is aggravating. He made the biggest donut he could possibly make; 2.3 ounces each. Which is huge comparatively.
And they're made without holes. Just a little button in the center so they look like a muffin, just flatter and fatter. Flavor options are scrawled on a dry erase board hanging on the wall inside the shop. Today it's vanilla, chocolate, and blueberry that come out of the oven warm and tempting. Pick whatever you want on them; they're made to order. Vanilla, chocolate, lemon, or orange glaze, toppings like jimmies, coconut, walnut, or sugar.
They'll each set you back a buck forty-two plus tax, a number he picked so that the total would round up evenly because no one likes a bunch of change in their pocket. Nickels and dimes are annoying.
It's also annoying when people ask about a take home menu because there isn't one. "I tell people, take a photo of the damn wall," he says.
He'll blow through about 150 dozen donuts a week. So, 7,000–8,000 donuts a month. Yeah, that sounds right. And he likes the people, but not the business.
Because lately, he's getting kinda tired of making donuts seven days a week. It's the one thing that bothers him about this place. "I lost life," he says.
So, he'll give it two more years. Move on to something else. Not sure what.
"I'm a gears and grease kind of guy," he says. "I don't think. I do."