This Johnstown Mob Story Is Business and Personal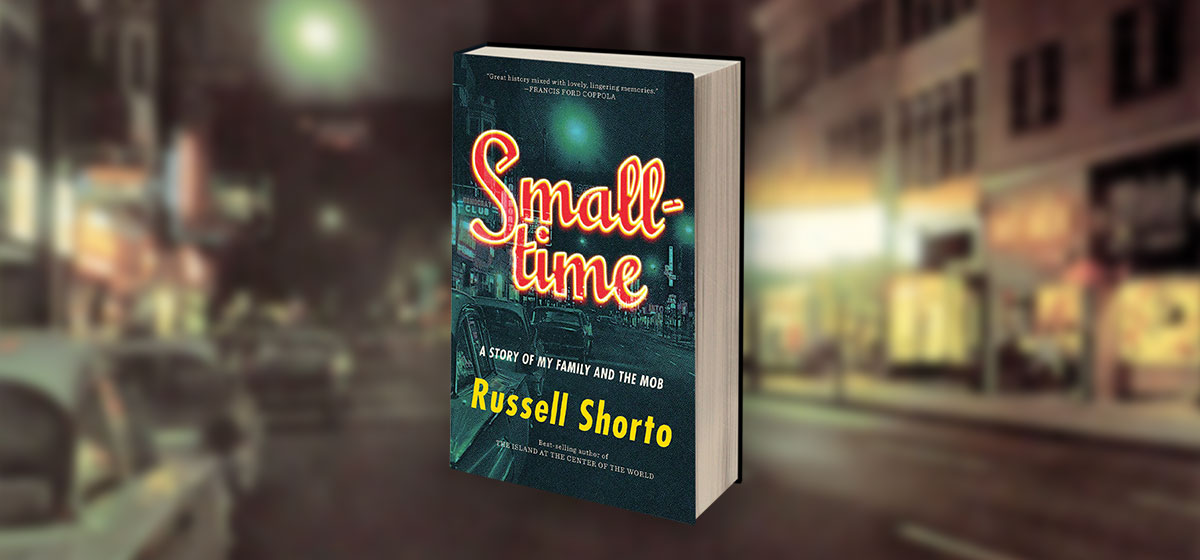 August 16, 2021
The gangster has long stood as an outsized figure in America's 20th-century mythology, ranging from the brutal Al Capone to the fictitious Tony Soprano. "The Godfather Part I" and "Part II," as well as "Goodfellas," rank in the American Film Institute's Top 100 American Movies of all time, while several others deal in mob tropes. With their emphasis on family and a host of fearless characters trying to gain access to the American Dream, it's easy to see how these stories continue to resonate and remain relevant. For Russell Shorto, author of the compelling recent memoir, "Smalltime," the story looms in much more personal ways.

Approached by an aging relative during Christmastime in his hometown of Johnstown, he's asked, "What are we gonna do about the story?" His reply: "What story?" becomes the rhetorical question that centers on his namesake grandfather, "a small-town mob honcho of some kind" who passed in 1981. Shorto expresses early on that as "someone who makes a living telling nonfiction stories about the past, so, in terms of subject matter, you might think this one would have been obvious long ago. It was not." Readers will be happy he changed his mind.
"Smalltime" works because it travels on the twin rails of Shorto family history and a well-researched deep dive into the rise of the Mafia in small towns across the country. These competing points of view lend the narrative a balance that seems to fit the author's strong suit, as his well-received earlier books, "Amsterdam" and "Revolution Song," also rely on historical research. Shorto allows himself and his subjects the vulnerability and voice they need to keep from becoming caricatures. It's also a meditation on the difficult relationships that sometimes befall being father and son, often holding each other "at arm's length."
Naturally, in researching his grandfather's story, a man defined by his gambling skills, quietude, drinking and serial philandering that eventually left him ostracized from his family, Shorto also sees him as a success. "Russ was largely responsible for having capitalized on the little steel town's postwar boom by building an operation that generated what one knowledgeable person estimated at $40 million over the 15 years since the war's end (about $370 million today), a portion of which was sent off weekly to 'the boys' in Pittsburgh." The grandson's respect is hard-earned only after interviews with a series of colorful characters add depth to a complicated dysfunctional man.
While the grandfather remains the mystery needing to be solved, (as well as the murder of a bookie named Pippie), the beating heart of the book is the role played by the author's father, Tony, who spent his formative years emulating the "wise guys" in his orbit, only to strike out on his own bumpy, but legit path. Tony is characterized as "open, bright and gregarious," and his connections to the old-timers proves invaluable to the research and allows an aging father and son to find common ground. The author goes on to say of both father and grandfather, "These two men who stood behind me in the biological chain — each of them like me, the first son — were the white knight and the black knight." The contrasts leave no easy answers, but more shades of gray.
To the dismay of some, the dysfunctional family dynamic is often the core of powerful nonfiction. Yet, it's Shorto's ability to contextualize the rise of small-town organized crime that might feel refreshing to others in a genre known for navel-gazing. Instead, the history of a city's rise and fall, and the coming of prohibitions that further created a rift between nativists and immigrants, is a story seen before. This backdrop lends Shorto's well-crafted "Smalltime" an intimate, un-romanticized trajectory of people being left out of the traditional upward mobility, carving out their own niche to profit on human desire, even if those paths to power ultimately destroy much in their wake.