There is Life Underground
Squeezed in after their day jobs, a collective of artists is creating a hotbed of out-of-way culture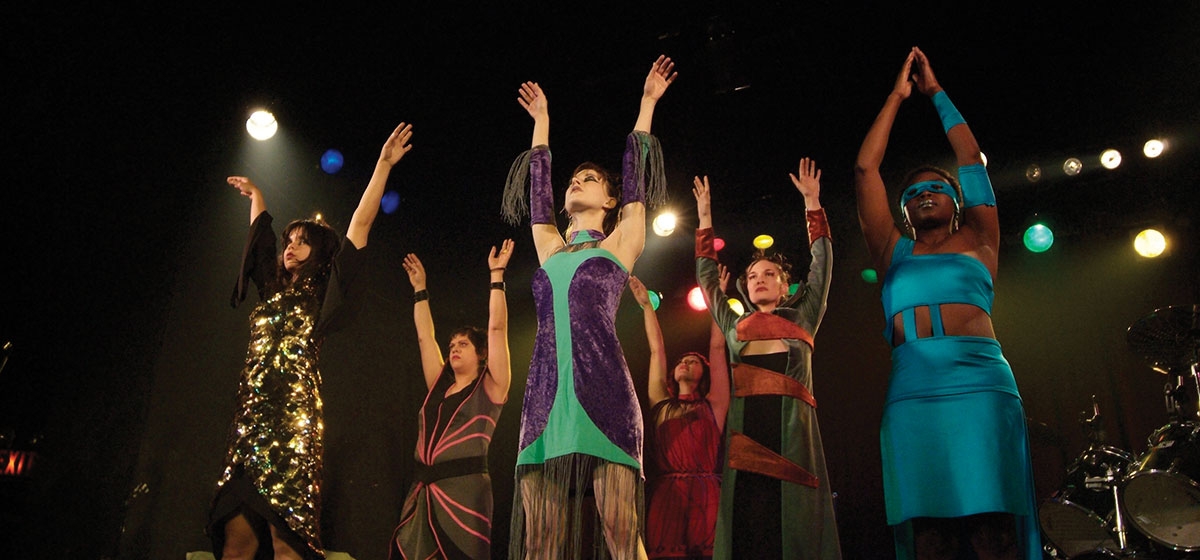 November 20, 2005
On a recent Friday evening, the balcony in the South Side's Rex Theater was at a near fever pitch. Amid a buzzing crowd, models were sipping cocktails and slipping into their custom-made outfits while a new rock band, Magdalene, jammed on the stage below.

The evening was conceived as a debut concert for Magdalene, but what emerged was "Jezebel," a hodgepodge celebration of music, film, art and fashion.
There are other cities that spark images of underground art and fashion, vibrant meccas where throngs of denizens gather to create, using each other as inspiration. It's time to add Pittsburgh to that list. The city is becoming a hotbed for out-of-the-way culture that is cooked up in apartments and group homes, funded on a shoestring budget and produced in venues far away from Downtown's typically high-brow Cultural District.
You just have to know where to look.
At "Jezebel," Joey Rocket screened "Spoken For," his short film that was scored by Light Giuffre's band Magdalene. Rocket is a 30-year-old Pittsburgh transplant and co-founder of the Rocket Guild, a collective of artists that includes photographers, musicians, fashion designers, models, actors and filmmakers.
The Greenfield-based Rocket and his "family" — a fluid group of about 30 art collective members whose professional personas share the "Rocket" surname — can be seen around town producing art in a variety of mediums, from films, to performance art, to photography, to clothing. Their work is typically exhibited at sweeping, cleverly named productions such as the recent "Jezebel" and "Carnival After Dark," that double as parties to celebrate their artistic accomplishments.
The Rocket Guild, launched in Greensburg in 1999 with two of Rocket's college friends, has two goals: demystify art by making it more accessible to the not-so-creatively inclined and encourage collaboration among artists.
Rocket works with the Mount Washington-based Kari Kramer, a Warren native whose line of women's clothing, iroNiece, uses bold geometric shapes, lines and colors.
Kramer was one of six designers whose work was displayed at the fashion show portion of "Jezebel."
She frequently collaborates with the Rocket Guild and the local, socially focused, art collective Art From Chaos, which also produces themed fashion shows to display their latest work.
Kramer, 25, used to produce iroNiece for a handful of local retailers, but now she creates mostly couture lines inspired by her artist friends, sewed to fit their bodies and displayed on them in local shows such as "Jezebel." "I love seeing the ideas in my head come to life," said Kramer of the shows she produces and co-produces.
But these "art experiences" are never just a gaggle of skinny women prancing down a catwalk to a pulsating beat. They're more a bazaar of performance art with music, dancing, film, and display art.
Typically modeling Kramer's designs and starring in Rocket's films is Regent Square's Rachel Vallozzi, 26, also known as "Sunshine Rocket."
She juggles a multicareer as actor, model, fashion designer, stylist and vintage clothing store owner.
Vallozzi's "main gig" may be her East Carson Street shop, Kharisma Vintage Fashions, but she's an accomplished actor, sells a clothing line of re-worked vintage pieces called "Daisy Mae," and is gunning for a career in fashion styling.
"I wear too many hats, that's the problem," Vallozzi said, laughing.
This group isn't in it for the money.
It's a struggle to produce a show with out-of-pocket expenses that hover around $1,000, and turning a profit is unheard of. Breaking even is always cause for celebration, and the money is funneled into the next project. The binding thread between this cadre of artists/entrepreneurs is a passion to create and share their work. They survive by holding down day jobs and piecing together freelance gigs.
And they don't stand still for long.
Two days after "Jezebel" premiered, Kramer was brainstorming a new show with her roommate, Stephanie Giuffre, the founder of the collective, Art From Chaos.
"Whenever the show ends, we rest for a day and then we do the next show," Kramer said. They're planning "Pendulum," a dance and fashion event this spring that will explore both mediums from the 1920s through the 1970s.
Rocket is raising money for a feature-length movie to be filmed at an old farmhouse in Punxsutawney. Vallozzi expects to star in the yet-to-be-named picture that Rocket co-wrote with "family member" Benzo Rocket. The film is intended to be a blend of "The Breakfast Club meets Easy Rider."
In the view of Joey Rocket, the local scene is plenty vibrant, while still manageable. "There's an optimism and desire to push the city artistically."