The Tionesta Natural Areas
Photo by Kirk Johnson, courtesy of Friends of Allegheny Wilderness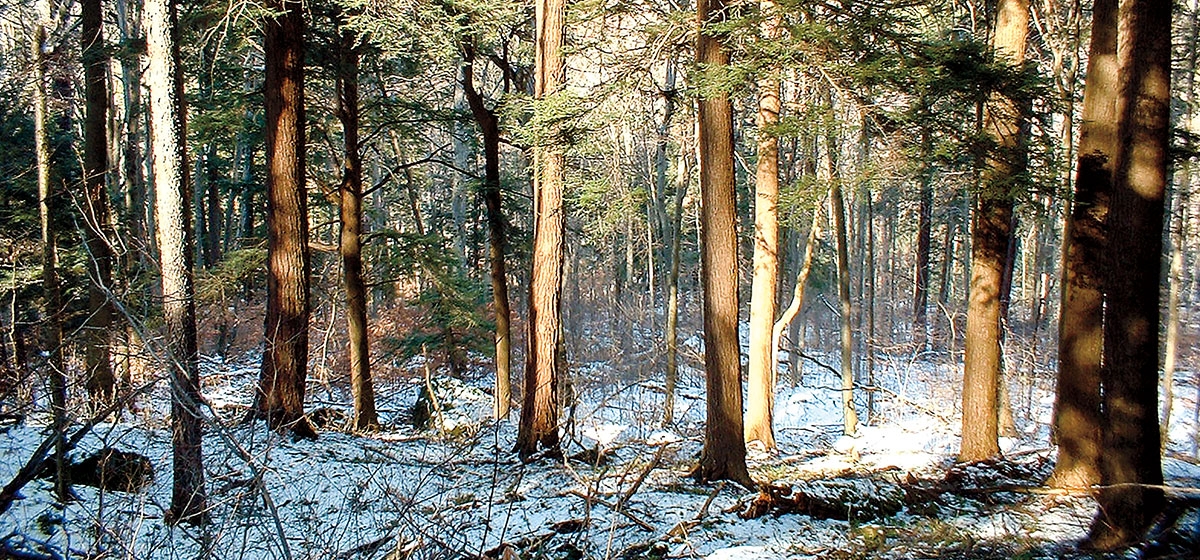 February 11, 2019
The largest remaining uncut forest in Pennsylvania is the Allegheny National Forest in northwestern Pennsylvania. This remote 4,000-acre area is almost equally divided between the Tionesta Research Natural Area and adjoining Tionesta Scenic Natural Area, which are managed for science and aesthetic values.

Situated along creeks at the top of the 2,000-foot-high Allegheny High Plateau, these forests host impressive eastern hemlocks and northern hardwoods such as American beech, black cherry and yellow birch. Some of the hemlocks are more than 400 years old. This exceptional landscape was designated as a National Natural Landmark in 1973. A tornado flattened a swath of the forest in 1985. The natural regeneration since then makes these forests of further interest as a natural laboratory.
These natural areas are off the beaten path and have trails of various lengths. Beginning in the historic lumber towns of Ludlow or Kane, forest roads lead to short and long loop trails, allowing day hikers to explore among the stately hemlocks. And the North Country Trail traverses the scenic natural area for two miles.
Because the natural gas development rights were not controlled by the U.S. Forest Service, the Tionesta areas could not be fully protected. The Western Pennsylvania Conservancy was able to acquire the gas ownership under the 2,000-acre research natural area in 1987, to complete the protection. For information about these natural areas, visit www.fs.usda.gov/allegheny or call 814-927-6628.
The Conservancy has protected more than 250,000 acres in the western half of Pennsylvania since 1932. To learn more, visit WaterLandLife.org or call 412-288-2777.