"The Slide" chronicles the tough years of the Pittsburgh Pirates
So close, and then so low…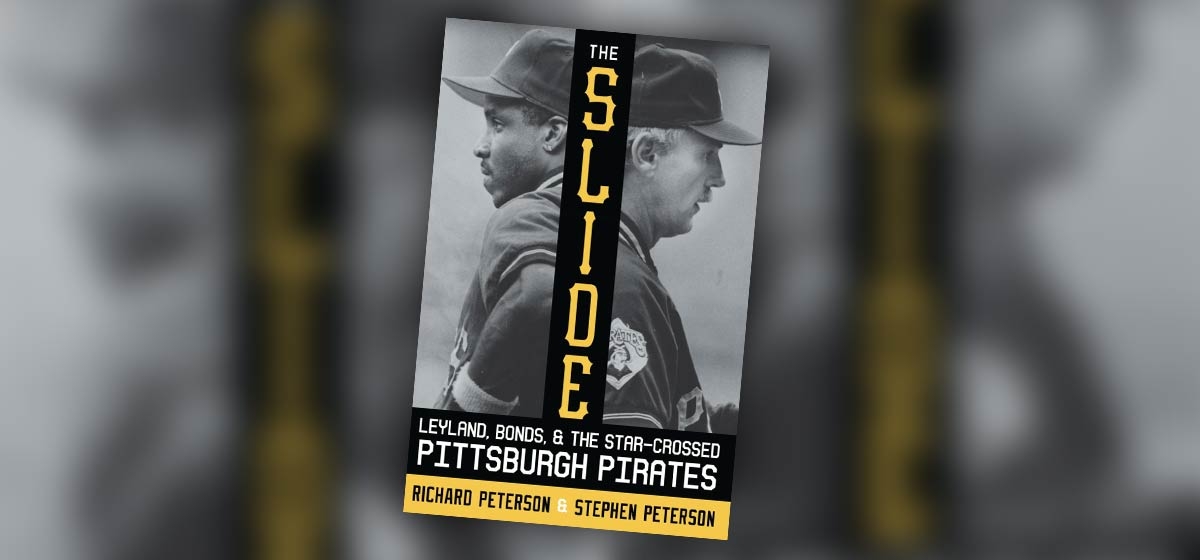 August 14, 2017
For some locals, October 17, 1979 was the date parents all over southwestern PA let their kids stay up late. That night baseball fans young and old got to witness Willie "Pops" Stargell homering against the Baltimore Orioles, propelling the Pittsburgh Pirates to their most-recent World Series title. The sound of pots and pans being drummed in celebration across my Carnegie neighborhood remains a magical memory. Coupled with the Steelers' recent Super Bowl victories, Pittsburgh, at that time, was unquestionably "The City of Champions."

As most residents are aware, for both region and team, the good times didn't last long. Between widespread layoffs, the closing of steel mills and Pittsburgh's role in baseball's drug scandal, 1985 stands as a low-water mark in the area's recent history. A new book, "The Slide: Leyland, Bonds, & The Star-Crossed Pittsburgh Pirates" (University of Pittsburgh Press), authored by father/son duo Richard and Stephen Peterson, looks to make sense of how the team bottomed out, then rebounded, ultimately coming up short in the '90's before enduring 20 straight losing seasons. Using 232 pages of thorough research and interviews, the Petersons deeply explore the team's struggles to regain its championship footing, with the book's scope spanning from 1980 until Opening Day of 2014.
In a nod toward pathos, the preface establishes the tortuous long-term relationship fans have had with the team for decades, going back to 1952's 112-loss team dubbed "Rickey Dinks." The anecdotes employed here by father Richard "Pete" Peterson, a former South Side-resident, author of several baseball books and professor emeritus of English at Southern Illinois University, and his Generation-X son, Stephen, a teacher and screenwriter from L.A., shows how a sincere love of such a frustrating team begins early. A telling quote by former MLB commissioner A. Bartlett Giamatti, that the sport is "designed to break your heart" pairs nicely with Stephen's summation of the 1992 playoff loss to the Atlanta Braves as "the worst Pirates loss in history…[but] at least we went through it together." While brief, this section is emotionally satisfying.
Baseball has long emphasized statistics as a way of quantifying success in a sport where getting a hit only a third of the time is a mark of greatness and recent documentaries focus on record-breaking speeds of a pitched ball. "The Slide" doesn't shy away from these touchstones of the sport, but doesn't wallow in them either. Still, it's hard to forget that Barry Bonds batted only .192 in his playoff career (1990-92) for the Pirates, with the book quoting his manager, the well-respected Jim Leyland, as saying his leftfielder was "trying to hit a five-run homerun…he's pressing a bit." It's fun to imagine that with a few more hits by the most controversial and talented Pirate of all-time, maybe this book doesn't need to be written.
The numbers the Peterson's employ that were most shocking though were these: "During the early 1980's, 130,000 jobs were lost in Pittsburgh as the steel industry eliminated 90 percent of its workers…The city also experienced a drop of 176,000 in population, including 14 percent of its young people." It's against this backdrop that the authors effectively frame the club's struggles in these years as the team that "identified with and relied upon a working-class fan base…Instead of fathers taking their sons to a Pirates game, they were taking their families to another city in search of a job." In fact, all this city's sports teams in the early '80's seemed to mimic the plight of the region.
While "The Slide" deals mostly with the sporting side of the game, it doesn't shy away from highlighting a difficult issue like racism. How many remember 1978 MVP Dave Parker having batteries tossed at his head in right field on two occasions? Or the fact that before he transcended the game, Roberto Clemente was deemed to be a moody hypochondriac often mocked by the media because of his language struggles? Indeed, even former Pirates GM Joe L. Brown is quoted in a 1985 interview, saying, "Pittsburgh is a difficult town for blacks." Brown linked this issue to white's feeling "threatened by the passage of the Fair Employment Practices Act, which opened unions to minorities, especially once the Rust Belt depression led to so many job losses." That analysis is bookended by Phil Garner, shortstop on the '79 team, saying of the Pirates attendance woes in the early '80's that fielding predominantly black teams for small-minded fans is like "trying to sell swimsuits in Alaska." Kudos to the Peterson's for not pulling any punches on an issue most would rather ignore.
While the book's mentioning of the Atlanta Braves' "Tomahawk Chop" chant still might make readers cringe, the relative success of recent Pirates teams has brought out a new generation of fans who expect their team to win. For baseball fans curious to understand how players felt in the wake of those early '90's playoff shortcomings, there's much to like. If they want the scoop on how the team almost left town, only to be saved by a group headed by Kevin McLatchy, or how PNC Park came to be built, "The Slide" touches all the necessary bases.