The Parks Puzzle
Can Pittsburgh make urban parks within everyone's reach?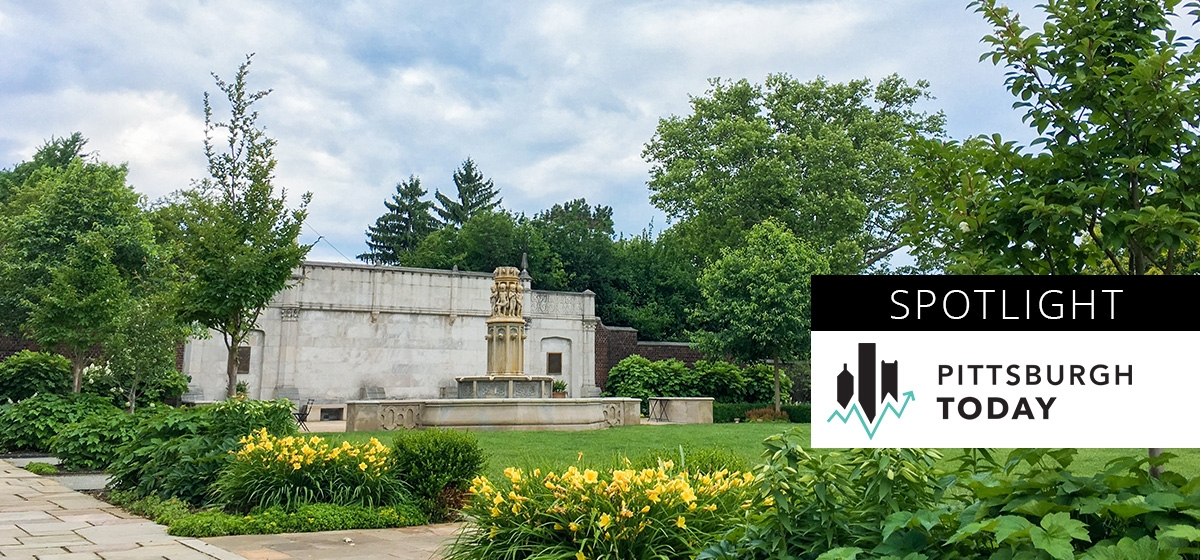 February 18, 2019
While the origin of the expression, "a walk in the park," is unclear, it's a safe bet the author wasn't a planner trying to stitch urban parks and trails together to create flowing greenways throughout a city like Pittsburgh.

Pittsburgh's bountiful and diverse parks range from popular destinations, such as Schenley Park in the heart of the city and Emerald View overlooking Downtown, to more than 150 smaller ones tucked into city neighborhoods. But linking them in a network that touches neighborhoods in ways that make it easier for residents to visit them remains a challenge.
Connecting urban parks to improve access is a concept embraced long ago in some cities, such as Boston, where planners in the late 19th Century started designing the Emerald Necklace with seven miles of parks and pathways from the Boston Common to Franklin Park. That wasn't the case in Pittsburgh.
"When the parks system was built out in Pittsburgh it wasn't really thought of as a system of parks," said Jayne Miller, president and CEO, Pittsburgh Parks Conservancy, a nonprofit advocacy group and fundraising arm for the city's parks. "They didn't think about how to cross the city and get from place to place. How do we provide 100 percent access, so that everyone is a 10-minute walk from a park?"
That 10-minute walk is one of the key factors separating Pittsburgh from cities considered to have elite park systems and something city officials hope to improve. Giving all city residents such close proximity is the goal stated in a recent Parks Conservancy television commercial. Achieving the kind of connectivity meeting that goal is a tall order. But cities that are the most successful tend to agree on a bold vision, plan carefully, and rally government and community support, including strong financial backing.
Visions of Greenways
Access to parks is one of the main metrics planning groups use to evaluate park systems. The Trust for Public Land, a national nonprofit parks advocacy group, rates city park systems with Park Score, an index that considers a number of key characteristics, such as acreage, amenities, investment and access. Pittsburgh ranked 23rd out of 100 U.S. cities in last year. Minneapolis took top honors.
In Pittsburgh, 84 percent of residents can access a park in a 10-minute walk, which isn't bad. But cities with leading park systems do better. In Minneapolis, 97 percent of the population can walk to a park in 10 minutes.
Miller came to Pittsburgh from Minneapolis, where she was superintendent of the Minneapolis Park and Recreation Board. Minneapolis has a legacy of connectivity not unlike Boston and the vision for its park system dates to the late 19th Century and landscape architect Horace Cleveland. The crown jewel is the Grand Round, a 55-mile ring of pathways throughout the city that flows through parks designed so that pedestrian and bike paths are located nearest to the water and wooded areas and roadways through the parks are set farther out.
It wasn't built overnight, but over decades, with an eye toward improvement. The city is now working on a long-range plan, East of the River Master Plan. It addresses the system's missing link by including a five-mile extension across the Prospect Park, Southeast Como and Mid-City Industrial neighborhoods of Minneapolis to complete the loop around the city.
Pittsburgh has recent experience with switching old railways to bike paths in the development of the Great Allegheny Passage Trail. Some cities are going further.
Atlanta's BeltLine plans call for converting 22 miles of old railway into a multi-use trail that will ring the city. It's designed to connect 45 neighborhoods and provide links to some of Atlanta's most underserved neighborhood parks. The BeltLine is a work in progress. Last year, the city purchased the southern end of a railway on the loop, giving it control over a missing piece between the completed Eastside and Westside trails. Only about 20-30 percent of the proposed trail outside of the city's pockets.
While some cities buy land to connect parks and trails, others have leveraged easements to allow trails that cross through private property for recreational purposes. The landowner grants access, but still owns the property. In Baltimore, several easements were used to connect pieces of the 15-mile Gwynns Falls and 10-mile Jones Falls trails, creating a multi-use greenway through the city. The trails flow through parks, neighborhoods and along waterways. At several points, they connect to public transportation. The two trails also make up a thread of the larger East Coast greenway, an ongoing project of connecting trails for an interstate greenway running from Florida to Maine.
Pittsburgh has an opportunity to be creative in identifying assets and crafting strategies for future parks, Miller said. That includes looking at the more than 17,000 vacant parcels of land in the city. "Are there opportunities to use those parcels for trail use or connectivity or a potential park? Can we fit bike lanes through parts of those? Is there even a corner of a vacant property we could use?"
One piece at a time
There isn't a one-size-fits-all template for urban park design. Even if there were, Pittsburgh with its hills and valleys and rivers would have to stray from the recipe and improvise. "A 10-minute walk in Pittsburgh is different than a 10 minute walk in Manhattan. You have to factor in barriers such as steps, topography, roadways," said Miller. "The topography makes it more challenging. Trails might need to be built be made to make a connection. In other cases, we might need to add another park to a neighborhood."
Some projects are underway in isolated parks in the city, such as Mon Wharf Landing, a small park along the river in Downtown Pittsburgh. The nonprofit, Riverlife, is working on connecting a riverfront loop through the Downtown and riverfront parks, including the Mon Wharf Landing. "When it was built, we had an opportunity to turn it into a riverfront park and trail. But there wasn't an opportunity to connect it through both ends from Point State Park and the existing trail network on the other end," said Stephan Bontrager, vice president, communications and outreach for the nonprofit Riverlife. "The park was built and it sat there unused because it wasn't easily accessible. It's suffered because of that. There hasn't been a steady stream of bike, walkers users passing through there."
Schenley, Highland Park and the city's other expansive destination parks may be the best known and most visited, but how well the smaller neighborhood parks are tied together will determine whether the city meets its goal of making them reachable to everyone willing to take a 10-minute stroll. "Those are the ones that people can walk to and that become gathering places for the neighborhood," Miller said. "Those are the predominant parks in Pittsburgh."