The Meticulous Carpenter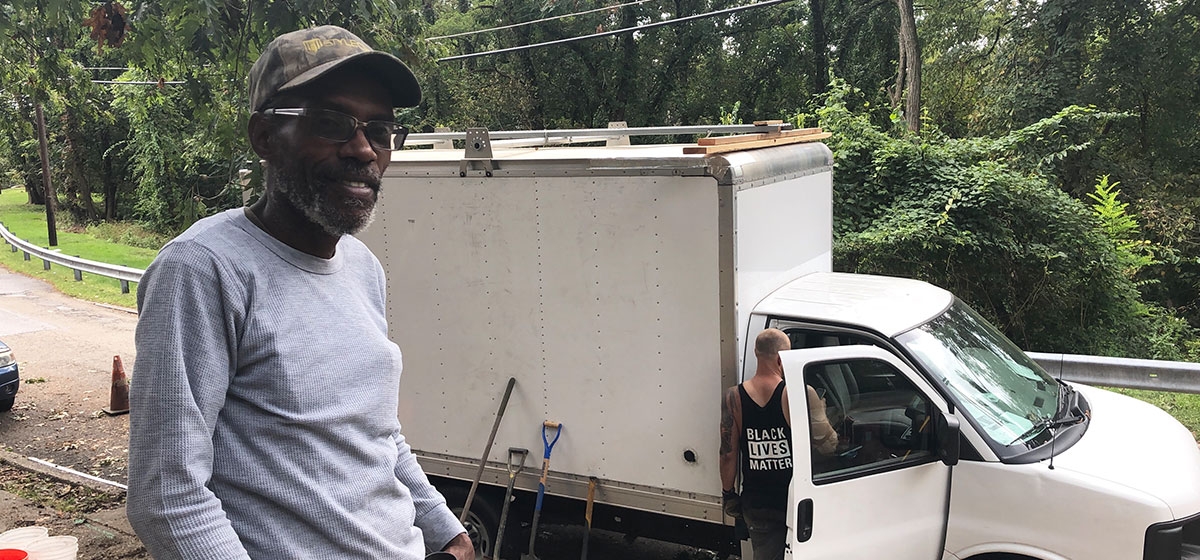 October 29, 2019
Kevin's got to get back inside of the house on Marshall Road on Observatory Hill. There's work he needs to do. But first, he wants to get Donnie some water.

"Here, man," he says, appearing a few minutes later, handing Donnie the water, which has been poured into an empty gallon of Dean's Dairy Pure Milk.
"Any bourbon in there?" Donnie asks, taking a swig.
"Nah. But there's probably some inside!"
John and Donnie are building a retaining wall. Planting bushes. Putting dirt in. The weather is nice. About 80-ish degrees. Sunny. Leaves falling. They're filling five-gallon buckets with dirt and dumping them into the eight-yard Tom Cat dumpster, which is red and square with "RENT THIS BOX" written on the side.
"They're not with me," Kevin says, setting his can of Strawberry Squirt on the concrete steps. "They're out there doing their own thing. I just met them. I'm inside working. Drywall and ceiling."
There's a 25-foot Stanley Power Lock tape measurer clipped to his brown Carhartts and a few carpenter's pencils shoved into his back pocket. Kevin's friend is the one who hooked him up with the slogan for his business. "Your work will never fade when it's done by Kevin Wade."
"People remember that. Even my grandson says it. And he's only four years old."
Kevin's a carpenter. Been doing it since he was young. "Real young. Sixteen," he says. "I was already in school, but not really into the books."
"What do you want to do, Kevin?" asked his guidance counselor. "Carpentry," he replied.
His counselor told him to check out the Pittsburgh Job Corps. "I got my GED and learned a trade. And I've been doing carpentry now for 35 years."
He started out at the bottom. "Way bottom," he says. Digging holes, tearing down things, framing, trim work. "Then I got to doing finishing work." The jobs he gets come from the neighborhood. People see the work he does. How meticulous he is. They slow down when they drive by, ask him for his business card.
"All the work that I get is by word of mouth," he says.
Kevin has a lot of jobs going on right now. He's got a whole house he's remodeling. "I spent the entire summer installing the kitchen." He's got the drywall and ceiling work to do in the house on Marshall Road, too.
"Most young people, they don't want to learn a trade. I don't know why. Maybe they don't like the physical work. Not everyone is into the books, but you have to do something. You have to have pride in what you do and like what you do," he says. "To get the things you want in life, you have to work, as opposed to people just giving you stuff."
Kevin grew up in the projects on the North Side. "Nineteen years," he says. "I was raised by a single mom. And I tell people, 'It's not about your environment. It's about your decisions. You may have grown up there, but you don't have to stay there.'"
Other than carpentry, the only other thing Kevin has as much passion for is firefighting. "But they're too idle, waiting for something to happen," he says. "I can't be idle. I have to be doing something all the time. But I like the camaraderie that firefighters have. Black, white, we do it together. You got my back, I got yours. I like to help people."
He picks up his can of Strawberry Squirt. "Okay, I'm goin' in to do some work, man."
"Allegedly," says John.
"You hear him?" Kevin says.
"You've been bustin' my ass all day," John says, emptying a bucket of dirt into the Tom Cat.
"Yeah," Kevin replies. "Someone's got to."