The Greening of Hazelwood
A trio of pioneers brings fresh food and new life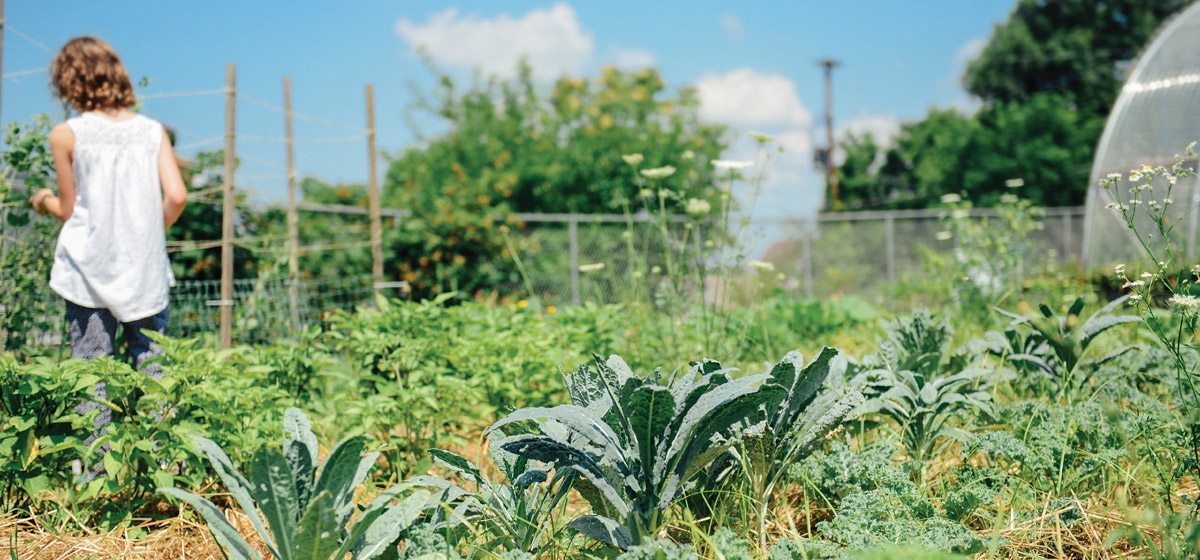 August 20, 2015
Like a Polaroid picture never quite developed, a snapshot of the entire urban farming movement in Pittsburgh is fuzzy at best. But move in for a closeup and it's clear that urban farming is on the rise, especially in Hazelwood, where a new breed of farmers is restoring the connection between our food, health and environment—and growing great-tasting tomatoes.
---
---
With rooftop gardens now on New York's Waldorf Astoria Hotel, urban farming may seem trendy, but it's rooted in history. During World War II, rural and urban gardens provided nearly 40 percent of the vegetables consumed in the U.S. After the war, however, the gardens were no longer necessary for sustenance, and urban developers excluded them from their plans. Advancements in refrigeration and transportation filled bright, shiny supermarkets with year-round produce. Cheap and easy became all the rage. With no perceived need for fresh-grown foods, urbanites ostracized agriculture to the countryside, and the rural-urban divide was born.
Decades later, however, books, such as "The Omnivore's Dilemma," "Animal Vegetable Miracle," and "Fast Food Nation" challenged readers to examine the ingredients of their processed, store-bought foods and to consider their connection to the rise in lifestyle diseases, environmental degradation, and socio-political upheavals. The message was received, but between "organic," "non-gmo" (genetically modified organisms) and "all natural," navigating a food label came to require a translator. In an effort to guide the helpless in grocery store aisles, Michael Pollan wrote "Food Rules: An Eater's Manual" in 2009. "Eat food. Not too much. Mostly plants," Pollan wrote, suggesting simplifying our food and increasing our connection to its source. The time was at hand to welcome back the urban farmer and reduce the strain on rural agrarians caught in the throes of industrial agriculture.
Pittsburgh's urban agricultural movement has been increasing. Since 2005, nonprofit Grow Pittsburgh has focused on farming, educating and supporting growers. Three urban farmers—Barb Kline and Randa Shannon of Mildred's Daughters Urban Farm in Stanton Heights, and Mindy Schwartz of Garden Dreams Urban Farm and Nursery in Wilkinsburg—founded Grow Pittsburgh, which now operates an Edible Schoolyard Program, a farm in Braddock, the Frick Art & Historical Center greenhouse, Shiloh Farms and several training programs. Organizations such as Burgh Bees (which promotes beekeeping) and the Pennsylvania Association for Sustainable Agriculture also are spurring green efforts. Now, numerous local chefs have made produce from the local farm-to-table movement key elements on their menus.
A new Hazelwood
Increasingly, Pittsburgh is focusing on sowing seeds in depressed neighborhoods, especially Hazelwood. The closing of Hazelwood's mills and its legacy of high unemployment and vacant land have created opportunities for a new wave of urban farmers.
Kyle Pattison grew up in Springdale, where his grandfather instilled in him a love of the outdoors. After living on a family farm in Hawaii and tending a farm in a small Alaskan fishing town, Pattison returned to Pittsburgh in 2013 and discovered a completely different city. "Every neighborhood had its own farmers' market and farm-to-table restaurant, and I found a city planning department with a strong emphasis on fostering a local food system. I had long been moving towards a farm of my own, and I quickly realized Pittsburgh was the place to create it."
A string of south-facing, vacant lots led Pattison to explore Hazelwood. "It wasn't until meeting the community and working with the Hazelwood Initiative that I became fully convinced this was the place to put down roots—literally and figuratively."
In March 2015, Pattison broke ground, creating Hazelwood Urban Farms with a mission to grow affordable, quality, organic food, to educate the community about a sustainable food system, and to fuel the budding, local-food economy. He has his work cut out for him—farmers are at the mercy of the elements and critters—but he loves it. "Ever since I was a child, I was never able to sleep at night. I was always planning something else to try. I've been blessed to be able to try my hand at many things in my life, but when I focus on a plot of land, think it through and really care for it, I sleep like a baby."
He's operating a Community Sponsored Agriculture (CSA) model—in which customers invest in the effort by pre-purchasing a weekly subscription of seasonal produce. They come to appreciate the seasons, the gambles, and, if all goes well, fresh intense flavor.
Pattison's first CSA recipients are a receptive crowd. He delivers his organically grown vegetables to patients at City of Bridges Chiropractic, where his brother Alex Pattison blends food-driven nutrition with spinal health as part of his mission to improve the health of a city known more for French fries than fitness.
Though he's just started the farm, Pattison can't help but dream of the long-term possibilities. "The end-all goal of Hazelwood Urban Farms is to prove to the neighborhood and the city that we can turn a blighted, vacant property into viable income so others will start growing food—for themselves and for profit. Someday, I hope to see a high-school kid confidently walk into the swankiest restaurant in town and collect a premium on what he grew in an abandoned lot."
"In Homewood, we run a weekly summer farm stand in partnership with Grow Pittsburgh."
Farming with the 'Y'
When Hanna Mosca grew up gardening with her family on a hobby farm in Wisconsin, like a lot of youngsters, she recalls, "rebelling against all things gardening/composting/canning. It wasn't until college when I really began to understand and appreciate the lessons my parents had tried to instill in me." Her interest in what is known as "food justice"—combining healthy food with social equity—eventually led her to Pittsburgh. Here she earned a master's degree in food studies at Chatham University, where the 388-acre Eden Hall Campus, with its organic gardens, apiaries, orchards, kitchen and root cellar, is a living laboratory for students.
Mosca has worked at Chatham's student farm, led school field trips and taught summer camps at Phipps Conservatory, but she knew she really wanted to return to growing food. When she learned the garden program director position opened at the YMCA of Greater Pittsburgh, she found a perfect fit. Since the spring, she has overseen the YMCA's gardens in Homewood, Hazelwood, the Hill District and Plum, with the goal of helping people learn, grow and thrive.
Hazelwood is the YMCA's largest garden and features a small greenhouse, where Mosca and her students are starting an orchard. "We provide salads on a weekly basis to the community lunch program, give food to the youth programs, and sell to Dylamato's Market. In Homewood, we run a weekly summer farm stand in partnership with Grow Pittsburgh. We also sell produce to local restaurants. YMCA staff and members get to take some of the excess produce, too!"
Mosca's work is making an impact. Children, who otherwise couldn't identify an eggplant or understand where potatoes come from, run through gardens daily, identifying vegetables before they even look like vegetables and spreading their growing passion to their families. "The biggest reward is seeing kids' eyes light up when they find ripe fruits and vegetables. We have treasure hunts through the garden, and when kids find something ripe and ready, the excitement they possess is contagious. It is really rewarding to see families happy to be going home with produce from the gardens."
Dylamato's Market
If you've driven on Second Avenue in Hazelwood recently, you may have noticed something new on a vacant lot— a fresh fruit and vegetable stand. It's Dylamato's Market, and it's more than what immediately meets the eye.
Dylamato's was founded by Dianne Shenk, who spent her first 16 years living in Tanzania and Kenya before coming to the U.S. to finish high school and earn a college degree in sociology. She spent the next two decades raising her family and raising their food, learning to freeze produce she had picked herself or purchased from farmers' markets.
Upon moving to Pittsburgh, Shenk enrolled in Chatham's Masters of Arts in Food Studies program, where she learned how the global food system works. She became particularly interested in under-served communities, which pointed her toward Hazelwood and inspired her thesis, "Food in Hazelwood: Making the Case for Fresh Produce in a Low-Income, Urban Community." As part of her research, she became involved with Hazelwood's Fishes and Loaves Buying Club, an effort to combat the problems of living in a "food desert" by bringing healthy, fresh food into the community at reasonable prices.
In July of 2014, Shenk bought an old hay wagon, and with the help of builder Joni James, converted it into a farm stand, which she parked on Hazelwood's Second Avenue, on vacant land rented from the Urban Redevelopment Authority. The mission of Dylamato's Market is "to partner with other locally owned micro-businesses to create viable livelihoods and access to fresh, healthy foods in the Hazelwood community. The marketplace created by this partnership will be a positive social space in Hazelwood, and generate financial capital for community residents by capturing the local food economy."
Since it is the only source of fresh food in Hazelwood, Shenk stocks imported staples such as oranges and lemons, but she also partners with local farmers for in-season, locally grown specialties including tomatoes, corn, blueberries, apples and eggs. She purchases whatever is available locally from local growers, either directly, or through Paragon Foods, which also sources locally throughout the growing season. Shenk's grander vision is to empower Hazelwood residents to grow their own food and sell their excess to her, proving that self-reliance and a relationship between food and community can be economically viable.
Like Pattison and Mosca, Shenk is restoring the connection to our food sources, to the dirt, and to vacant lots and their rebirths. Together, they are working towards a greener, healthier city one revitalized neighborhood at a time.