The Gowns She's Known
Mary prepares to finally close up show

Photography by John Altdorfer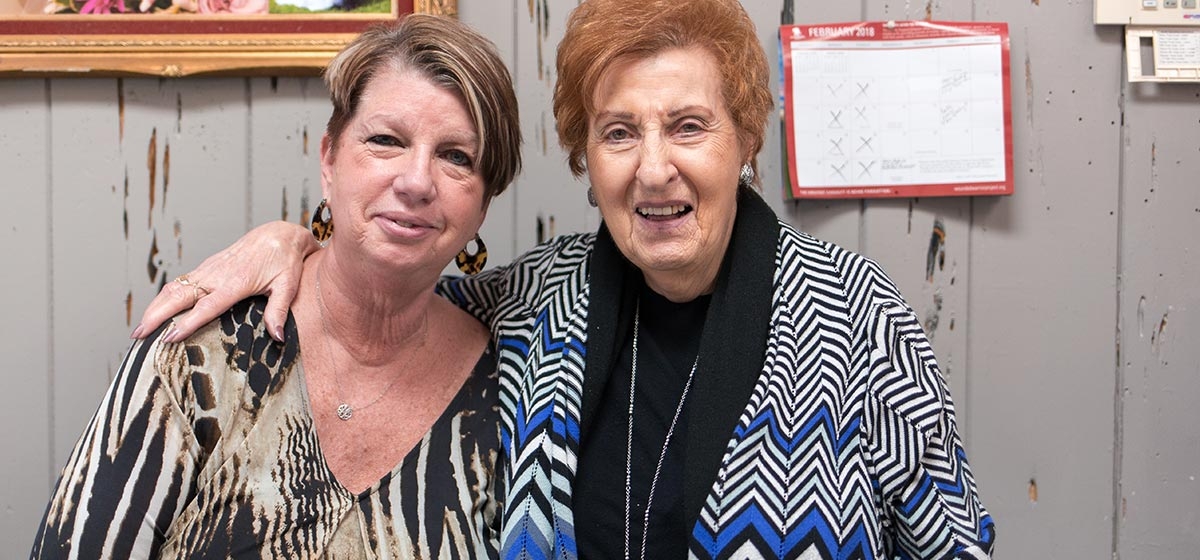 April 9, 2018
There's less than a month left to liquidate, oh geez, like, 1,000 gowns. Rows and rows of them. Satin and lace all hanging pretty in clear garment bags with a hand-written tag attached: 60% off!

---
---
"You can get a twelve hundred dollar gown for five hundred dollars," says Mary. "That's a good deal."
One thousand gowns, all 60% off! Wedding gowns, mother of the bride gowns, flower girl gowns, prom gowns…
"You have to remember, baby, this is 58 years' worth of gowns," says Maureen.
Mary is Maureen's mom. When she opened Mary's Bride and Formal at 1514 Seventh Avenue in Beaver Falls, it was 1959. December, actually. She had a dream when she was a little girl. When she got older, she told her dad about it. Her dad ran a bar here. It was called the Seventh Avenue Bar…
Mary could write a book about her brides. The girls that were ready to get married until the wedding got called off. ("They found out their husbands to be are sleeping with the maid of honor.") Or, the groom that got married and then called it off. ("He stood up in front of everyone and said, 'Eat. Have a good time. Reception's paid for. Just take your gifts back.' He found out his bride was sleeping with his best man the night before.")
And there was that one girl. "She was goin' up to see… what was that girl's name?" Mary asks.
"Mom, I have no idea," Maureen says.
"Anyway, her boyfriend was waiting for her in the car. Right out front. She just came in and said she was getting married right away and walked out in her veil."
From the day she opened, Mary would flip through the newspaper, look for the brides who were wearing her dresses, cut out their announcement, and stick it in an album. Mrs. Donald Shirilla, Mrs. Henry J. Rossi, Mrs. Domenic Carl Bologna—Spending Honeymoon in New York City, Residing in Conway, To Make Home in Indiana. And Mrs. John T. McAllister. "That's me!" Mary says. The bride wore a floor length a-line gown of ivory silk peau de soie…
She kept the 8×10 of the Beaver Falls Prom Court of '68 because everyone in the photo bought their gown at Mary's shop. And all the albums over there? Prom pictures from other high school girls who got their dresses here, too.
Mary has sold silk and lace and strapless and sweetheart gowns to three generations: grandma, mom, granddaughter. The dresses get fitted and shipped downstairs to the basement where three full-time seamstresses share space with stacks of clear, plastic bins filled with waist ties, separating zippers, boning, and bustle buttons, next to which hangs a wooden cow bearing the words Cellar Dwellers.
There's Peggy ("She's in her eighties"), Cairn ("She's in her sixties; I think she's sixty seven"), and Lee ("Lee's from South Korea but she's been here for what? Fifty, sixty years?")
"The magic's upstairs. The reality's downstairs," Cairn laughs from behind her blue Singer.
"Those Singers are old, but they work. Just like us," Peggy laughs.
The rows of empty hangers used to be packed with gowns. You couldn't even see the walls. It makes Mary sad. She really doesn't want to retire. But she's about to turn 90. And Maureen, who's also her partner, is 66. Too old for this. Maureen never gets to see her grandkids, go to their games. Life's too short. Enough is enough. People have come in and offered to buy the place, but they all say the same thing: "It's too much work." Evenings. Weekends. Mary used to work on Sunday, too. She'd go to church and come in after if a bride made an appointment.
"I told her to get a manager and buy me out, but she didn't want to do that," Maureen says.
"You said that?" Mary asks.
"Yeah, mom. Like, 100 times. Didn't I say that?" Maureen asks Bandy, who's been consulting brides for what, twenty-seven years now?
"Yeah, I heard you say it a few times," Bandy says.
"It makes me sad," Mary says after a few moments. "I don't want to stop working."
"What can you do, mom?" Maureen replies, shrugging her shoulders. "It's time."