The Business of Retirement Living
Senior living communities get creative as they vie for enrollment in a tough economy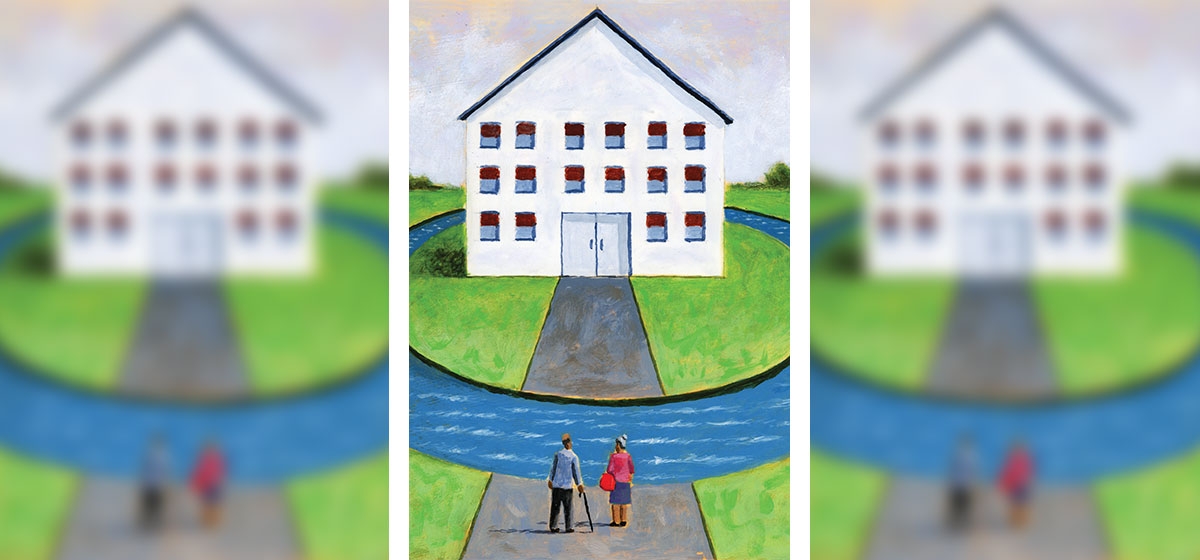 August 20, 2009
Five years ago, a senior citizen wanting to move into a stately retirement community would typically put his name on a list and wait, sometimes for a year or two. Today he would have little trouble finding an apartment in a community that boasts such amenities as indoor pools and spas, a golf simulator and enough fitness classes and musical clubs to tire someone half his age.

Already facing competition from new competitors such as Providence Point in Mt. Lebanon, the retirement communities here are being squeezed by a sluggish real estate market and an economic meltdown that is making people more cautious about selling their homes. Many retirement communities are nearly full and still have waiting lists for the larger units, but they are stepping up marketing to keep their share of a shrinking applicant pool. Marketing a retirement home has always been more than a real- estate pitch. And more than ever, it is selling peace of mind and a lifestyle change.
"When you talk about retirement communities, some people think of nursing homes," said Eric Gross, the executive director of Masonic Village at Sewickley, which opened in 2003. "They don't realize that there are these incredible places out there that are like college campuses for seniors."
Retirement community executives entice seniors onto their pristine wooded campuses with luncheons, wine tastings and chef demonstrations. But before they sign up, prospective residents have to come to grips with the momentous step of giving up their homes, sifting through 50 years' worth of memories, and downsizing dramatically. For some people in their 70s and 80s, selling their home symbolizes defeat and a loss of vitality. But Gross said the reality is often the opposite. "Sometimes at home, they are depressed. Here they come to life."
New residents at Longwood at Oakmont will often say, "I wish I had done this two years sooner," said James Pieffer, senior vice president of Presbyterian SeniorCare, the parent company of Longwood at Oakmont. "But getting them to make the plunge is taking longer. When you are making your last house decision, people typically don't do it quickly. The current real-estate market has made people jittery. Pittsburgh never had the same bubble, so it didn't have the same bust. But it is more psychological. People tend to be more nervous. We try to hold their hands." Longwood and other communities, such as Friendship Village of South Hills, offer the services of a realtor who will gently tell seniors how to update and stage their homes.
Such "lifecare" communities also pitch themselves as financial security should a senior eventually get sick and need assisted living or skilled nursing- home care, which can cost more than $6,000 a month. Residents pay a substantial upfront fee, typically ranging from $100,000 for a one-bedroom apartment to $600,000 for a carriage home with amenities such as a custom kitchen, vaulted ceilings and garage. Often, 90 percent of the entrance fee is refunded to heirs after the resident's death. Residents also pay a monthly fee—typically anywhere from $1,800 to $4,000. Such fees might cause sticker shock, but retirement community executives call it insurance for future health care needs. That monthly fee stays the same whether a resident lives independently or ends up in more costly assisted living or nursing home care available at the same retirement community. The contract is similar to a long-term insurance contract, which is why nonprofit continuous care retirement communities are regulated by the Pennsylvania Insurance Department.
"I have never yet met a resident who said, 'I can't wait to get to that skilled nursing care. I want to get my money's worth'," said Bobbi Jo Haden, senior executive director of Friendship Village of the South Hills, a community in Upper St. Clair. "But it provides security. They know exactly what they are going to be paying. It is the knowledge and security that their health care will be provided for under the same roof."
Friendship Village holds seminars in which an executive explains the details of the fees, including an option that lets people put down a smaller deposit that depreciates to zero within five years. Friendship Village, which is celebrating its 25th anniversary, also aired a TV commercial that showed seniors playing free golf on their lush grounds, exercising in the fitness facility and eating in the elegant dining room.
Sherwood Oaks in Cranberry held a wine tasting and informational session this year to attract residents. Occasionally, executives there offer free upgrades or deferred entrance fees. Its Web site resembles a vacation brochure, saying, "Enjoy the lovely homes, lakes and gardens of Sherwood Oaks." The community is also marketing the patio homes it is constructing, complete with fireplaces, a great room and two-car attached garages.
"The units we are building now are much different than the ones we built in the 1980s," said Mark Bondi, president and chief executive officer of Sherwood Oaks. "Our bathrooms are bigger. Our kitchens are bigger. Did you know anyone who had granite countertops 15 years ago? We have the ability to do whatever you want to do with a unit."
Despite the bad economy, the longest waits at many retirement homes are for the large units with all the custom touches. Often, a person can move into a simple one-bedroom with little or no wait.
The newest player, Providence Point in Mt. Lebanon, even has patio homes with a fireplace and a basement—for those who have trouble downsizing. Seniors began moving into the apartments there this summer. The community, owned by The Baptist Home, features underground parking beneath a football-field-sized courtyard that leads to two towers, and amenities such as a surround-sound movie theater and a wellness center, complete with a spa. Although it is a tough climate in which to open, Maryclare Poprik, director of public relations at The Baptist Home, believes western Pennsylvania can support more lifecare communities, as the Philadelphia area does.
"Allegheny County has a wonderful elderly population. There is a huge market here."
Such lifecare retirement communities are becoming more popular nationwide. In 2005, there were some 2,240 continuous care retirement communities nationwide, up 500 from 1995 and up 2,000 from 1985, according to the American Association of Homes and Services for the Aging. The average age of the resident in independent living is 84, and the median monthly cost is $2,672. About 70 percent of the residents are female.
Other retirement communities, including the Village at St. Barnabas in Richland, its Woodlands carriage homes in Valencia, and its Washington Place apartments in Richland, charge residents as they use services—a pay-as-you-go approach they argue is more economical. A resident pays a $3,000 nonrefundable application fee, and then $1,500 to $3,500 for independent living.
"We feel our system works well—especially in a down economy," said John Sterling, director of admissions at St. Barnabas Health System. "You only pay for assets you use. A low percentage of seniors need nursing care on a permanent basis. Why pay for it upfront if you don't need it?"
But the executives at lifecare communities argue that people are living longer and many are ending up in nursing homes. "You can blame modern medicine. We are fixing parts and living longer," says Jeff Mohler, marketing manager for Masonic Village of Sewickley. "You can call it a curse or a blessing, depending on your attitude."
The most compelling marketer for a retirement community is a content resident.
Ginny and Carl Manganaro, a couple in their 70s, moved into Longwood at Oakmont in January of 2008. A second- generation couple, they chose the community after watching Ginny's late father thrive there when he became a widower. Although it was initially tough for Ginny to pare down all of her kitchen equipment from her Murrysville condo, she soon learned to appreciate the ease and sociability of eating in a dining room. The couple participates in Bible study, exercise classes, water aerobics and all sorts of musical activities.
"People don't comprehend how rich the experience is," Ginny said. "They picture us going to our rocking chairs and our brains going to mush. We try to counter how stimulating our lifestyle is at Longwood at Oakmont."
Aging baby boomers seem more receptive to the idea of a retirement community, says Gross at Masonic Village. In fact, boomer children sometimes come in with their senior parents to tour a retirement community and end up putting their own name on the waiting list. That's why Masonic Village lowered the minimum move-in age to 60 from 65 a year and a half ago.
"We are going to see a lot more baby boomers enter retirement villages," Gross said. "They want to travel. They want freedom. The generation we serve now tends to be frugal. They grew up in the Depression. Boomers are more willing to spend money on themselves."