Thank You for the Dance
Ballroom classes effect change in local elementary schools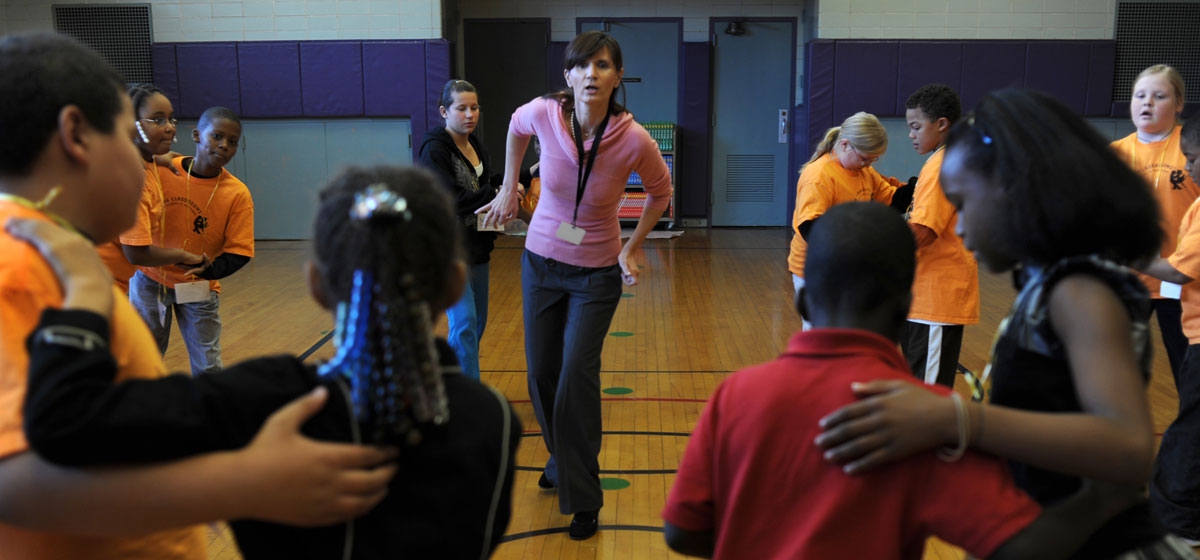 February 20, 2010
Every Tuesday and Wednesday morning last fall, students in Laurie Collier's and Maureen Kedzuf's fifth-grade class lined up in escort position at Arlington Accelerated Academy and headed to the gymnasium to dance. They were among the more than 300 fifth-graders from six elementary schools participating in Dancing Classrooms' inaugural year in the Pittsburgh Public Schools.

---
---
Dancing Classrooms began in 1994 in New York City under the direction of international ballroom champions Pierre Dulaine and Yvonne Marceau. Mark Rogalsky, a prevention supervisor at Mercy Behavioral Health, became interested in bringing the program to Pittsburgh after viewing the award-winning documentary "Mad Hot Ballroom." Ballroom dancing has been recognized as an effective way to build self-esteem and social awareness among young people.
The fifth-graders learned classic ballroom and Latin dances such as the merengue, fox trot, rumba, tango and swing from local dance instructors Rozana and Terry Sweeney. As the 10-week program progressed at Arlington Accelerated Academy, teachers and administrators saw student apprehension fade and attendance improve. They also saw a decrease in disciplinary problems.
Dancing classrooms is made possible by the partnership of Mercy Behavioral Health and Pittsburgh Public Schools. In addition to Arlington Accelerated Academy, Spring Hill Elementary, Phillips Elementary, Allegheny Elementary, Martin Luther King Elementary and West Liberty Elementary also participated.
Dancing Classrooms served more than 40,000 students in 400 schools in 13 cities in the U.S. and abroad during the 2008–2009 school year.
The debut year culminated in a "Colors of the Rainbow" competition at Allderdice High School in early January. Five couples were chosen from all six schools to compete. Phillips Elementary on the South Side took home the gold medal while Arlington and two other schools earned bronze medals.
Arlington fifth-grader Asa Martin feels lucky to be part of Dancing Classrooms. At the first class he worried that he could not do it and thought it was going to be boring, but now believes the opportunity changed his life. Asa said he learned to treat everyone with equal respect and encourages his friends to try it. "This just blew my mind."
Rogalsky is working to bring Dancing Classrooms back this fall and would like to expand the program in the future. This summer Mercy Behavioral Health will offer "Reading with Rumba and More" a five-week literacy program fused with ballroom dancing for Pittsburgh Public Schools middle school students.