Terrance Hayes Tackles Current Life in "American Sonnets for My Past and Future Assassin"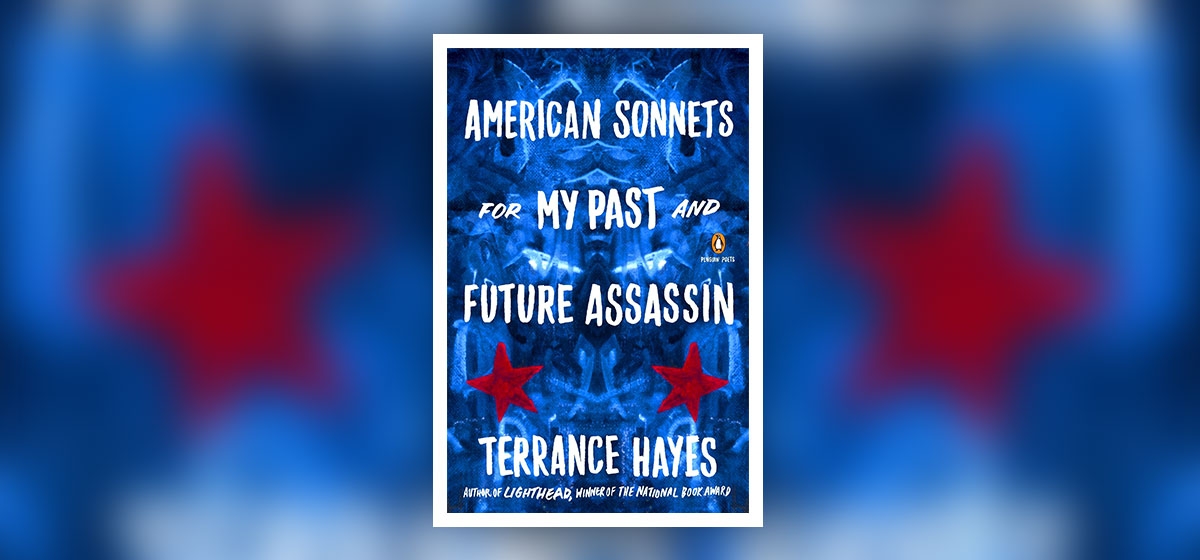 October 1, 2018
"Prismatic" is how the late poet Wanda Coleman once described her smart, resonant American sonnets in a 2002 radio interview with writer Paul Nelson. The impetus of her avant-garde style was to approach the old form in a new way, making it a more stimulating way to express anger and satire, allowing her to reach deeper into language, thus gaining a more nuanced reflection.

It's these poems that poetic powerhouse Terrance Hayes cites as inspiration for his newest collection, "American Sonnets for My Past and Future Assassin" (Penguin Books), comprising 70 sonnet-hybrids, all of them titled the same as the book itself.
According to Phillis Levin's "The Penguin Book of the Sonnet," the 14-line sonnet (Italian for "little song") originated in 13th century Sicily, and "in its limited space it has logged, from the start, the awakening of a rational being to an overwhelming force in the self or the world." The form's Petrarchan and Shakespearean types use different stanza lengths, though still relying on iambic pentameter as its dominant rhythmic meter. The motivating characteristic of the sonnet is the volta, " 'the turn' that introduces into the poem a possibility for transformation, like a moment of grace." Hayes' lively use of the mode follows suit, sharing provocative insights in dynamic ways.
The American sonnets of "…Assassin," though less-formal, read successfully because of a wordplay that mimics the rhythms of roots-music and hip-hop, lending the work the lyrical sense of a being in the world surviving negative circumstances. The opener plays primordial, with Hayes writing, "The black poet would love to say his century began/ With Hughes or God forbid, Wheatley, but actually/ It began with all the poetry weirdos & worriers, warriors,/ Poetry whiners & winos falling from ship bows, sunset/ Bridges & windows." The flow here is irresistible, pointing not only to a poetic lineage he traces back to Orpheus, but also that the reader is in for a helluva ride.
A South Carolina-native, graduate of the University of Pittsburgh's Master of Fine Arts program and a former professor at both Pitt and CMU, Pittsburgh has long claimed Hayes as one of our own, though he has since moved on to teach at NYU. A National Book Award winner for "Lighthead" and a MacArthur "Genius grant" recipient, Hayes has frequently experimented with form to varied success in each of his last few collections, utilizing characteristics of the abcedarian, pecha kucha and ekphrastic work, as well as lists and arrest report sheets, among others, to push his creative envelope.
And while poetic-forms can be thought as constraining, it can also force the writing to be more condensed, working as a brake for wordiness. Hayes sums it up best in the 6th poem, when he writes, "I lock you in an American sonnet that is part prison,/ part panic closet, a little room in a house set aflame./ I lock you in a form that is part music box, part meat/ Grinder to separate the song of the bird from the bone./ I lock your persona in a dream-inducing sleeper hold/ while your better selves watch from the bleachers./ I make you both gym & crow here." Announcing the work as refuge, the tone gets set early, keeping readers off-balance with the book's repetitive titles and lack of narrative. So, what is Hayes after in this new work?
In reviewer notes, he says that after Trump's election, he was "hounded by the question what is an American, what is this America that is going to be great again?" It's one that many struggle with as long-simmering racism and xenophobia have become prominent in the U.S. Hayes goes on to say that he doesn't "think art and responsibility are very good bedfellows…the poems are political because I am political." And while these poems were written in the aftermath of the 2016 election, none of them deal directly with any of the multitude of policy and personal fiascos with which Trump has been engaged, and that's a good thing.
Instead, Hayes seems most interested in how his speaker sees himself mirrored in a poem that reads in part, "America's struggle with itself/ Has always had people like me at the heart of it. You can't/ Grasp your own hustle, your blackness…" And while the sonnet form is the foundation of this collection, the "assassin" the speaker sometimes addresses directly remains most compelling. The book itself "is made of love poems for the forces against you…political forces, historical forces, cultural forces…the forces staring from mirrors," implying the U.S. is a slayer of black men. The list of actual assassins of African-Americans invoked in Poem #8 (among them Dylan Roof, George Zimmerman and Byron De La Beckwith) proves this without metaphor.
And while Hayes is more meditative than prescriptive in "American Sonnets for My Past and Future Assassin," he's at his best when asking those complicit to consider the difficult racial history that continues today, writing in Poem #55, "Assassin, you are a mystery/ To me, I say to my reflection sometimes./ You are beautiful because of your sadness, but/ You would be more beautiful without your fear."