Still Changing at 150
Consol celebrates its sesquicentennial with a new strategy
Courtesy of Consol Energy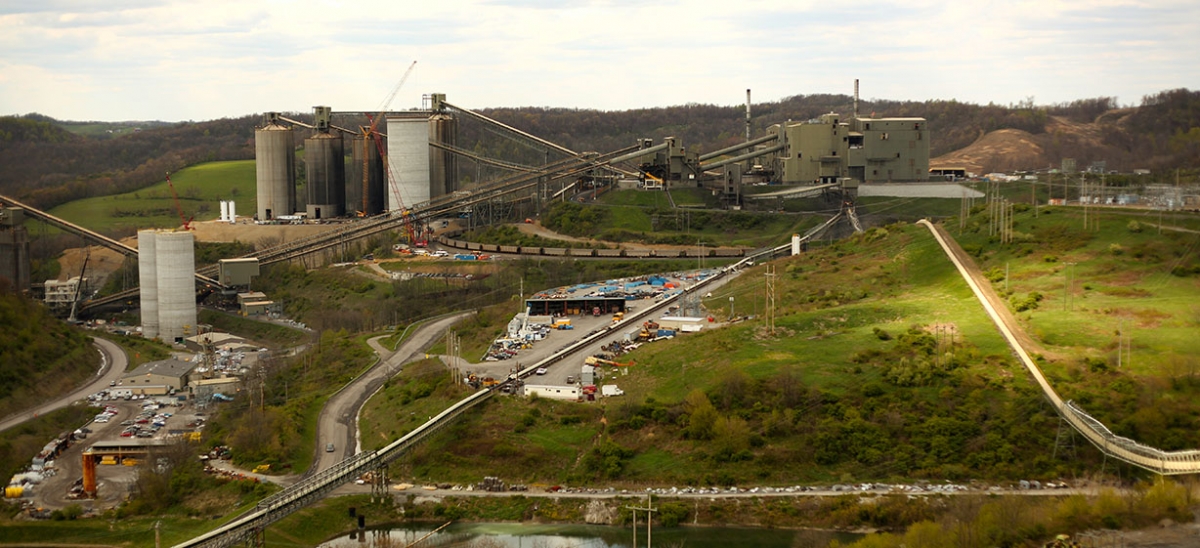 February 20, 2014
On April 19, 1864, America was preoccupied by several rather sizable events, including the Civil War and the recent emancipation of slaves. So citizens could be excused if they paid scant attention to the festivities that day in Cumberland, Md., where an entity called Consolidation Coal Company launched its operations by selling 1,000 shares of company stock.

The company now known as Consol actually had been chartered four years earlier but couldn't get under way because of the war. Those beginnings may have been inauspicious, but Consol's growth was spectacular. By 1869, according to a company history penned in 1934 by board secretary Charles E. Beachley, Consol was the leading shipper of Cumberland coal.
In 2014, Consol celebrates its 150th anniversary, itself a remarkable achievement; few companies have been as robust or as long-lived, and few have reinvented themselves so many times. Of greater significance, Consol has morphed once again and will write the next phase of its storied history as a diversified energy conglomerate, emphasizing natural gas drilling but retaining key coal assets and, as always, serving as a bellwether for America's energy industry.
Consol chose Maryland for its early base so it could exploit the rich Georges Creek coal seam. While some of the company's early growth was integral, more significant expansion came through rapid and seemingly constant acquisitions. J. Brett Harvey, current chairman and CEO, notes that the business lived up to its name: "The guys who put the company together were consolidators; they consolidated smaller mining companies. They had the vision to see that if it was all put together, it was more efficient, and they were good about consolidating the best assets. They consolidated enough of it that it went way beyond the Industrial Revolution. It became the electricity for the next generation."
That consolidation was marked by a commitment to vertical integration, so that the key portions of the process always were in friendly hands. Why pay someone else to ship your product when you could ship it yourself, in your own vehicles, on your own tracks and vessels? In this way, Consol became a leader in the transport as well as the mining of coal. One of its key shareholders during that formative period was the B&O Railroad, which provided Consol access to its tracks. The company was equally aggressive on water. It owned wharves, schooners, barges and a fleet of canal boats. (By 2006, Consol was considered the largest river operator on the Monongahela River, with 18 towboats and 650 barges.) It erected its own pier on Staten Island and acquired docks on the Great Lakes, all in the name of providing a competitive edge. Consol's expanding mining and transport networks would take the company's operations to West Virginia and the Somerset area of Pennsylvania, which proved so productive that the firm shifted its headquarters to western Pennsylvania in 1945.
The company's one brush with economic disaster came, as might be expected, with the Great Depression, which so devastated Consol that it barely escaped bankruptcy. That turned out to be little more than a blip on the growth curve. In 2011, according to the National Mining Association, Consol ranked fifth among all U.S. coal mining companies with 62.6 million tons—enough work to support nearly 8,700 employees.
Making it sexier Its formula for success, providing customers value through vertical integration, served Consol well for more than 100 years. But as the 21st century loomed, the company faced a set of new, sometimes unprecedented challenges. For one, the coal business was mature, offering few promising growth opportunities. For another, Consol's workforce was aging. To replace its retiring miners, Consol figured it would need to hire about 1,000 people annually for about a decade, a daunting task. In this difficult environment, Consol was constrained by its corporate structure—it was jointly owned by DuPont and RWE, a German utility. Since it was not publicly owned or traded, the company couldn't raise capital through the sale of stock. "Consol was a harvested company," Harvey observes. "They had many big contracts with utilities, but these were just being harvested by bigger companies. Consol was always under the radar."
The time was right to shift shape once again. Enter Harvey, who began his career as a coal miner but had acquired considerable expertise in utility operations. After RWE bought out DuPont, it recruited and hired Harvey to take Consol public. He did that in two stages, offering 25 percent to the public in 1999, the balance in 2005.
Even before that, the venerable firm changed its name from Consolidation Coal to Consol Energy, a handle suggesting vitality and product diversity.
"It wasn't perceived to be sexy to be part of Consolidation Coal Company," Harvey says. "Now, young people like the idea of working for Consol Energy because we're growing, we're in gas, we're safe, there's a big future here. We've changed the image."
Prior to the makeover, Harvey says, Consol was getting about two applications for every job opening, a meager haul. Now, each posting draws from 50 to 60 applicants, allowing Consol to be selective and strengthening its image as a "hot" employer.
Says Harvey: "It wasn't until we went public that we started to get a profile again… that's the other leg of the stool. You need to be a good citizen, to be a player in the region. We certainly are a player now."
The company burnished its emerging image by purchasing the naming rights to two sporting venues. Now, Consol Energy Center, home of the Pittsburgh Penguins, and Consol Energy Park, where minor league baseball's Washington Wild Things play, enhance the company's name recognition on a daily basis.
A gas company with a coal ATM in the basement
But the biggest component of the transformation was still to come. On Oct. 18, 2013, Consol announced that it was selling about 51 percent of its coal holdings and its legendary river fleet to Murray Energy in a deal valued at $3.5 billion. Although the company retained its most attractive properties—including the Bailey and Enlow Fork complexes, ranked by National Mining Association as the country's top two deep-mine producers—Consol would henceforth prioritize natural gas exploration and production in the Marcellus and Utica shale formations.
The subordination of coal shocked many; after all, Consol had been an industry leader and icon since 1864. But for Harvey, the move made sense on several fronts. "We're such an asset-rich company," he says. "We took the least of our assets—big, well-capitalized mines in West Virginia—and we decided to cash those in and grow the most valuable pieces that we have right now, and that's the gas side.
"When you get up in the morning, when you ask for energy for your home, you're not asking for tons of coal, you're not asking for gas. You're just thinking, 'I want the comforts of life.' We're back here planning what you'll need for the next 20 years and trying to set up our shareholders to supply it for you—with a profit, which makes sense.
"We have some of the best assets left in the coal business in the United States, and it's stable. The growth is outside the United States, so we kept our Baltimore port; we'll move a lot of coal worldwide. The demand for coal will cycle with technology. Coal will come back at a different technology level just like gas did. The nice part is, this country is so abundant with both of them that it's really an ace in the hole for our economy in the long run, and Consol will be there for both pieces."
Moreover, Consol already was in the gas business. Forced to remove methane from its mines to prevent explosions, Consol formed a small gas unit that it enhanced through several major purchases, including the 2010 acquisition of Dominion Resources' gas operations. So the company hardly was a gas greenhorn.
Initially cautious about Consol's shifting emphasis, the market warmed to it and drove up the company's share price from $28 to $38 in the first few months following announcement of the Murray deal. John Bridges, coal analyst for J.P. Morgan, thinks there's more good news ahead.
"They see gas as a growth business and the coal business as flat at best," Bridges says. "They've kept the strong coal assets, the ones that generate cash flow and would do so under almost all scenarios. So they're a gas company with essentially an ATM in the basement coming from coal. It sort of immunizes them from market downturns when they might otherwise have difficulties raising money for the gas business.
"The Wall Street types were hoping there would be a simple, clean split from coal. Initially, there was a sell-down as guys who wanted that pure split sold off. Within a week or two, Consol stock started to outperform the rest of the coal space again. We were pleased with that, as we have an 'overweight' position on Consol. We think Brett is a man on a mission with a plan to demonstrate the advantages of having that bank in the basement."
Thus, for the umpteenth time in its 150 years, Consol has reinvented itself on a decidedly different landscape. While coal companies typically depend on a captive, often-unionized workforce, the gas industry tends to outsource many of its key functions, including drilling and transport.
"I would say we're probably less outsourced than our competitors because we've always been here, and we owned a lot of the land, and we have a lot of our own natural resources we apply to it," Harvey says. "But we outsource where it makes sense for our shareholders."
Consol's new approach also more or less ends its relationship with the United Mine Workers of America, since most of the company's remaining mines are non-union.
"Among major coal companies, our relationship with Consol was one of the better ones," says Phil Smith, the union's director of communications. "Back in the '90s, there were some selective strikes at Peabody and Consol over contract issues, but that wasn't unusual in those days in the coal industry. I don't know that there was a contract from the '40s through the '90s that didn't have a strike associated with it."
The workforce is different, the product mix is different, but expect Consol to continue to rely on the core approach that has guided it through 150 successful years.
"Delivered BTUs is what we do," Brett Harvey says. "The concept is still the same. The innovation of the delivered BTU is really a base thought process, and Consol has never gone away from it."