Stepping Up
Technology is finally catching up to soothe painful feet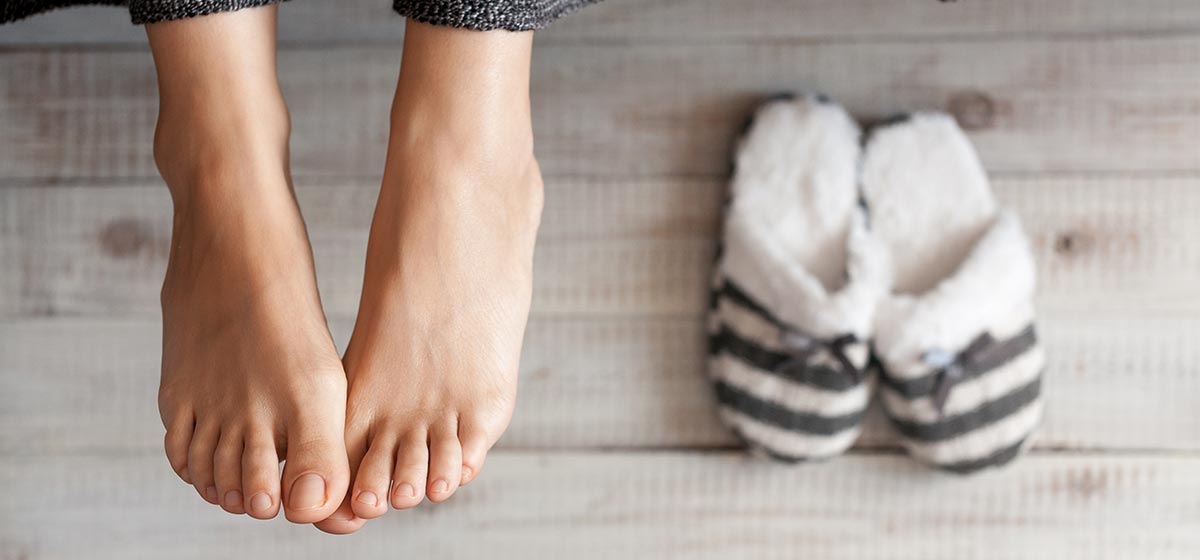 February 20, 2017
Leonardo Da Vinci called it a masterpiece of engineering and a work of art. He was referring to the human foot—a lever that propels us forward, provides balance, and bears all of our weight. Though small compared to other parts of the body, the average human foot supports a force equivalent to several hundered tons every day. No wonder foot pain is widespread.
Almost 8 in 10 Americans have experienced a foot problem, and half say it has impacted their quality of life, according to the American Podiatric Medical Association. Treatment for foot conditions has advanced significantly in recent years, and the Pittsburgh area is home to promising new treatments and some of the field's world leaders.
"Compared to other body parts, the foot was sort of left behind," says Dr. Alan Catanzariti, a podiatric surgeon with Allegheny Health Network's Foot and Ankle Institute. "It's only been in the last 20 years where science and technology relative to foot and ankle problems has advanced and gotten so much better. I have been practicing for 30 years and it's been a joy to watch how things have evolved."
Foot doctor's tool box
A good pair of shoes and inserts can relieve a lot of foot pain but for chronic and difficult-to-treat conditions, experts now have all sorts of gadgets—lasers to blast away warts and toenail fungus; cryosurgery to freeze foot tumors (neuromas); and shockwaves to relieve persistent plantar fasciitis.
Emerging therapies include treating chronic and severe pain of the Achilles tendon and heel (plantar fasciitis) with platelet-rich plasma injections containing a person's own specially prepared blood. At UPMC, a podiatrist and plastic surgeon are making waves worldwide: They're the first to study injecting a person's own specially prepared fat into parts of the feet that have lost their natural fat pads. While some of these treatments have yet to be proven effective by large research studies, local experts using them are seeing couch potatoes becoming walkers again.
Shocking away heel pain
The most exciting breakthrough Dr. Christina Teimouri has seen during her career is extracorporeal shockwave therapy (ESWT), a noninvasive office treatment for severe and chronic plantar fasciitis.
As a podiatrist and foot surgeon, Dr. Teimouri sees 10 to 20 people a day for heel pain (affecting 5 percent of American adults). The vast majority get relief with steroid injections, wearing night splints, stretching and/or arch supports. But about once every two weeks, she performs a shockwave treatment. She only uses it for people who have tried and failed three conservative methods for at least six months.
"Before the advent of ESWT, the only option was open surgery and three weeks of downtime. Plus, the surgery only worked 50 percent of the time," says Dr. Teimouri, who founded Beaver Valley Foot Clinic and now has five locations in three counties (bvfootclinic.com).
In 2007, most insurance plans stopped covering ESWT due to a lack of evidence that it was effective. "The day they stopped paying for it, everyone started cutting again. I had such a strong belief in ESWT that I still offer it and am the only one in the area. I couldn't go back to cutting these people when you know there's a better option," Teimouri adds.
Annette Marshalek, 65, of Scenery Hill in Washington County, starting having heel pain in her 30s. At first, she found relief from rest and wearing sensible shoes. Later, a podiatrist taped her foot, but eventually her plantar fasciitis kept her from walking long distances. Finally, she went to Dr. Teimouri after a friend told her about shockwave therapy. It cost her $1,000. "I paid for that. The pain was just that nasty and I didn't want surgery," Marshalek says. It took two months to heal but she's had no heel pain since. Marshalek is among many longtime heel-pain sufferers, including one for a record 35 years, helped with a one-time shockwave treatment, Dr. Teimouri claims.
Marrying podiatry & plastic surgery
Fat injections are the latest treatment gaining traction for foot pain. In 2010, Dr. Beth Freeling had a busy podiatry practice when she married Dr. Jeff Gusenoff, a plastic surgeon. Dinner conversations would often turn to work. "I would tell Jeff how I had these patients who had no fat cushions in their feet and they'd say to me, 'I wish you could just put fat in my feet.' And Jeff tells me he's putting fat in faces, behinds and breasts and says, 'Why can't I put it in feet?'"
Those dinner conversations evolved into five small clinical trials conducted through the University of Pittsburgh Department of Plastic Surgery (learn more about the trials at footfatgrafting.com or call 412-641-3960).With fat grafting, a plastic surgeon uses liposuction to take several millimeters of fat from a person's belly or thighs. The surgeon then injects the fat into the ball or heel of the foot. "Right now, we're the only group doing this in a comprehensive fashion and with the expertise of a plastic surgeon and podiatrist," says Dr. Jeff Gusenoff.
Last fall, they published promising findings from their first pilot study. "The majority of people in our study after one fat-grafting procedure are very happy and doing very well," says Dr. Beth Gusenoff.
About two years ago, Fran Borovetz, 69, of Squirrel Hill made a visit to the UPMC Aesthetic Plastic Surgery Center in Oakland. She didn't go for a procedure to look better; she went hoping to get relief from foot pain that made walking and standing excruciating.
She was among 25 participants in the Gusenoffs' first clinical trial testing fat grafting for a condition called pedal fat pad atrophy (loss of fat in ball of foot). She walked out with a butterfly bandage and padded sneakers. Within six months, she was able to rejoin her walking group and now enjoys being on her feet as a volunteer at Pittsburgh's Jubilee Soup Kitchen where she's painting a mural.
"At first (after the fat-grafting procedure), I had to walk with crappy-looking shoes. Then slowly but surely, it started to work… I've lost some fat but I still have enough to be able to walk. Whether it will stay there for another couple years, I don't know," Borovetz says.
The Gusenoffs closely observed the feet of Borovetz and other trial participants for two years. The subjects lost fat at the injection site but tend to remain pain-free. "It's possible there are some intrinsic factors in the fat that is improving the quality of the tissues and bones, while the fat either gets moved to the side or disappears," explains Dr. Jeff Gusenoff. He adds, "Our long-term goal is to have large multicenter clinical trials to make sure this is reproducible at other sites, affect a broader group of patients, and eventually be covered by insurance."
Until then, people are willing to pay out of pocket for the procedure that costs $3,000/foot ($5,000 for both feet). "People are coming from all over the country. We even had someone come from Australia," Dr. Beth Gusenoff says.
On your feet after surgery
Foot surgery should always be a last resort and not done for cosmetic reasons alone, several medical organizations say. But if you need foot surgery, you can likely get back on your feet faster than in years past.
Surgery for painful bunions (bumps at the base of the big toe caused by genetics but aggravated by narrow shoes) has been around for more than 100 years. Modern techniques and custom walking boots mean patients get back on their feet faster.
"There is a common misunderstanding among patients considering bunion removal surgery that they won't be able to walk for weeks or months," says AHN's Dr. Catanzariti. "The reality is that the surgery has changed dramatically in the last 10 years, and recovery time is often four to six weeks."
He adds, "Not so long ago, treating symptomatic flat feet was difficult. Now we can get an orthotic or brace in someone's shoe and make them better… And outcomes for flat-foot surgery are so much better."
He tries to avoid operating on the Achilles tendon, which is still a difficult surgery to recover from. He's glad there is another option. "I send patients out weekly for platelet-rich plasma injections. I'm a believer in that. Some good studies show it's no different from steroid injections. But I've read enough articles about patients doing fairly well. I think it's fantastic."
A painful hammertoe can often be fixed now with a 15-minute office procedure. "The patient walks out and is back in shoes in two weeks," Dr. Teimouri says.