Mysterious Melanoma
This deadly skin cancer hits a record high as experts unlock its genetic secrets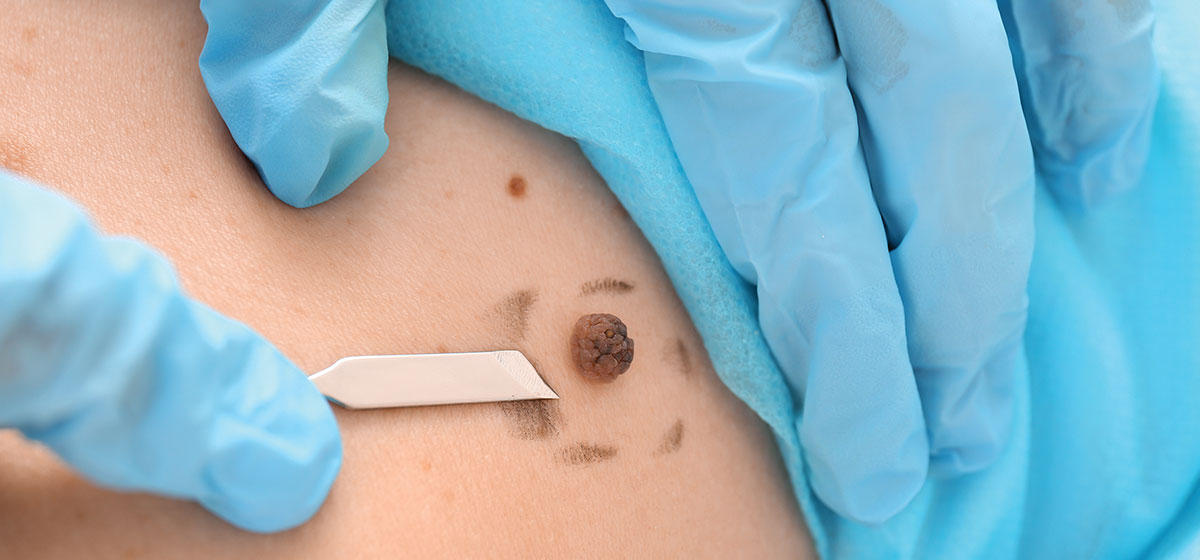 July 13, 2020
In 2010, Thomas Lauritzen and his second oldest daughter both began treatment for melanoma, diagnosed with the condition only a month apart. "Our melanomas were almost identical in size and in the same location (shoulder blade area)," Lauritzen said. The father and daughter would spend the next year going to UPMC for infusions of the same drug, interferon, to keep melanoma from coming back.
The drug's side effects were harsh. "It caused extreme fatigue… It really was a downer," said the active 80-year-old who still enjoys mowing his half-acre yard in Peters Township. "My daughter has not had a melanoma since. But it (interferon) didn't do anything for me. I've had 16 more melanomas in nine years."
Fortunately, the last decade has brought a remarkable increase in the number of melanoma treatments—without the debilitating side effects that Lauritzen experienced with his first battle. "Interferon was the only drug available in 2010. Since that time, there are at least 13 new drugs developed, which has opened up a great potential for people with melanoma. They not only have that great variety of drugs but have found some combinations of drugs are more effective for certain types of melanoma."
These drugs can make melanoma melt away in the majority of patients, without the crippling side effects that left many patients in wheelchairs or on crutches. "It's been miraculous," said Lauritzen's physician, Dr. John Kirkwood, co-director of the Melanoma and Skin Cancer Program at UPMC Hillman Cancer Center.
Melanoma is an unusual cancer as it is resistant to standard chemotherapies but in rare cases can be kept at bay by a person's own immune system. This discovery in the 1960s would lead to decades of research into treatments designed to boost a person's natural ability to fight off the cancer. These drugs have come a long way with the advent of what are called checkpoint blockade immunotherapies, and oral targeted therapies that have rapid and dramatic benefits in patients with a certain mutation in their tumors. This mutation, known as BRAF, has proven to be key for advanced disease that's inoperable and for preventing relapse with adjuvant therapy (drug or other therapy that's added to the treatment plan to enhance the effectiveness of the traditional treatment).
"In the 1990s, we began using immunotherapy agents but they were only half as effective and were more toxic to the patient than today's checkpoint blockades and the targeted oral melanoma adjuvant therapy with BRAF inhibitors," Dr. Kirkwood said. The targeted therapies essentially disrupt the drive train of the tumor. As pathway inhibitors, they deactivate the genetic process set in motion, most often, by damaging ultraviolet radiation. The problem with targeted therapy for inoperable melanoma is that over time, eventually, most patients develop resistance to these drugs. It has an amazing initial response but doesn't give a long-term response in advanced disease. "We were excited to find that when given after surgery, these agents appear to have longer-lasting benefits," Dr. Kirkwood said.
"Immunotherapies have a higher toxicity but tend to have a longer-term response," said Dr. Jonathan Lee, who specializes in melanoma and serves as system director of surgical oncology for the Allegheny Health Network Cancer Institute. Melanoma is a unique disease that one can't help be humbled by, he added. "I've treated patients with melanoma from age 5 to 97. Melanoma metastasizes (spreads) when it is very small. Most cancers have a few organs they like to go to, but melanoma can metastasize to almost anywhere in the body. You've got to know how to treat patients with many, many different presentations."
"Most cancers have a few organs they like to go to, but melanoma can metastasize to almost anywhere in the body. You've got to know how to treat patients with many, many different presentations." —Dr. Jonathan Lee, system director of surgical oncology for the Allegheny Health Network Cancer Institute
Broccoli as prevention
At UPMC, Dr. Kirkwood has three fellows working with him on new targeted therapies to hopefully give them more lasting power. While most melanoma drugs have unpronounceable names, one therapy Dr. Kirkwood is developing is familiar even to a child. "A derivative of the broccoli sprout could be the holy grail of having a non-toxic preventive effect on melanoma," he said. Several years ago, he paid $15,000 for a chemical extract of broccoli sprouts that he put into gel caps. He tested this "nutritional inhibitor" in 17 patients and published the results in Cancer Prevention Research that showed, "patients tolerated the chemical and we found the dose that got the broccoli chemical into the moles that are prone to melanoma."
Encouraged by the results, Dr. Kirkwood is designing a year-long national study in which half of 100 participants will take a placebo and half will take the broccoli sprout chemical known as sulforaphane. He will be recruiting people "who had a melanoma that we think we have cured but who have funny moles that are potential precursors of new melanoma."
Dr. Kirkwood is excited about another avenue of research that uses a signal from bacteria to spark inflammation and provoke a person's immune system to send cancer-killing T-cells into melanoma tumors. This treatment has shown the ability to improve response by 25 percent in patients who have not responded to their treatment with checkpoint blockade immunotherapies.
During his fellowship training at John Wayne Cancer Institute, Dr. Lee worked under the leadership of a famous melanoma expert. He was impressed by a man who would devote his 40-year career to treating one disease and wanted to do the same. "I realized how much this man would know about this disease and I wanted to know this much for my patients," said Dr. Lee, who was recruited last year by AHN after he built a melanoma program in Atlanta, Ga.
While the biggest breakthroughs in treatment for melanoma have been in drugs, Dr. Lee noted, advances in all aspects of cancer treatment have played a significant role. "We now have drugs that are so much better than we did before. We now have surgery and radiation that are so much more effective and less invasive than we did before. And we now have more coordination of care than we did before so that what we can provide patients today is head and shoulders better than just 10 years ago."
Cancer as a chronic condition
Over the past nine years, Lauritzen has been on three different melanoma drugs and participated in one clinical trial at the Hillman Cancer Center. One drug he's been taking is working well but another drug destroyed his adrenal glands so he now has to take a daily supplement to replace the hormone produced by this gland. Fourteen of his melanoma tumors were surgically removed. "But my last three melanomas were eliminated by a new immunotherapy injection," Lauritzen says. The tumors disappeared in 12 weeks after a series of injections directly into the tumor. He's been tumor-free for a few months but gets regular imaging scans to make sure another melanoma doesn't resurface from a rogue microscopic cancer cell. Lauritzen has developed a profound respect for Dr. Kirkwood and his entire staff, especially Dr. Kirkwood's physician assistant, Melissa Wilson, who encouraged Lauritzen's pursuit of the new immunotherapy injections into his last three tumors.
"My wife Donna and I have found the oncology staff to be extraordinarily equipped to deal with cancer problems," Lauritzen said. "We have also discovered they really do care. It's not just that they're doing their job."
Lauritzen's wife has been battling ovarian cancer for 2 ½ years. A retired U.S. Steel administrator, Lauritzen is well aware how he and his wife are benefiting from scientific advances that are turning once-fatal cancers into manageable chronic diseases. But he also believes that their church community has helped carry them through this stage of life. "The most supportive for us is our faith. I'm not sure without it if we would have been making as much progress as we have in fighting these diseases. It puts us in an element that is beyond us."
Melanoma reaches record heights
Invasive melanoma, a deadly form of skin cancer, is striking a record number of Americans. Almost 100,000 cases of invasive melanoma will be diagnosed this year in the U.S.—an increase of 54 percent over the past decade, according to the Skin Cancer Foundation.
Sunburns are one of the biggest risk factors in developing melanoma, which kills two Americans every day. White men are by far the most at risk. "A Caucasian human is not a sun-resistant individual. Well over 90 percent of melanomas are caused by DNA damage from ultraviolet (UV) light. With 27 melanomas per 100,000 people, our incidence rivals what we used to see in Australia (which has banned indoor tanning)," notes Dr. John Kirkwood, director of the Melanoma and Skin Cancer Program at UPMC Hillman Cancer Center.
After facing melanoma multiple times, Thomas Lauritzen now protects his fair skin when mowing or doing other outdoor activities. "I hear the frustration in Dr. Kirkwood's voice. People don't take the dangers of the sun seriously… They think, 'It won't happen to me. It happens to other people.' Dr. Kirkwood knows that nobody is not vulnerable to the possibility of melanoma because of sun exposure."
Known cancer threat
Whether from the sun or tanning devices, UV radiation ranks among plutonium and cigarettes as known carcinogens by the International Agency for Research on Cancer.
Proving Ground
Dr. John Kirkwood has been studying melanoma since the 1960s and has led more than 300 clinical trials in investigative therapies. These include pivotal studies that led in 1995 to the first FDA approval for a melanoma therapy to help prevent relapse and death, and one of the most recently approved oral targeted therapy combination treatments that prevent relapse and death after surgery. Many of the nation's leaders in the fight against melanoma got their start under Dr. Kirkwood's longtime leadership of the Melanoma and Skin Cancer Program at UPMC Hillman Cancer Center. "For quite some time, we have been a hot bed for training good people to go out and do good things elsewhere," Dr. Kirkwood said. "We have trained a dozen people who have taken over melanoma programs at places such as UNC-Chapel Hill, Cleveland Clinic, Moffitt Cancer Center and MD Anderson [Cancer Center]."