Song of Sewickley
Home of the nicest kind of flag burning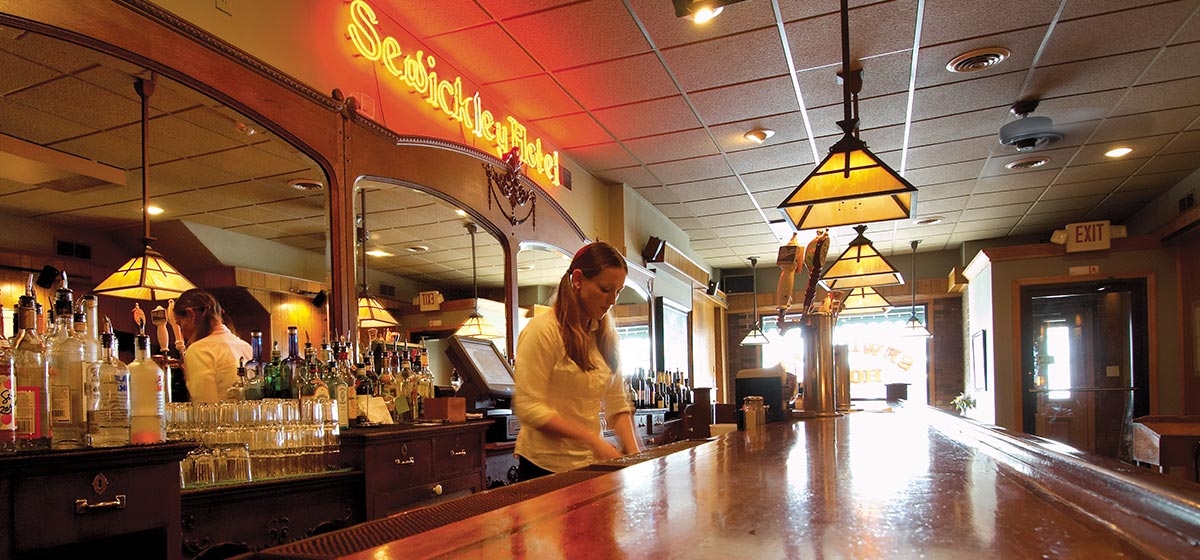 November 19, 2007
Would you be shocked to learn that Sewickley — the patriotic, upper-crust town just downriver of Pittsburgh — holds an annual American flag-burning in broad daylight on public property?

No need for outrage or a constitutional amendment. Turns out, it's the perfectly respectful flag retirement ceremony, in which tattered Old Glories are given a solemn cremation by local Boy Scouts and VFW members in Wolcott Park.
Sewickley's veteran Police Chief James Ersher confirmed this for me, along with the more amazing fact that no murders have occurred in his bailiwick for two decades — or more.(Nobody recalls the last one.) Sewicklians all seem to know and care about each other. And they have an ongoing 11 p.m. to 6 a.m. curfew for everybody under age 18. Talk about public safety. How do I get there?
I just go 11 miles northwest of Downtown Pittsburgh along Ohio River Boulevard (Route 65), where the vibrantly beautiful Borough of Sewickley occupies a single square mile on the river's north bank across from Coraopolis. Its name derives from a Native American word for "sweet water." Some say it referred to the Ohio's waters; others, to that delicious syrup oozing from the abundant local sugar-maple trees.
Those original inhabitants, the early Indian Mound Builders, aren't around to clarify (though some of their burial mounds survived into the 20th century). But Sewickley today is an arguably legitimate descendant, one of the last quaint villages of its kind, combining the feel of a small town with 21st century urbanity — without urban blight. The hamlet itself is pristine, surrounded by scenic country drives, thick woods, steep hills and unpolluted streams.
Can such a place be just a few minutes away from the Pittsburgh International Airport? Can it be devoid of malls and Wal-Marts, offering a sophisticated array of high-end shops, boutiques, antique stores and art galleries instead? It can and does.
And everything in and about it reflects and respects its history.
Sewickley had a ringside seat for the big bouts of the late 18th century, from the French and Indian War to Pontiac's Rebellion through the American Revolution. In 1753, George Washington traveled through its westward corridor to stifle the French trespassers who were horning in on English trade with the Indian tribes. In 1765, Col. Henry Bouquet, after his victory at Bushy Run and relief of Fort Pitt, came by with a force of 1,500 men to negotiate with those regional Indians, liberating a few score whites who'd been captives of the much-abused natives.
After the Revolution, the Delawares' title to land north of the Ohio was wiped out by several dubious treaties, which the Indians "broke" — or, in fact, simply resisted. The aptly named Gen. "Mad Anthony" Wayne was charged with subduing them once and for all. He trained a 2,500-man force eight miles from Sewickley at an encampment known as Legionville, turned the path through Sewickley into a military road connected to Fort Pitt and crushed the Indians at the Battle of Fallen Timbers in 1794.
That put an end to virtually all Eastern Indian resistance against white American settlement west of the Alleghenies. A huge wave of immigration followed, with the Ohio Valley funneling pioneers further into the interior via the region's three rivers. In the Sewickley area, famous early settlers such as retired sea captain Henry Ulery used teams of oxen to pull boats through the shallows (including Meriwether Lewis's 1803 keelboat, built in Pittsburgh). Conestoga wagons multiplied on the route, carrying big cargoes of cattle, pigs and people. Soon enough, there was a daily stagecoach from Pittsburgh.
But it was the Ohio & Pennsylvania Railroad whose arrival in 1851 transformed the sleepy little farm community into a desirable suburb of Pittsburgh. The journey there from Sewickley took four hours by road, two or three by steamboat.By train, it was a blazingly fast commute of just 30 minutes.
Sewickley's population doubled over the next decade, as affluent businessmen could escape the grimy congestion of the 'Burgh for a quiet retreat in the country. Two educational enterprises had brought more respectability: In 1837, Mary Oliver moved her school for young women (one of the nation's first) there from Pittsburgh and named it Edgeworth Female Seminary, in honor of Irish novelist Maria Edgeworth. A year later, a boys' school was founded — still extant as the (coeducational) Sewickley Academy.
On a hilltop above town lies the huge Sewickley Cemetery (vintage 1860), filled with fascinating monuments and mausoleums. Many of its 12,000 denizens — three times the current 3,900 live population — were powerful Pittsburghers, including the cemetery's first superintendent, David Nye White, formerly editor of the Pittsburgh Gazette, which he turned into a major abolitionist voice. Many young men killed in the Civil War are buried there, their names recorded on the Italian marble Soldiers' Monument (erected in 1866) — including that of White's son, Albert. White's own imposing obelisk is nearby.
Other evidence attests to life's fragility in 19th-century Sewickley: a holding vault, for instance, where people who died in winter were stored until the ground thawed enough for their graves to be dug.Most poignant: the countless small stones marking infant deaths from such things as "puerperal fever," a childbirth complication that no longer exists.
The happier, healthier Sewickley Valley of today stretches through five miles of bottom land, elevated terraces and the heights above, embracing adjacent neighborhoods of Edgeworth, Osborne, Sewickley Heights, Sewickley Hills, Leetsdale and Aleppo. The collective architectural treasures include some of the finest Victorian mansions and stately homes in America, many of them designed by nationally known architects who worked for Pittsburgh's industrial elite.
Most of those moguls had previously resided in the steel town's East End or on Ridge Avenue's "Millionaires' Row" in Allegheny City (today's North Side). Henry W. Oliver was among the first of them to spend summers in Sewickley. In 1896, Oliver bought 65 acres there, extending to the crest of Blackburn Road, where he remodeled a small farmhouse and built a barn for his carriages and horses.Others followed, and the grand estates of wealthy coal and steel men soon dotted the hilltops.
High society came with them, especially after Allegheny County Club moved there from Pittsburgh's North Side in 1902. The roads were getting better, and so were the horseless carriages — now called "automobiles" — that plied them. With faster and better access, more and more of the great houses converted to year-round use. In 1911, the first Sewickley-Coraopolis Bridge was completed, uniting the Ohio River's north and south banks (and making all the ferries that had operated there redundant). Ohio River Boulevard was finished — and so, pretty much, was passenger train service — in 1934.
Before, during and since then, not all Sewicklians have been wealthy. Despite its image as an exclusive enclave for rich WASPs, the median income is $39,598 and the town is racially diverse, its main street within walking distance of many places representing many traditional styles — just the kind of place city planners are trying to refurbish or recreate all over America. Today's Carnegie-size celebrity residents include former and current Penguin stars Mario Lemieux and Sidney Crosby, Steeler legend Franco Harris and (until recently) his favorite coach, Chuck Noll. But lots of "regular" middle- and upper-middle-class folks live, work and complain about their taxes there, too. Not least of Sewickley's drawing cards is its Quaker Valley School District, renowned for innovative laptop technology and ranked by U.S. News & World Report among the country's top 2 percent of high schools.
Sewickley native and lifetime resident Geri Rapp Jenne knows a lot about that. A popular patroness-doyenne of the arts scene, she organized the recent 50th anniversary reunion of Quaker Valley High School's first graduating Class of '57 reunion, at the lovely old Edgeworth Country Club nearby.
"That's where Bing Crosby stayed while visiting Pittsburgh on Pittsburgh Pirates business," says Jenne, who combines sports and show-biz legends in her anecdotes. "I saw him there in the early '50s.He used to walk into Sewickley from the Club, without his rug — bald and hardly recognizable."
Sewickley's holiday wonders are easily recognizable along Beaver Street, a real-life storybook illustration worthy of Norman Rockwell."Yuletide in the Village," sponsored by the Borough of Sewickley and the Sewickley Valley Chamber of Commerce, features a popular Light-Up Night (this year's was Friday, Nov. 30).
In addition to the lighting ceremony, it offers musical entertainment, trolley and carriage rides and miscellaneous exhibits. The Santa Parade takes place this year on Saturday, Dec. 1 at 10:30 a.m. Stores are open late on Wednesdays during the season (Dec. 5, 12 and 19) until 8:30 p.m. A "must" for Santa collectors and elegant Christmas and Hanukkah items of all sorts is the Gift Corner at 422 Broad Street.
In preparation for your trip to Sewickley, it would be wise to have a full wallet and an empty stomach. In the latter regard, there are many fine possibilities:
Don't miss The Sewickley Café, 409 Beaver St., whose minimalist interior design belies its succulent fare — dishes like yellowfin tuna club with Japanese mayo or seared salmon, served perfectly pink in a Caribbean pineapple glaze.
The Sewickley Hotel, 509 Beaver St., features equally exquisite food, superbly presented in a warm ambience dominated by a long wooden bar but with cozy tables and booths available, too. The sea trout is a gem. The house dressing is a special cranberry-orange concoction.The homemade desserts include coconut creme pie to die for.
A comprehensive list of Sewickley's commercial establishments — or even of its "best" — is impossible here, but here's a sampling:
Antiquarian Shop at 506 Beaver St. was once an antique shop. But the original owner's grandson has turned it into a gorgeous furniture store with a number of stunning pieces.
TravelWares at 429 Broad St. offers specialty gifts for all tastes — Brighton shoes, chenille gauntlet gloves, British enameled Limoges and hacienda boxes. The store is celebrating its 25th Christmas this year.
Twice Treasured at 551 Beaver St. has goodies supplied by hundreds of consigners, from fine silver and glassware to antique cabinets, antique baby cribs and rocking chairs — all in "absolutely A-1 condition."
Spoiled Chics at 350 Beaver St. specializes in "haute stuff for cool chics. "It's owned and operated by four sisters, including Carina Perrone, whose motto is, "You can never have too many purses or girlfriends." They offer private Spoiled Chics parties that are booked months in advance.
Warp and Weft, 519 Broad St., reflects Michael Mandapati's passion for beautiful carpets and textiles first glimpsed as a student in New Delhi, India.
Cornerstone Book Store, 421 Broad St., has much more than books.Likewise, the Open Mind Bookstore, 439 Beaver St.
The Sewickley Spa occupies a stately house at 337 Beaver St., offering such luxurious treats as seaweed botanical wraps, foot paraffin dips, aromatherapy massages and glycolic age-spot treatments. (I haven't had a foot paraffin dip in ages. And, given a choice between aroma- or psychotherapy, I was long ago forced to pick the latter. Looking for gift ideas?)
Sewickley's diverse art scene offers contemporary local, international and historical pieces. The Sweetwater Center for the Arts, 200 Broad St, www.sweetwaterartcenter.org, is a good place to check (on performing as well as visual arts events).
Galerie Werner, 44 Beaver St., linking Paris and its Sewickley and Shadyside locations, is a concierge of arresting pieces of antique European art.
No offense to the charming Que Sera Sera at 559 Beaver or Sewickley Gallery at 549 Beaver or any of the other fine places, but my favorite gallery for years has been Elena Kornetchuk's splendid International Images, 514 Beaver St. She pioneered the import of top-notch Russian, East European and Cuban art.
Want to know a secret place to go for free sometime?" The Falls at Sewickley Creek — out on Little Sewickley Creek Road — are so beautiful," says Geri Jenne." A lot of people go just to enjoy the scenery and put their feet in the creek. We make a ritual when spring arrives to go and remember our childhood times there."
Want to know a well-kept secret factoid of special interest to guys? For every 100 females over age 18 in Sewickley, there are 76.7 males. Don't ask me how or why, or what that poor seven-tenths of a guy does to amuse himself.
I'm sure he finds something in Sewickley, a town blessed by geography, trying to hold on to the past yet embrace the future — succeeding at both.