Short Takes: "To Risk It All," "Franco, Rocky & Friends"
New selections from Pittsburgh authors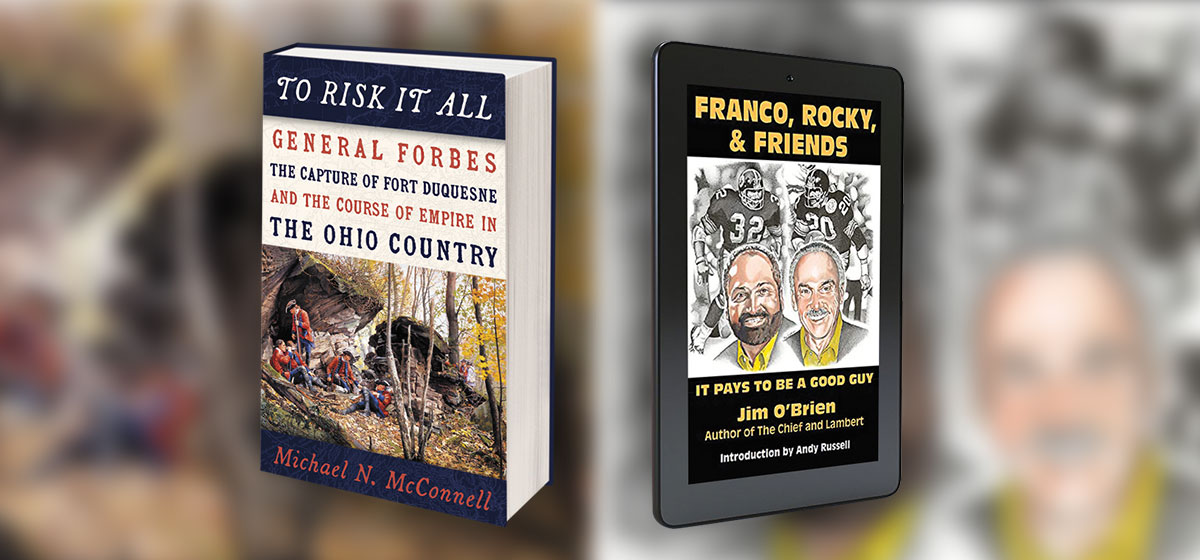 May 19, 2021
In his book, "To Risk It All: General Forbes, The Capture of Fort Duquesne, and the Course of Empire in the Ohio Country," historian and war scholar Michael N. McConnell sets his sights on the French and Indian War, and more specifically General John Forbes's campaign against Fort Duquesne, the largest overland expedition during the Seven Years War. While this campaign is often a footnote in history books, McConnell gives the event its proper due. Through this nearly 300-page deep-dive into the subject, McConnell shines light on how Forbes and his army were able to prevail and how the conquering of Fort Duquesne impacted the mid-Atlantic colonies and native inhabitants of the region.

Through dense and often poetic descriptive accounts, McConnell carries readers back in time for an intimate look at British relations with indigenous people and how the largely colonial troops' role in the campaign led to a breakdown of the British empire. McConnell's latest is a nuanced, illuminating read for scholars of colonial American history and novices alike.
---
Local historian and sports buff Jim O'Brien has written an extensive catalogue of books about his relationships with sports heroes and coaches, including basketball memoirs "Looking Up" and "Looking Up Once Again." In his latest homage to sports titans of yesteryear, O'Brien explores the indelible mark former football players Franco Harris and Rocky Bleier left on Steelers history. In "Franco, Rocky & Friends: It Pays to Be a Good Guy," O'Brien spins a fun and winding narrative through a smattering of personal essays and anecdotes, interviews and photographs.
Harris and Bleier are famous for rushing over 1,000 yards each in 1976, making them the second duo to ever accomplish this feat in the NFL. O'Brien conducts interviews with former linebacker Andy Russell, who authored the book's introduction, former safety Mike Wagner and several other former players about the glory days with Franco and Rocky. The joy of the book lies in O'Brien's uncanny ability to infuse the interviews and essays not only with personal tangents, but also with his pride for Pittsburgh. Even readers who don't have much sports history knowledge can glean special insights from O'Brien's about his city.