Short Takes: "The Secret History of KGB Spy Cameras," "Threads Around the World"
New selections from Pittsburgh authors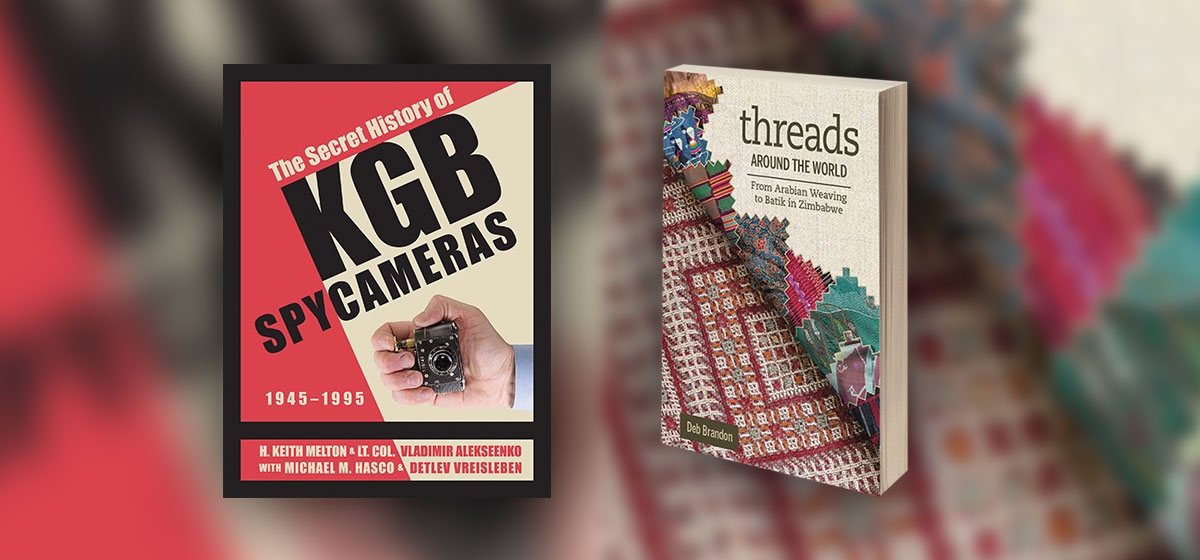 November 15, 2019
Deep in a secret location cloaked by trees and rolling hills—well, to be precise, inside a home in the leafy suburb of Upper St. Clair—exists a notable collection of Soviet spy equipment. It belongs to Michael M. Hasco, a former Heinz executive whose interest in photography blossomed into full-fledged expertise in the history of espionage cameras. He helped to create this exhaustively illustrated and documented book, "The Secret History of KGB Spy Cameras." It is more fun to read than "The Mueller Report," and perhaps just as relevant in parts.

Hasco worked with two experts who are without parallel. H. Keith Melton amassed the world's largest private collection of historical artifacts about espionage, which he has bequeathed to the International Spy Museum that opened in Washington this year. Lt. Col. Vladimir Alekseenko, a third-generation Soviet intelligence officer and first-hand expert in KGB spy equipment, was Melton's collaborator on dozens of projects. These fellows know their stuff. As this book was in the final stages, Alekseenko died, but in completely unsuspicious circumstances (cancer).
You've seen old spy movies in which a shady guy clicks photos through his briefcase. If you've ever wondered how all that works, this book is for you. It also describes, in the right amount of detail, how the clever and dedicated Soviet techies made high-functioning cameras out of, say, a lipstick tube. The authors often provide narratives to describe the tools in action. A West German woman named Margret Hoke, who worked in the German president's office, used the lipstick camera in the 1970s to snap images of classified documents. Using many other devices, she passed on reams of documents to her lover, a KGB officer who maintained cover as a German postgraduate student. He was an "illegal," just like in "The Americans." (Hasco and Melton, by the way, were technical advisers to that brilliant TV series; many of the tools used in the show were from their collections.)
The cameras fit into many other items: buttons, belts, brooches and brassieres. Pens, glue sticks and erasers. Cigarette packs and lighters. Books, radios and tape players. Eyeglass cases. A thermos, with the camera on the bottom, that really did keep beverages warm.
"The Secret History of KGB Spy Cameras" is value-neutral; it doesn't rehash conflicts of the Cold War from either side. It presents an authoritative documentation of some extremely cool gadgets from the analog age. Stay tuned for three upcoming volumes: East German and Warsaw Pact cameras, U.S. and NATO Pact cameras, and the world of "Subminiature Espionage Microphotography."
---
Deb Brandon is a Carnegie Mellon Professor of mathematics who has an equal passion for patterns in the physical world: handmade textiles from around the globe. As a weaver herself, she appreciates the craft and skill it takes to create these intricate objects. And as "Threads Around the World" shows, she has a deep knowledge and affection for the cultural history of weaving. "Textiles are an integral part of the human condition, weaving into the fabric of our being," she asserts in the introduction. "Traditional textiles … prevent us from losing our humanity."
The lush photographs help make the case. Kuna molas from Panama, Zari brocade from India, even a pair of kilt hose from Scotland—up close and in detail, you see the intricacy and imagination. What sets the book apart is the personal touch that Brandon brings to each of the 25 stories of the textiles. She became enchanted by Matyo embroidery from Hungary at the age of 8 when her father brought some home from a business trip. Her appreciation of the ajrakh block printing technique, born in the Indus Valley of South Asia, is enhanced because she possesses an ajrakh bedspread, a cherished wedding gift from her brothers. The Pina cloth shirts of the Philippines, known as barongs, are introduced through a CMU colleague, wearing one in class to raise awareness for victims of the 2013 typhoon that devastated the Philippines.
Surprising tidbits abound. In Bhutan, women in rural areas who weave often earn more than their husbands. Estonians revere their handknit mittens, featuring them in life rituals from weddings to funerals, and believe they help avert the evil eye. When Imelda Marcos fled for her life from the Philippines, she left behind her extravagant shoe collection and wore espadrilles, crafted with woven soles in the Spanish tradition.
"Threads Around the World" will make you want to save up for a quality piece of fabric, created with care and, as Brandon says, "helping us maintain our connections between past and present and our ties to each other."