Sala Udin, Community Organizer
A life's recounting in the subject's own words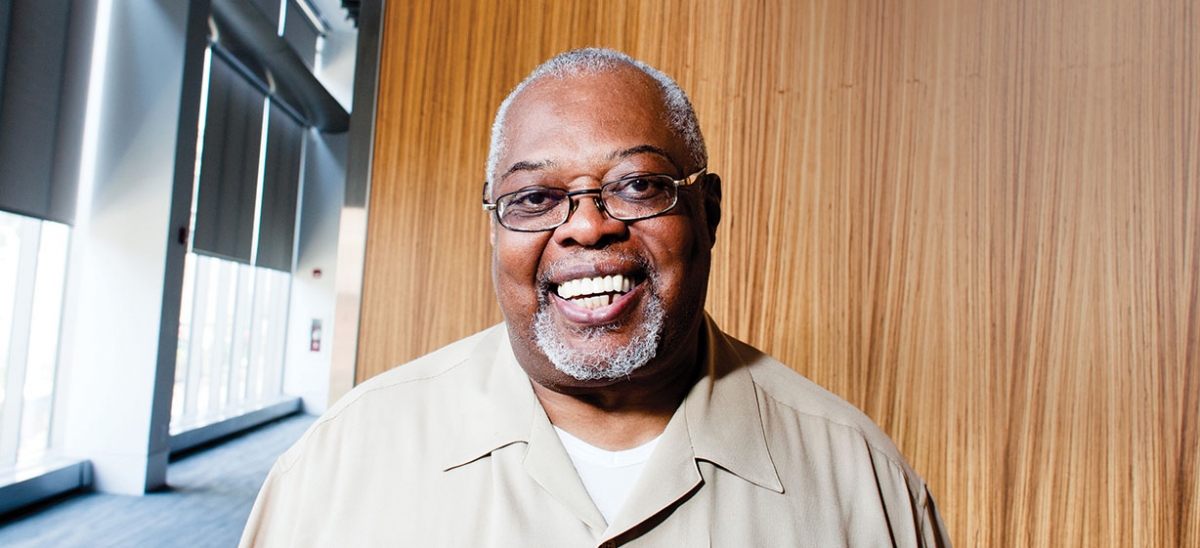 August 21, 2013
My mother and father came to Pittsburgh during the great black migration from the South in the 1920s. They met and married here and took up residence in the lower Hill District. I was raised on Fullerton Street, which was the main drag leading to Wiley Avenue, the cultural heart of the lower Hill. From our front window, we witnessed what seemed like a daily parade of luminaries of the day. I was too young to know who many of those people were: ladies with white gloves and big hats; men with fine suits and cigars. To me, they were just "big shots." But occasionally, a few great people came through, such as Joe Louis and some amazing jazz musicians.

My folks were typical working parents. With minimal education and a very large family — 12 kids, 10 who survived to adulthood — all they did was work: my father as a clothes-presser in a laundry on the North Side; my mother cleaning houses. My mom was the loving, compassionate one. My dad was the disciplinarian. In the early 1950s, the city decided to demolish our neighborhood and move all of us residents into a public housing complex called Bedford Dwellings. But even in public housing, my parents were highly respected because they ran a no-nonsense family: no fighting; no drinking; no carousing. They made us kids walk a straight and narrow line as best they could.
I started elementary school at Holy Trinity, which was on the corner of Fullerton and Centre Avenue. (Today, it is St. Benedict the Moor.) Historically, Holy Trinity had been an all-white Catholic, Italian and Irish community. But in the early '50s, blacks were being integrated into the parish. My mother worked for the church as a housekeeper, so they allowed her children to attend its school tuition-free. Incidentally, that's where I first met August Wilson and Rob Penny, who would become great artists of the theater. They also attended the Catholic school there. It was rough on some days, but my overall experience at Holy Trinity was good. It was a stern setting. The nuns were strict educators, but I also had some fun with the other kids. Once we moved from the lower Hill to Bedford Dwellings, I transferred to a school called St. Richard's. But my early education was in the Catholic school system all the way up to Central Catholic High School. My time at Central, unfortunately, was not long — and not good. Back then, the school was almost all-white and us black kids had a hard time, being called "niggers" and such on a regular basis. So I got into a series of fights and, eventually, was invited to leave.
As a kid, I'm not sure that I was aware of my "African American-ness." Public housing was a communal setting — 24 families in one building facing 24 families in another — and every day all of us kids poured into the courtyard, which served as our playground. We became each other's siblings, and all of the parents in the community became our parents. There were no white folks around, so the contrast that would have made us aware of being different was not there. In any case, my earliest awareness of being black came around seventh or eighth grade. I went to school one day and noticed some kids huddled in a circle looking at a magazine. I figured it was probably a girly magazine so, like any other boy of 11 or 12 years of age, I rushed over to look. Actually, the kids were studying a picture of a boy that looked very much like us, only a bit older, who was laid-out in a casket with his head swelled-up twice its normal size. According to the magazine, he had been lynched in Mississippi because he "whistled at a white woman." That boy's name was Emmett Till, and I had never seen anything that graphic before. I wondered why his mother had allowed him to be photographed that way, in an open casket. Was she trying to tell us something? Well, the whole thing scared the hell out of me. Aside from my days at Holy Trinity, when the nuns rubbed my head for good luck and called me "Little Black Sambo" (my given name was Samuel Wesley Howze), that encounter with the story of Emmett Till was the first time I really knew that I was black.
After being expelled from Central Catholic, I ended up at Schenley High School where I had a rejection experience almost as traumatic, albeit for different reasons. At Schenley, I was just another "kid from the projects." Most of the students at the school were black, middle-class, and hailed from what was called "Sugar Top." We didn't know that the Sugar Top families had objected to the building of public housing so close to them. They fought against Bedford Dwellings and lost, which led to animosity toward the people who moved there. And that animosity was passed down from the Sugar Top parents to their children, who then passed it on to us. We never felt socially accepted at Schenley, even though it was all black. Consequently, I attended very few classes while I was enrolled there. My grades plummeted, and I dropped out.
In the months that followed, I wasn't really doing anything other than fighting with my parents, trying to defy everything they required of me. Eventually, I had an opportunity to escape with some friends and I took off. At age 16, I ran away from home and went to New York, and that was the beginning of my real education. My mother had two sisters living there on Staten Island who convinced me to go back to high school. One of them had a son who was my age and a student at a high school named Port Richmond. Economically, he was like the Sugar Top kids because both of my aunts with whom he was living were registered nurses. They were middle class, and he was doing well. So I went to school with him, rode his coattails, and was socially accepted. Lo and behold, I started enjoying it. The next thing I knew, I was on the Honor Roll. Then I graduated from high school, which was something that neither me nor my father ever thought I would do. During that time, I joined the young-adult branch of the NAACP Youth Council. One of the first tasks given to us by the adults was this: They had a bus that was going on a trip to Washington, D.C., for a big civil rights event, and had 10 seats left. Could we fill those seats with young people? Well, we filled them — plus another busload. That was my first experience of organizing a project, and I learned that I was good at it. So in August of 1963, off we went on this bus trip. After standing around in the summer sun for most of the day, the moment finally arrived when Dr. Martin Luther King mounted the stage and proceeded to deliver his "I have a dream" speech. That experience recruited me into his army. I said at the time, "I want to be a part of what he's doing." The American South was the front line of the struggle, and that's where I wanted to be. About a year later, I was on another bus, this one headed for Mississippi. I was to be there for four months. But four months turned into four years.
Mississippi in the mid-1960s was an alien world to me, and I really grew up a lot there. I learned firsthand of the tremendous courage and generosity of black Mississippians, agricultural people at heart and in soul who had no choice but to grow up in a culture of submission and oppression. I saw how they got by, how they survived, and how they fought to change their conditions. And I noted their sacrifices. They paid heavy dues, but continued the struggle. They took me in as one of their own. After all, I was virtually clueless and they knew it, so they looked out for me. That's how I was able to stay alive. We were always confronting angry white men who felt that their whole world was being threatened by us "outside agitators." The intensity of their hatred was palpable, and it was frightening. But we were there to confront it. And that's what we did. Unfortunately, my experience in Mississippi came to a traumatic conclusion as "black power" confronted "civil disobedience." The argument about how best to achieve our goals drove a wedge between white civil rights workers and black civil rights workers. The whites were told to go home and fight racism in the North. The fight against segregation in the South was to be fought by black workers only. Many well-meaning white folks were upset by this and left the civil rights movement when they returned to their homes in the North. In the South, however, even black people were split between black power and civil disobedience. Many of the younger folks embraced black power. The older people were with Dr. King. But when he was assassinated, the argument ended. Non-violence was dead, and the movement shifted from the fight against segregation in the South to a fight against racial oppression the North, and I shifted with it. I asked myself, "Where are you going to fight in this new chapter? You've developed some skills as an organizer. What are you going to do with them?" The only answer was to go home. So I came back to Pittsburgh in 1969, and started organizing here. To my own community, I was a battle-scarred veteran returning home. But to others, I represented something else: trouble, maybe. Black consciousness, or African consciousness, whatever you want to call it, had been awakened, in the streets, on the campuses of universities, and in the political arena.
When I first came back from the South, a trend had developed within the progressive African American community toward the rejection of Christianity and, in many cases, the adoption of various forms of Islam. At that time, I met a man, a Muslim imam, who became a very close friend and mentor to me. He gave me the name "Sala Udin" in homage to the great North African King Sala Udin, who was also a scholar. He said, "I give you this name because you are a seeker of knowledge." I said, "What does that mean? That I ask too many questions?" He said, "Exactly." So that's the origin of my name. It came about during a time in the movement when others were changing their names — Muhammad Ali, Kareem Abdul-Jabbar, and so on.
Back in Pittsburgh, I reconnected with August Wilson and Rob Penny, my old friends from Holy Trinity, and got to know others such as Jake and Margaret Milliones, Curtiss Porter (who is currently chancellor at Penn State-Greater Allegheny). At the University of Pittsburgh, I got to know people such as Lloyd Bell, Norman Johnson and Gail Austin, all of whom were involved in the movement locally. We confronted Pitt, insisting on the acceptance of more black students and the hiring of additional black faculty. We even took over the Cathedral of Learning to force the administration to talk to us. In time, we prevailed, but the struggle at Pitt was just one in a broad field of battles that had to be waged. Simultaneous with it, we had to fight against poor education, poor housing, unrepresentative politics, and police brutality. Different players were significant in each battle, but some of us were players across the board. We were the organizers. As a result of those struggles, we helped to create institutions of resistance that lasted, many of them to this day. The Black Studies program continues at Pitt as does the Black Action Society. The Black Horizons Theater evolved into the Kuntu Repertory Theater which, in turn, gave rise to the Pittsburgh Playwrights Theater. And the House of the Crossroads drug treatment program, which grew out of our "Off the Pusher" campaign way back when, is still in operation. In June of 1995, I was elected to Pittsburgh City Council and served with pride for 11 years. I was able to use my position there to continue the work that we had begun years ago in the street.
Today, if you look across any street in Pittsburgh and ask somebody, "How's the weather?" they may say, "It's nice and sunny," and it might be — over there. But on the other side of the street, it's dark and shady. When Pittsburgh receives accolades for being "America's Most Livable City," the studies that were done to arrive at this conclusion were done on the sunny side of the street, among the people who live over there. For them, there's no racism. Sure, they hear about some racial incidents every once in awhile, but those emanate from the other side of the street and, consequently, are not of their world. And they don't want you to remind them of it. As far as they are concerned, Pittsburgh is America's most livable city, and that's it. End of discussion. We don't have any major problems here. For people who wear blinders, that's true. But as my father used to say, "That dog won't hunt." As a city, Pittsburgh must compete with other metropolitan areas throughout the country, and we will never be able to do so successfully if we don't get real about our situation. We have the resources and the potential. And Pittsburgh is small enough to get your arms around so, with some thoughtful leadership, we could improve the lives of all our citizens. But true leadership has been elusive here and, as a result, we continue with our traditional backwardness. Oftentimes, if you consider the city's business leaders, and major non-profit and government leaders, you don't see bold leadership. Their goals are not to make a difference, but rather to maintain the status quo, to keep their jobs, hold their positions, to get elected or re-elected. It's about their personal success, not about the success of the city. So until our leaders across all of these sectors develop a joint strategy to engage marginalized Pittsburghers to move our fair city forward, we'll continue to lag behind.
In 1997, I initiated a black community effort to build an African American museum, and that evolved into an African American performing arts and culture center. In 2005, we named the center after my old friend, two-time Pulitzer®-Prize-winning playwright, August Wilson, and the construction of the building was completed in 2009. After several tumultuous years, the center found itself in a financial and organizational crisis and its CEO resigned. On August 1, 2012, the board asked me and Oliver Byrd (a founding board member) to leave our positions on the board to step in and manage the organization while a search for a permanent CEO was conducted. On April 1, 2013, I resigned as co-executive director, in order to relieve some financial pressure on the center, but I continue to serve on its board of directors.
Looking back on it, the joy of my lifetime was to work for the election and re-election of the first African American President of the United States, Barack Obama. His election was an important step for our nation. In January 2012, we began a leadership succession process at the Coro Center. At the end of that year, I transitioned out of my leadership role there and handed the reigns over to Greg Crowley, the new president and CEO But I will continue to stay busy for the foreseeable future. I would love to be able to sit down and write my memoirs, but I'm still involved on so many boards. And I try to keep in touch with my friends in local and state government because I believe that it's important to keep an eye on what's happening in government at all levels. In March 2012, Allegheny County Executive Rich Fitzgerald appointed me to the board of the Sports and Exhibition Authority (SEA), and I hope to have a little bit to say about what happens in the lower Hill District development where the Mellon Arena used to be. So, you see, I'll continue to contribute when and where I can. That's what I do.