Rocky's World Behind the Diner Counter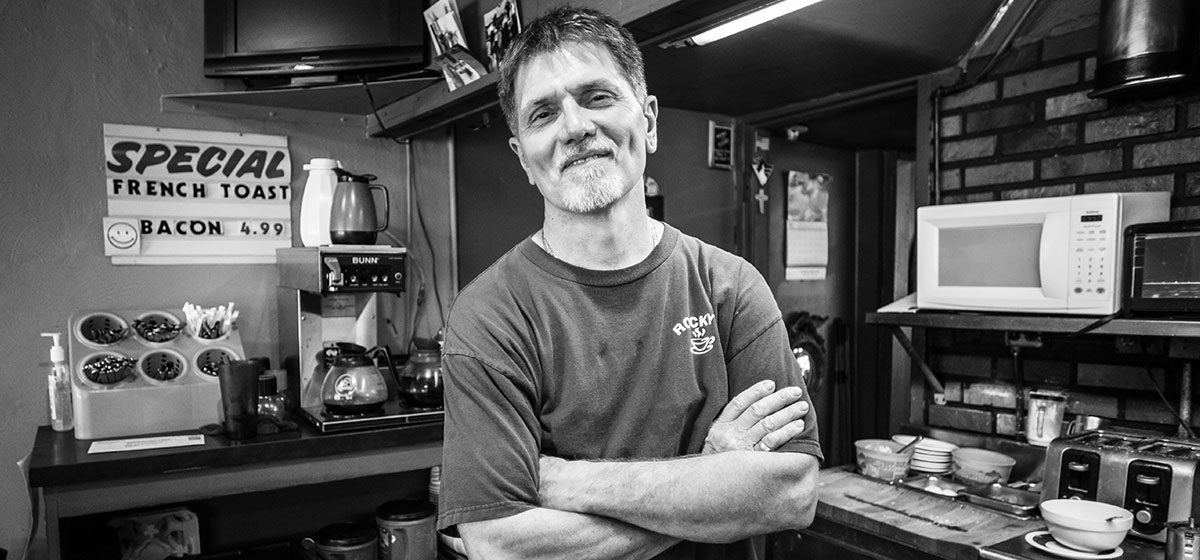 July 9, 2018
Where's Apollo Creed? Oh, hardy, har, har. Like he hasn't heard that one like, ten thousand times before.

---
---
"I also get a lot of 'Yo, Adrian!'" Rocky says from behind the counter of his corner diner in Bloomfield. The counter is short. Really short. Not even waist-high short.
"About four and a half feet tall," Rocky says.
"Not four and a half feet tall," Larry rolls his eyes, measuring with his hands. "Two and a half feet tall."
Well, whatever. There are about half a dozen short stools lining the short counter where you can order things like the Rocky Special—two eggs, bacon, ham or sausage, home fries, toast (buttered or plain), juice and unlimited coffee for $7.50—until he closes at noon.
"The counter is short because everyone wanted to see me cook," Rocky says.
"Which is too bad for you and everyone else," Larry replies.
"Yeah," Rocky laughs. "When stuff falls onto the floor, I can't pick it up and serve it."
The breakfast crowd has cleared out except for Larry and another guy who's making his way through white toast and the remainder of his fried eggs. Rocky will close around noon or sometimes a little later around one during Lent when he serves fish for lunch. From the transistor radio tucked under the metal counter, Jimmy Buffett is wasting away again in Margaritaville and on the wall hangs a shelving unit stacked with VHS tapes of The Dean Martin Show and CD's for sale for a buck a piece and a ceramic jar labeled "Ashes of Problem Customers."
There have been a cast of characters that have come through this place since Rocky's mom, Maryanne, bought the place in 1980. Which kinda came to a surprise to everyone, the fact that she wanted to buy the little coffee shop on the corner of Liberty and Edmond.
So, Rocky and his late sister, Debbie, worked on the weekends and they just made a little diner out of the place that everyone in the neighborhood would come for pancakes and French toast and eggs and bacon.
"You won't make it," people said.
"Get a real job," they said.
"Rent's getting high," Rocky admits, leaning against the counter. "But we're still here."
So are a lot of the characters.
"I wish I had a picture of every single one. There'd be no room on the walls," he says. "We've had so many lookalikes, too; people who look like John Wayne, Richard Nixon, Minnie Pearl, Junior on Hee Haw…"
"Why'd you look at me when you said that?" Larry asks.
Characters come in here all… the… time. Order their regular whatever.
"One day, a few came in and said, 'You wanna bowl in the Bloomfield Businessmen's Bowling League? You should have seen the Christmas parties. One of the guys used to bring a prostitute as a date. And all the wives would be looking to see if their husbands were looking. What are you looking at?'" Rocky laughs.
But man, the characters that have come into this place, even after Rocky bought the joint from his mom. Some of them like to loaf on the bench outside. Long term customers and locals, like Billy.
"The kid with the walker," Rocky says.
"Kid?" Larry asks.
"Yeah," Rocky replies. "He lives upstairs."
"Well, he's not a kid," Larry says. "How old is he?"
"Billy? Oh man, he's like… sixty-seven," Rocky replies. "I call him my son."
There used to be a payphone, right next to the door, where the ATM is now. It would ring all the time. But the phone company wanted to charge Rocky fifty bucks a month to have it there and forget that. So, the phone company put it outside. And it would still ring all the time. It doesn't ring anymore since everyone has a phone in their pocket these days.
"What is that?" Larry asks as Rocky pulls out his cell.
"It's an LG," Rocky says of his black flip phone while Larry rolls his eyes. "What? I just call out and people call in. Someone gave me a BlackBerry once, you know, with all the buttons?"
"Yeah?" Larry says.
"I looked at it and says, 'How do I even use this thing?'"
"It's why they call it a smart phone," Larry says. "You have to actually be smart to use one."