Robotics has Changed Surgery Forever
But is it worth the cost?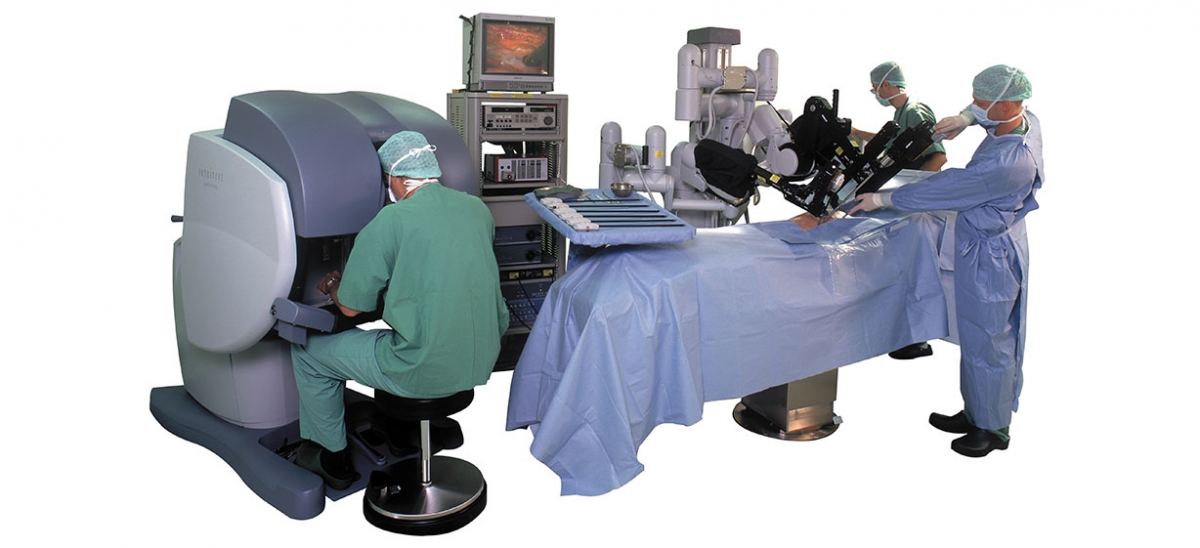 February 21, 2013
During the first 8,500-year history of surgery, surgeons stood at the patient's side using tools that evolved from knapped flints to tiny, high-tech cameras. But, in 2000, when the da Vinci Surgical System was cleared by the FDA, surgery changed forever. Surgeons could now sit several feet away from their patients, controlling robotic arms doing the delicate cutting and stitching.

Pittsburgh urologist Dr. Jeffrey Cohen was reluctant at first to get involved with the da Vinci tool, named for Leonardo, the Renaissance man who designed the first known autonomous mechanical device. Cohen remembers the device maker "pushing the hell out of it… My view was that it wasn't anything more than a marketing ploy."
But about five years ago, his surgical partner convinced him to adopt the technology. Within the first year, Cohen clearly saw the advantages. "We thought the patients were recovering and getting back to life faster. They certainly liked it." He noticed it was especially beneficial in reducing incontinence issues following prostate cancer surgery: "About 4 percent of the time in open surgery [to remove a prostate], you can't get the bladder sewn to the urethra adequately. We haven't seen that with the robot at all."
Today, as director of Allegheny General Hospital's Division of Urology, Cohen runs one of the busiest robotic urology practices in the area. His enthusiasm for da Vinci is evident: "It's the greatest video game ever invented for surgeons. The anatomy is just gorgeous. You can see things down to a millimeter. If you do like surgery, it's pretty. You're operating in an environment with more pressure so it looks like a bloodless field." Cohen and several surgeons across the Pittsburgh area agree that robotics will play a significant role in the future of surgery. While other robotic devices are being used for joint replacement and neurosurgery, no other device has da Vinci's reach. Nationwide, more than 1 million procedures have been done on a da Vinci system, including an estimated 90 percent of all prostate cancer surgeries.
Each device costs $1 million to $2.2 million, depending on the console and additional features, according to maker Intuitive Surgical of Sunnyvale, Calif. On average, robotic surgery costs about $2,000 more per surgery.
While local surgeons and hospitals say the da Vinci system is definitely worth the cost, there is a growing backlash. Critics say the da Vinci system's long-term results are unproven, that defects in its first-generation models brought added risks to patients, and that its higher costs bring more burden to a health system that's already the most expensive in the world.
Much of the scrutiny has focused on two of the most common surgical procedures: prostate removals to treat cancer and hysterectomies (removal of the uterus) to treat fibroids and other conditions.
A study in a January 2012 issue of the Journal of Clinical Oncology compared robotic-assisted surgery to conventional open prostate surgery and found the "risks for problems with continence and sexual function are high after both procedures. Medicare-age men should not expect few adverse effects following robotic prostatectomy." An editorial in that same issue called the robot "impressive technology… However, technology that is rapidly adopted should have clear benefits—increased effectiveness, less morbidity, more accessibility, and/or decreased cost. Many argue that the increased use of robotic technology may not be primarily driven by such benefits but rather by heavy marketing, whether by the company that produces the technology, by hospitals that have acquired it (at high cost), or by physicians who promote it to gain market share."
Dr. François Blaudeau, an Alabama lawyer and ob-gyn surgeon, says his law firm, Southern Institute for Medical & Legal Affairs, hears of adverse effects following robotic surgery for hysterectomies and prostate removals on a "day-to-day basis." His firm has been running TV ads nationwide, including the Pittsburgh area, looking for people who've experienced "tears and/or burns of the intestines, punctured blood vessels, cut ureters, severe bowel injuries… and wrongful death" following robot surgery.
He says his firm has inventoried about 300 "good cases" and expects to have thousands. Several lawsuits have already been filed against Intuitive Surgical, claiming that its device produced stray electrical currents causing injuries that surgeons couldn't see; that it certified surgeons before adequately training them on the device; and that it over-promoted the tool's benefits. "I don't use the robot for benign surgery," Blaudeau adds. "I think it has a place and some benefit. But for routine hysterectomy, I think it's unnecessary. There's more risk for it and it's not good for women's health."
An Intuitive Surgical spokesperson said da Vinci's safety record has been very good. Its website touts that "roughly 3,000 peer-reviewed studies have been published demonstrating the clinical effectiveness of da Vinci Surgery."
Dr. Myriam Curet, Intuitive Surgical's chief medical advisor, says that all surgeries bring risk but "there are no new risks that come in just because you're using a new device… We take any concerns or allegations very seriously. We have a whole process internally to evaluate the instruments and any reports that come up to look at what the issues are."
She adds that, "I don't think we market any harder than other device or medical companies. I feel like the information we provide is accurate, and we always state there are risks associated with any surgery and the patient should discuss those risks with their surgeon."
Sue Fabin, 48, whose family runs a 4,000-acre farm in Indiana County, had a routine hysterectomy for fibroids in December 2011. After consulting with her Excela Health surgeon, she chose the robotic route. She came home the next day, had no complications and within weeks was back to feeding her horses. "It's the best thing I have ever done," Fabin says. Such a believer, she's recommended robotic surgery to her sister and neighbor. "I tell anybody and everybody about it."
When she came across the da Vinci-disparaging TV commercials, she didn't change her mind. "This is just something new that lawyers are going after," she says, adding that she wishes robotic surgery had been available when her husband needed prostate cancer surgery.
Fabin's surgeon, Dr. Tracy Gemmell, hit her 100th robot-assisted surgery in December. At first, Gemmell didn't think robotic surgery would be for her, but then realized that with more traditional surgery "It kind of felt like my hands were tied for certain complex procedures. [Robotic surgery] allows the average surgeon to do things better and maybe a little more efficiently, surgically speaking, with lower blood loss and less infection rate," Gemmell says. "Literally, you have a third arm you can use."
Excela Health spokesperson Robin Jennings said the health system bought a robot for its Latrobe hospital to remain an attractive place for surgeons to practice. Based on patient and physician satisfaction, she affirms it was a good investment. With about 500 cases under his belt, no surgeon in Pittsburgh has likely done more robotic surgeries than Dr. Fredric Price, West Penn Allegheny's director of minimally invasive gynecological surgery.
In November 2007, he was the first in the area to use it for gynecologic cancer surgery. "I love the instrument," he says. "It's a huge breakthrough. It's revolutionized my life. I take care of incredibly sick people. Now my patients have 24 hours in the hospital instead of weeks." With much less tissue trauma using the robotic device, he no longer spends much time taking care of patients with complications.
"It's something that right now I feel so comfortable with that I can't imagine any better way of doing an operation on just about anybody."
For years, heart surgeons have been looking for more minimally invasive ways to get blood flowing better to the heart. But it's hard to make a small incision and access many different locations in the chest. That's all changed. "The robot allows the surgeon to make a miniscule incision below the left nipple, put the robot arms in there and have all the surgical dexterity that you need," says AGH cardiothoracic surgeon Dr. Walter McGregor, director of the hospital's robotic cardiac surgery program. "There's no doubt in my mind, it's going to have an impact not only in heart surgery but all surgery."
McGregor says that Intuitive Surgical offers a "responsible approach to training" but he took training on the da Vinci a step further by reaching out to colleagues elsewhere. He and his surgical team spent four months training before first using the robot for heart surgery last spring. When McGregor sees patients like William Mack at three weeks post-operation, they're already feeling great—not so with his patients who had open-heart surgery. Mack, 60, from Indiana, Pa., had heart bypass surgery Dec. 13. He had never heard of da Vinci until McGregor mentioned it. "Whenever he suggested something other than splitting my breast bone, that sounded a lot better to me," Mack said, adding, "In four days, I was sitting on my couch at home" and had very little pain in the weeks after surgery.
This spring, McGregor plans to start using the robot to reconstruct mitral valves in the heart.
While admitting the tool is expensive, McGregor and other surgeons believe that as robotic programs mature, expenses will drop and cost savings will be realized by reducing the number of days patients spend in the hospital, not to mention larger societal costs saved by getting people back to work sooner.