Work Disrupted
Transformative technologies are coming. Will the workforce
be ready?
Illustration by Gregg Valley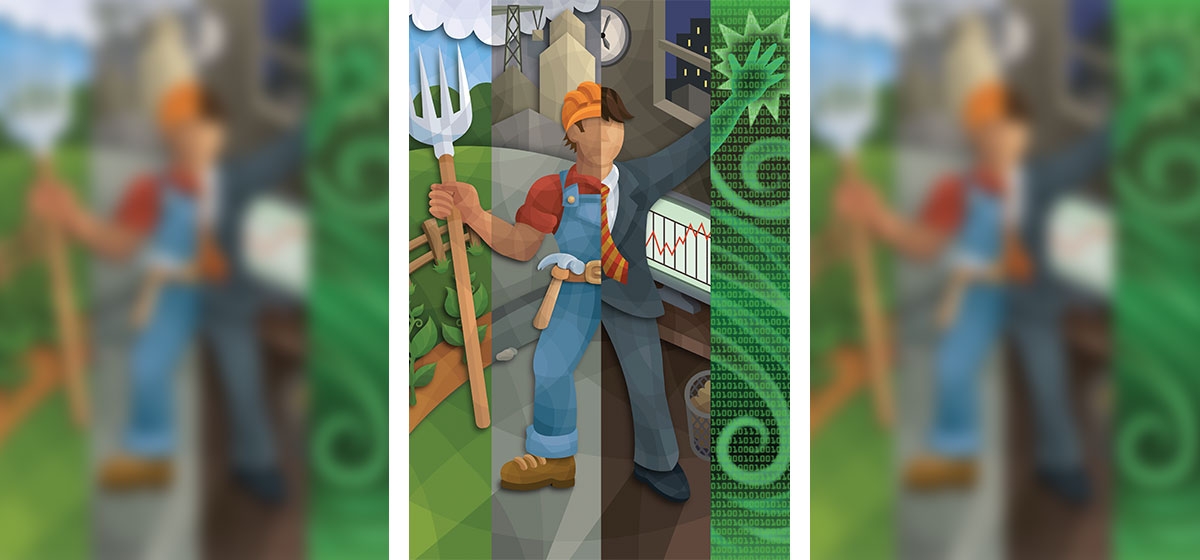 August 20, 2018
The past and future of work collide on a 178-acre graded-flat stretch of brownfield in the Pittsburgh neighborhood of Hazelwood.

There, on what is known as Hazelwood Green, the skeletal remains of Mill 19 stand as one of the last reminders of the Jones and Laughlin steel works that spanned the Monongahela River to the city's South Side. At its busiest, it employed more than 12,000 workers. Most had only a high school education, if that, but earned family-sustaining wages with benefits until the mill and others fell to weak demand, technologically superior competitors and other pressures.
Uber engineers now work within walking distance of Mill 19, refining the cognitive abilities of machines at a test track for the company's driverless vehicles, which can already be spotted on Downtown streets. Within the shell of the former mill, crews are constructing a $250 million national research hub for expediting the rebirth of U.S. manufacturing with advanced robotics.
The sizable public-private investment underscores how artificial intelligence and robotics have come to be seen as a good bet for greatly boosting productivity, and stimulating new products, services, companies, industrial revitalization and economic growth. And Pittsburgh, led by its major research universities, is right in the thick of its development.
But with the technological tsunami come expectations that work and workers will be disrupted, likely in profound ways. And while it's far from clear how the wave of innovation will play out, "it's hard to see this ever becoming what the steel industry once was—a source of fairly high income, stable employment for tens of thousands of high school graduates with no higher degree," said Lee Branstetter, professor of economics and public policy at Carnegie Mellon University and director of the school's Center for the Future of Work.
Southwestern Pennsylvania knows the pain that workforce disruption on a large scale can inflict. Nearly 150,000 jobs were lost when local steel mills were shuttered following the 1981–82 recession, triggering an historic exodus of workers and families desperate for opportunity that still influences the region's demographic profile.
This time, however, community leaders from policymakers to industry, philanthropy, labor and education are taking the forecasts to heart and exploring policy options, training and education and other strategies for preparing workers so they can fuel the innovation economy and benefit from transformative technologies rather than be displaced by them.
The question is, can they actually do it?
Smarter machines
Innovation is almost always disruptive. It spurred an industrial revolution that radically altered the nature of work in America and shifted population from farms to factories, cities and suburbs. And it has transformed industries and redefined jobs ever since. The automation of mining led to a leap in productivity and fewer coal jobs. Typesetting software brought remarkable efficiencies to publishing and rendered entire occupations in newspaper composing rooms obsolete.
But the latest technologies are developing at unprecedented speed and will likely be more pervasive. Few, if any, job sectors are expected to provide workers safe haven.
Artificial intelligence adds perception and cognition to the capabilities of machines. With the right algorithms, machines can even learn tasks on their own and improve their performance from experience. No longer limited to repetitive tasks and heavy lifting, they are poised to compete with the likes of telemarketers, paralegals, travel agents and long-haul truckers.
Artificial intelligence is already seeping into fields such as data analysis, marketing, customer support, warehousing and health care. Intelligent machines execute stock trades every day. Smart robots stock shelves and do in-store inventory. Pittsburgh researchers are writing algorithms to read hundreds of thousands of patent applications for clues about where and when the impact of emerging technologies will be felt—and do so at speeds a team of patent attorneys could never hope to match. Carnegie Mellon professor and robotics pioneer Red Whittaker has a driverless tractor on his Somerset County farm.
At the moment, nobody knows what the impact of these new technologies will be. But recent studies offer a glimpse.
In southwestern Pennsylvania, occupations at the highest risk of being automated include retail sales, construction laborers and equipment operators, welders, loan officers, pharmacy techs, and jobs that involve moving freight, stock and materials. Those occupations alone account for nearly 80,000 jobs in the region, according to the Allegheny Conference on Community Development's Inflection Point report on the future of work.
Less than 5 percent of all occupations are at risk of being fully automated worldwide, a 2017 McKinsey Global Institute study suggests. But in 60 percent of occupations, at least one-third of the tasks could be automated, imposing changes on a broad worker population.
The history of major technological advances, however, is not one of mass job destruction. "As far back as the Industrial Revolution we've had these concerns that innovation would lead to mass unemployment. That basically has never happened," said Branstetter, who believes the trend will also survive the era of AI and robotics.
"My fellow economists and I find it implausible the economy is going to change more over the next 10 years than it has over the last 100, in terms of labor demand. Look at a long-run graph of the U.S. unemployment rate. During recessions it goes up, then it goes down to less than 5 percent and stays there. Unemployment has been impressively stable as we've gone from an agricultural economy to an industrial economy to an information economy.
"A market economy turns out to be pretty adaptable to a lot of things."
New technologies provide new tools for workers to improve their production, and create new industries and occupations. Medical imaging technologies created a demand for radiographers and radiologists. Mass computing gave rise to a host of IT occupations.
In southwestern Pennsylvania, a highly diversified economy rose from the collapse of the local steel industry with strengths in education, health care, finance and technology. And the region leveraged its brainpower to become a center of invention for autonomous vehicles, advanced robotics, 3D printing and genomics.
What the introduction of new technologies also has consistently done is raise demand for higher-skill, better-educated workers and weaken demand for lower-skill, less-educated people. And wages tend to closely align with level of education, increasing the risk of widening the income gap as lower-skill workers slip farther behind.
Harvard University economists Claudia Goldin and Lawrence Katz, who study the relationship between technology and education, found that a steady rise in educational attainment allowed U.S. workers to nimbly adapt to the demand for higher skills as technology raced ahead in the 20th century resulting in economic growth without exacerbating income inequality.
But educational attainment slowed in the final decades of the century while demand for higher skills accelerated and income inequality rose to levels approaching those seen during the Great Depression.
"We're not worried about an employment apocalypse," Branstetter said. "The problem we're worried about is inequality continuing to grow."
Help wanted
Concern over the pipeline of skilled workers is already inspiring efforts to take a hard look at the state of the southwestern Pennsylvania workforce and where it is heading, including a group of local experts convened by the Allegheny Conference on Community Development, and research to flesh out the issues.
Local employers report that finding workers with the skills they're looking for is growing more difficult. Filling the jobs of retiring workers is a particular concern in southwestern Pennsylvania, where U.S. Census data show seniors account for a larger share of the population than what is seen nationally. Only half of college graduates stay in the region, which is one of the lowest retention rates in metropolitan America, according to a study by former Carnegie Mellon professor Richard Florida, now a University of Toronto professor of business and creativity.
And the fastest-growing occupations in the region demand skills a high school education alone doesn't provide.
Those occupations include jobs that people who don't have at least a bachelor's degree need not apply for, such as speech pathologists, physical therapists, computer systems analysts, market researchers, personal finance advisors and information security specialists, a local analysis of U.S. Bureau of Labor Statistics data suggests.
But many "middle-skill" jobs are also among the fastest growing, including licensed nurses, cardiovascular technicians, industrial machinery mechanics, electric power line installers and computer-controlled machine tool operators. Middle-skill jobs don't require a bachelor's degree to land, but do require workers to complete some type of post-secondary education program to learn the skills the jobs demand.
Such jobs are among the reasons innovation economies are so attractive to cities and regions. Economies driven by advanced technologies certainly require college-educated workers who are among the brightest in their fields. But nearly half of U.S. science, technology, engineering and mathematics jobs are middle-skill jobs that pay $53,000 a year on average and often don't require a four-year degree, according to a Brookings Institution study.
"Any city, town, metropolis that wants to compete in this century needs to understand how these technologies are going to change our lives, and how they can be the foundation of invention and employment and create quality jobs—and not just for the people getting Ph.D.s from Carnegie Mellon and the University of Pittsburgh, but for people getting credentials from high schools and community colleges," said Bruce Katz, a former Brookings Institution researcher and co-founder of New Localism Advisors, a national consulting firm.
Brookings researchers report that Pittsburgh has considerable advantages when it comes to cultivating an innovation economy. Hundreds of firms from Google and Uber to UPMC and Duolingo are leveraging the region's innovative output. Ideas percolating from Carnegie Mellon and the University of Pittsburgh are shaping technologies important to advanced manufacturing, automation, software, life sciences and other rapidly expanding industries. The research dollars they attract rank among the highest in the nation. Local talent in several emerging technology sectors, such as machine learning, is deeper than many other regions, labor data suggest.
But none of those backyard assets guarantees the innovation economy will realize its potential. Researchers warn of headwinds, not the least of which is whether the region will have the workers to sustain growth.
An aging workforce that lacks diversity concerns them. They note that the young innovation economy has yet to create broad economic opportunity in the region. And for that to happen, they conclude, doing more to raise the skills of its residents to meet the attributes that new technologies will demand should be high on the region's to-do list.
Nobody thinks it will be easy.
Second chance
To begin with, the United States invests little in "active" workforce development programs compared to economic competitors beyond its borders. Such initiatives include training and programs to help workers search for jobs and prepare them as candidates for employment.
Only 0.11 percent of U.S. gross domestic product is invested in active workforce development, according to the international Organization for Economic Co-operation and Development. That's far less than Denmark, which invests 2.1 percent of GDP on such programs, and well below the .56 percent average among the more than 30 OECD member nations.
"It is inadequate," said Stephen Herzenberg, an economist and the executive director of the labor research nonprofit, Keystone Research Center, based in Harrisburg. "The fact that we're such an outlier in terms of investment in training and adjustment support for workers is the most basic indicator of that inadequacy."
The swift demise of most of the steel mills in southwestern Pennsylvania three decades ago was a sobering lesson on the consequences of a major workforce disruption and the importance of preparing for it. Demand for manufacturing skills evaporated overnight. But strategies and resources for helping displaced workers find employment in other industries were few, fragmented and insufficient given the scale of job loss.
Unable to find work, tens of thousands of people left for opportunities elsewhere. The exodus was short-lived, but severe. An estimated 50,000 residents left in 1984 alone and more than 70 percent of them were under the age of 39. And they took their future families with them, which is one reason why southwestern Pennsylvania has a higher-than-average percentage of retirement-age adults today. Many displaced workers who stayed endured long-term financial loss as they struggled to find jobs comparable in pay to the ones they lost, often in vain.
"The collapse of the steel industry was why our organization came to be," said Tracey Reaves, director of workforce and business development at the Mon Valley Initiative, a nonprofit established in 1988 to help distressed mill towns with housing, reinvestment and other issues. "But the workforce [development] part of what we do started 17-18 years later. Older generations are still in a bad situation here."
There are reasons to believe that the response the next time around might be different.
Government, education, industry and philanthropy responded to a sharp demand for workers in the Marcellus Shale gas play by launching a community college-based training initiative eight years ago. More recently, Pennsylvania, Ohio and West Virginia began collaborating on training a workforce to feed expansion of the petrochemical industry along a tri-state corridor rich in the cheap natural gas and byproducts it covets.
The Advanced Robotics for Manufacturing Institute, the anchor tenant in the redevelopment plans for Mill 19 at the former Hazelwood steel plant, includes programs for training students, displaced workers and others for careers in robotics. The Community College of Allegheny County's urban North Side campus was chosen for a new $20 million workforce training center where the curriculum will include autonomous technology, digital technology and 3D printing.
Partner 4 Work, the federal workforce investment board in Pittsburgh and Allegheny County, is piloting Google's new online program designed to prepare people for entry-level IT jobs in eight to 12 months, regardless of whether they have prior tech experience or a college degree.
"Dealing with the acceleration of AI isn't something Partner 4 Work can solve alone," said Dillon Moore, director of policy for the workforce investment board. "What we can do is put infrastructure in place that's nimble enough to adapt to the shifting skill demands of employers. Continuously engaging employers in the process is important."
Shoring up the basic education workers bring to the job is another concern. The value of math, in particular, is rapidly rising in the workplace. But math scores of U.S. 15-year-olds rank only 39th out of 71 developed nations on the latest Program for the International Student Assessment.
Carnegie Mellon researchers are exploring incentives for convincing schools to use intelligent tutoring software to help students learn algebra, such as MATHia, a system developed by the Pittsburgh-based firm Carnegie Learning. The programs can identify strengths and weaknesses unique to each student and customize how they are taught. "This has been shown to accelerate the rate of learning," Branstetter said. "The problem is schools are not using the technology even though its effectiveness has been demonstrated."
But the technical skills of workers aren't the leading concern of the more than 130 CEOs and other industry leaders interviewed for the Allegheny Conference's latest future of work report. They're confident academic and technical skills can be effectively taught.
They're more concerned about baseline or "soft" skills, such as effective communication skills, creativity, collaboration, being willing and able to continuously learn, and decision-making, planning, mentoring and leadership skills. "Those skills weren't listed in job postings five years ago," said Linda Topoleski, Allegheny Conference on Community Development vice president for workforce operations and programs. "Now, they're the top skills in demand across all occupations."
Demand for baseline skills is not expected to wane in the AI era. In focus groups, autonomous vehicle companies identified the ability to continuously learn as a top employee attribute, with one CEO describing it as "the desire and aptitude to learn a new, high-level skill—on the order of coding—every day, just to keep pace."
But prepping students for the innovation economy is more complicated than teaching them math and technical skills.
They need to be aware of the occupations available and convinced to get the training that will give them a foot in the door and a chance to build a career.
"They're more concerned about baseline or 'soft' skills, such as effective communication skills, creativity, collaboration, being willing and able to continuously learn, and decision-making, planning, mentoring and leadership skills."
—Linda Topoleski, Allegheny Conference on Community Development vice president for workforce operations and programs
In the region's high schools, more than 300 career and technical education students choose to study machine tool technology. Nearly four times more students choose to study cosmetology, according to state education data.
"We recently surveyed 8th and 11th grade students in 40 school districts and found that career awareness is extremely low," Topoleski said. "They know what a teacher does, what a dentist does. They have contact with those people. They don't know what a mechanical engineer is or what a data scientist does. Those jobs are in high demand, but they've never heard of them."
In some cases, that shouldn't be surprising. Less than one percent of Pittsburgh's IT workers are African American compared to 7 percent nationally, Brookings researchers report.
"Although we have the programs and services, it doesn't mean everyone knows what those opportunities are," said Quintin Bullock, president of Community College of Allegheny County, which is hoping its partnerships with community organizations will help spread the word.
But even a well-educated workforce should expect casualties when transformative technologies such as AI are introduced, history suggests. Some jobs will vanish. In the meantime, CMU and the Keystone Research Center are investigating policy options that might blunt the impact of being displaced. One is wage insurance, which would pay workers cast aside by technology a salary while they retrain or supplement the wages of those starting fresh in new industries until they move up the ladder.
"We're totally confident these changes are manageable in ways that benefit people—in ways that end up increasing their standard of living," Herzenberg said. "Let's have a conversation about how we ride this positive wave in a way that works for most people. It's a pretty simple idea, but it's not the way western Pennsylvania managed the decline of the steel industry."