Rivera-Tinsley, Spaulding, Anderson, Farmer, Zangerle, Leonardo, Earnshaw
Professionals new to Pittsburgh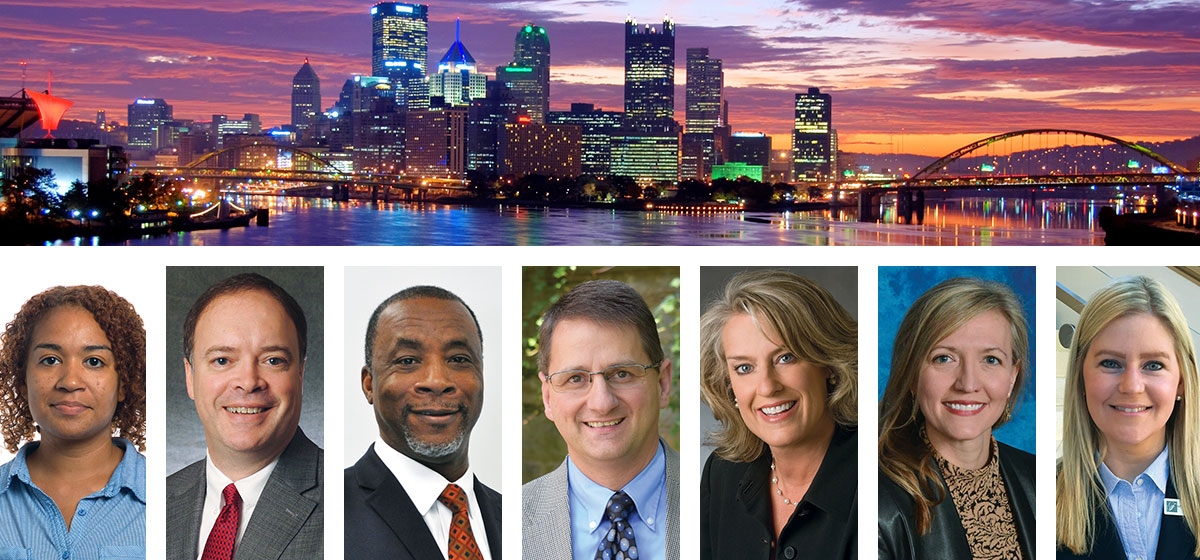 November 20, 2016
Camila Rivera-Tinsley is the director of education at the Pittsburgh Parks Conservancy. She comes to Pittsburgh from The Schuylkill Center for Environmental Education in Philadelphia, where she specialized in private/public partnerships, doubled the number of students served by the center's environmental education programming, and increased staff diversity by creating a communitybased job pipeline utilizing mentorship. She will lead the Conservancy's all-ages STEM environmental education programming at the newly opened Frick Environmental Center. She also will manage education partnerships. A graduate of Penn State's Department of Entomology, Rivera-Tinsley lives in Swisshelm Park with her family.

Dale Spaulding is director of Michael Baker International's Pennsylvania Headquarters Region. He comes to Pittsburgh from New York City, where he worked in Michael Baker's New York operations. In his newly created role, he will cultivate relationships with Pennsylvania clients and lead business development efforts and oversee marketing, resource allocation and acquisition, talent management and development for more than 800 Michael Baker colleagues. Spaulding has a bachelor of science in civil engineering from the University of Vermont and an MBA from the University of New Hampshire. A native of Canterbury, N.H., Spaulding and his wife, Wendy, have not yet chosen a neighborhood in Pittsburgh.
Anthony Anderson is deputy superintendent of school support and accountability with the Pittsburgh Public Schools. He comes to Pittsburgh from Duval County, Fla., where he was a regional superintendent for 16 middle schools. Anderson previously worked with Pittsburgh Schools Superintendent Anthony Hamlet in the Palm Beach County schools. In Pittsburgh, Anderson will supervise the executive director of the Program for Students with Exceptionalities, the chief of school performance and the chief academic officer. He has a bachelor's degree from Nova Southeastern University and a master's degree in education from Florida Atlantic University.
Steve Farmer is the CEO of the Western Pennsylvania School for the Deaf (WPSD). Farmer comes to Pittsburgh from Knoxville, Tenn., where he was director of student life, supervising a staff of 65. Farmer, who also has broad experience teaching deaf and hard of hearing students and teachers-in-training, replaces longtime WPSD leader Donald Rhoten, who built the school into the largest employer of deaf and hard of hearing people in the state. A native of Frederick, Md., he received a bachelor of science in deaf education from Tennessee Temple University in Chattanooga, and a master's and Ed.D. from the University of Tennessee, Knoxville. He will live on the WPSD campus in Edgewood with his wife, Heather, and their four children.
Claire Zangerle is chief nurse executive for Allegheny Health Network. She comes to Pittsburgh from Cleveland, where she was president and chief executive officer of the Visiting Nurse Association of Ohio. Zangerle will lead the implementation of best practices in nursing across all of AHN's facilities and programs. She also will serve as the voice of the organization's more than 3,000 nurses as a member of AHN's executive leadership team and work with the chief nursing officers at each of the network's affiliated hospitals. Zangerle has a bachelor of Science in exercise physiology from Texas A&M University, an associate degree in nursing from Houston Baptist University, an MBA from Lake Erie College and a master of science in nursing from Kent State University.
Dr. Jody Leonardo is director of the newly established Adult Hydrocephalus Program and also assistant director of endoscopic neurosurgery at Allegheny Health Network. She returns to Pittsburgh from Buffalo, N.Y., where she was assistant professor specializing in minimally invasive brain and skull base procedures, and served as director of the Adult Hydrocephalus Clinic as well as brain endoscopy at the University of Buffalo Neurosurgical Department. Dr. Leonardo graduated summa cum laude from Duquesne University and received her medical degree from the Medical College of Pennsylvania and Hahnemann University in Philadelphia. She completed her residency in neurosurgery at the University of Buffalo and completed a fellowship in intracranial and skull base neuroendoscopy at St. Radboud University Medical Center in Nijmegen, The Netherlands.
Meghan Earnshaw is director of operations at the Fairmont Pittsburgh, overseeing all hotel operations at the 185-room facility. She comes to Pittsburgh from Chicago, where she was director of rooms and, previously, front office manager at the Fairmont Chicago. In her 12-year career, she also has held various management positions at the Omni Chicago and the Ritz-Carlton in Dearborn, Mich. A native of California, she has a bachelor's degree in hospitality businesshotel management from Michigan State University.