Rich Performances Buoy City Theatre's "Ironbound"
Photos by Kristi Jan Hoover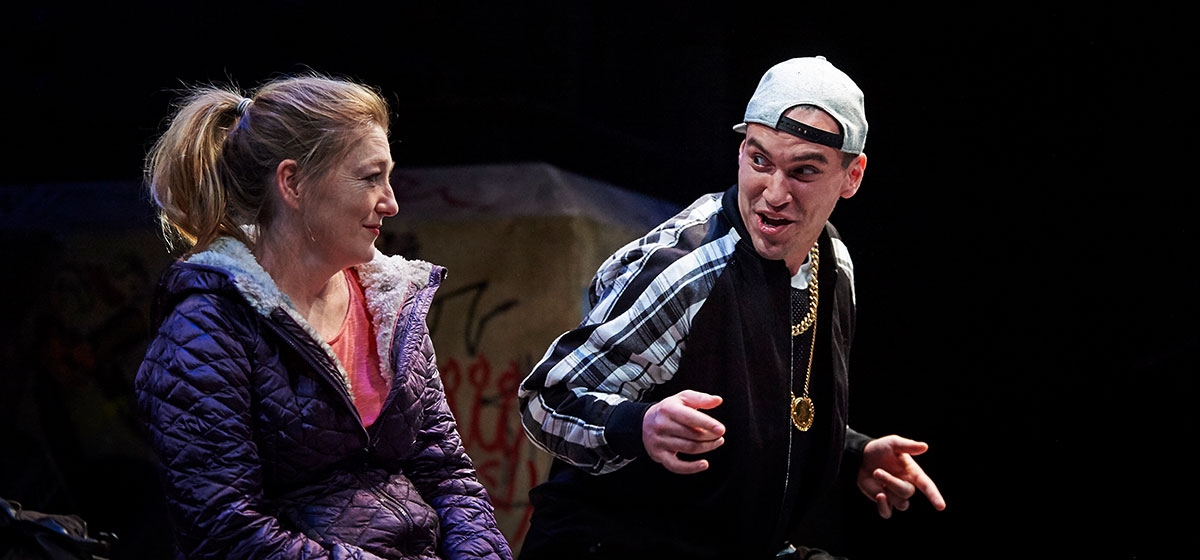 June 2, 2017
Imagine "Waiting for Godot" set in a New Jersey bus stop. It's hardly a rarefied trope, as I'm sure many of us have thought we might as well be waiting for Godot while marooned in some cold, lonely place, praying for a bus to appear. Playwright Martyna Majok has taken this conceit and turned it into "Ironbound" (2015), although in her version, there is only one protagonist, and it's a woman, instead of two men.

---
---
"Ironbound" is the type of drama that will usually be more affecting as a performed, rather than as a written, work. In this production by City Theatre, it definitely is. The cast, crew, and director have created a visceral, living experience, and you have to admire the risks they have taken to make something stronger than what they were given on the page.
You get the feeling that Majok was reading Harold Pinter—as well as Samuel Beckett—right before she wrote this play. Her "Godot"-like main character, Darja, played by Rebecca Harris, is living her life in flashbacks, blurring past and present relationships like a soul trapped in a purgatorial dream.
Harris is onstage for the duration (there are no intermissions) and her performance gains power with time, which is all the more remarkable as her character must speak with a deep, Polish accent. It starts off a bit shaky, but after a few minutes becomes resolutely convincing.
Darja is living on the fringe of a menial existence, working a crap job, dealing with crap relationships, and waiting—always waiting—for the crappy bus to take her to a home that isn't even hers. Can she escape this limbo, symbolized by the Dantean bus stop (situated, appropriately, by a factory in a gritty section of Newark) which she continues to occupy?
And what a bus stop! You wouldn't want to walk across the stage of this production in your bare feet. Anne Mundell's set is realistic to such a degree that you can virtually smell the rotting garbage and the ancient, repulsive stains covering the cement ground. (One character refers to it as "hepatitis ground.") And the life-size bridge abutment looming over everything takes on the role of the bare tree in "Godot:" sheltering the players like some sort of inchoate, menacing presence.
Andrew David Ostrowski's lighting looks like despair personified, like what you would see if you closed your eyes and imagined the words "iron" and "bound" as colors.
Darja's two relationships come and go in separate scenes, supposedly representing the present (Tommy), and the past (Maks), but they're both depicted more like ghosts by director Tracy Brigden, as if Darja is sitting in a haunted castle and talking to apparitions that may or may not be real.
Rod Brogan brings great energy to his brightly lit scenes as Tommy, the kind of guy who wears an imitation leather New Jersey Devils jacket over his postal uniform. We all know this dude, absolutely enthusiastic about whomever he thinks he has the best chance of sleeping with, declaring his love over syrupy Bruce Springsteen songs, and delivering lines like, "People fuck up. It's planned that way. Yer Catholic. You know."
In his darkly lit flashback scenes (note the pattern here), J.D. Taylor as Darja's former husband, Maks, is equally effective, helping to illustrate what Darja was like before she became jaded and victimized by the American Dream—whatever that dream may be (pick your symbol—the play is full of them).
Like Estragon in "Godot" who is beaten between acts, Darja is beaten between scenes, and also like "Godot", "Ironbound" has a passing character, Vic, portrayed by Erik Martin, who intervenes and provides both comic and philosophical relief. Dressed as the world's most egregious rapper—he would make Vanilla Ice wince—Vic is also a male prostitute (no irony there) who wears his prep school tie under his flashy clothes, showing Darja that nothing is really as it seems. At least in America. Or actually, New Jersey.
What we come away with is a series of compelling performances that really outshine the often tendentious script. Harris's Darja is so moving because she doesn't play her for sympathy, she lets the manipulative and detestable sides of her nature slither through again and again.
As one might expect, "Ironbound" doesn't end like "Godot," which is good, but, without giving anything away, its climax is easier, and feels cheaper. The last line makes or breaks the text of both works, but performance trumps everything. Which is why this production is so powerful, rich, and rewarding.
"Ironbound" plays through June 4th at City Theatre, 1300 Bingham Street, South Side.
412-431-4400, citytheatrecompany.org