Remembering Three Great Pittsburgh Men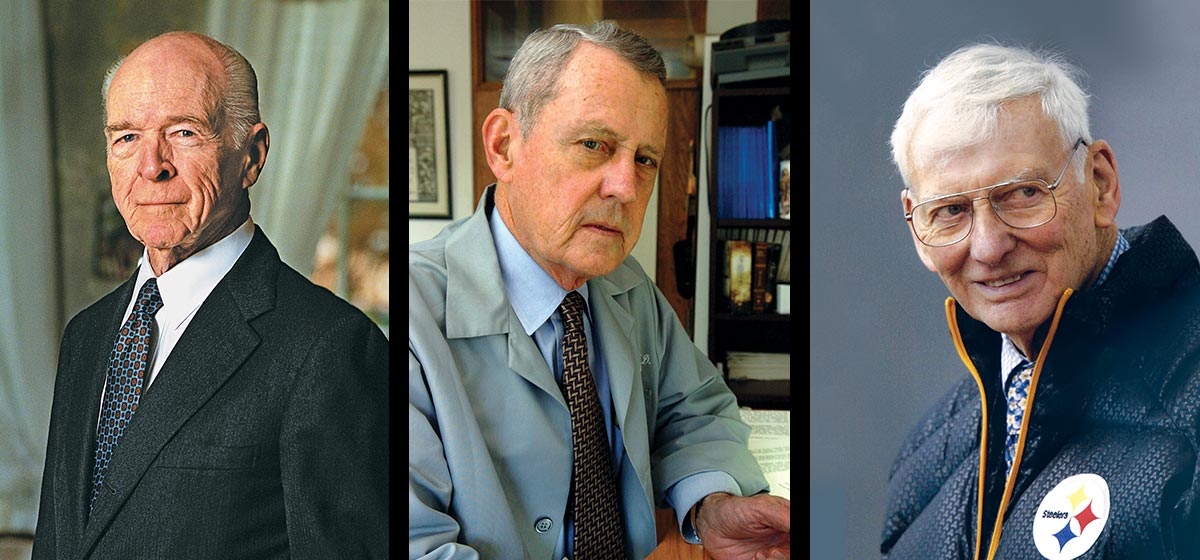 May 20, 2017
Henry Hillman, 98: Henry Hillman had a keen interest in the future and an unusual ability to see into it. In the 1970s, his was the voice that warned Pittsburgh leaders of industrial changes that would cripple the city if it didn't diversify its industrial base. He removed money from the smokestack industries he inherited and invested it in businesses of the future, becoming a founding investor in venture capital pioneer Kleiner, Perkins, Caulfield & Byers—the seminal investor in the Silicon Valley; he also was an early investor in leveraged buyout firm Kohlberg Kravis Roberts & Co. The moves made him a billionaire, and with that money he has seeded improvements to Pittsburgh that touch virtually every aspect of the city. The breadth of his philanthropy extends from higher profile projects such as the Hillman Library, the ice skating rink at PPG Place, and the Hillman Cancer Center to hundreds of community-based humanitarian, education and economic development initiatives. He was the notoriously private and reserved half of the most dynamic husband and wife team in remembered Pittsburgh history. While his late wife Elsie publicly championed a wide range of efforts, Henry was behind the scenes, making it all possible with an extraordinary combination of intellect, foresight, wit and commitment to Pittsburgh. He loved projects like Traffic21, which he funded at Carnegie Mellon University to create an intelligent transportation system that would both improve Pittsburgh transportation and hopefully create a new industry here. With his Henry L. Hillman Foundation, he takes his place among the handful of Pittsburgh's greatest industrialists and philanthropists.

Dr. Thomas Starzl, 90: Starzl performed the world's first liver transplant surgery and ultimately made that operation and other kinds of transplantation almost routine. His early ambition was to make a mark, either by curing cancer or transplanting a human liver. Thinking he was too late for cancer, he chose transplantation. And in 1967, after five years of failed attempts at kidney transplants, he succeeded at a more difficult task, the first liver transplant. Though an expert surgeon, Starzl's legacy came in the development of antirejection drug cocktails that allowed patients not to reject livers and ultimately other organs. He hated doing what he was best at—operating— because of a crippling sense of responsibility for the lives in his hands. But he did it because his beloved mother, who died when he was 21, wanted him to become a surgeon. He came from a newspaper family, and in another irony, Starzl's work provided the grist for a Pulitzer Prize for The Pittsburgh Press for investigating the worldwide organ transplant boom. Starzl will occupy the highest position in Pittsburgh's medical history—shared only with polio conqueror Dr. Jonas Salk—for saving human lives around the world.
Dan Rooney, 84: In his late 70s, Rooney became U.S. Ambassador to Ireland, but his main accomplishment was building the institution that's synonymous with Pittsburgh the world over—The Pittsburgh Steelers. His larger-than-life father, Art Rooney, founded the team, but Dan, the oldest son, transformed the longtime losers into the dynastic franchise with the most Super Bowl victories. Since he took over in the late 1960s and for most of the next four decades, he led with a steady hand that created the conditions for the team's unparalleled success, all during the complex era when television transformed football with big money and instant replays, dethroning baseball as America's favorite sport. And while other franchises often were led by flashy, attention-grabbing owners, Rooney's quiet and principled decency made the Steelers the gold standard for pro sports ownership. He helped settle bitter player strikes. He championed the hiring of minority coaches, which led to "The Rooney Rule," requiring teams to interview a minority candidate when filling head coach jobs. Like his father, he had a common touch and eschewed pretension. Those qualities and his understated dignity shaped the brand that has become Pittsburgh's most famous modern export to the world.