Remembering the Summer of '69
James M. Shelley / Wikimedia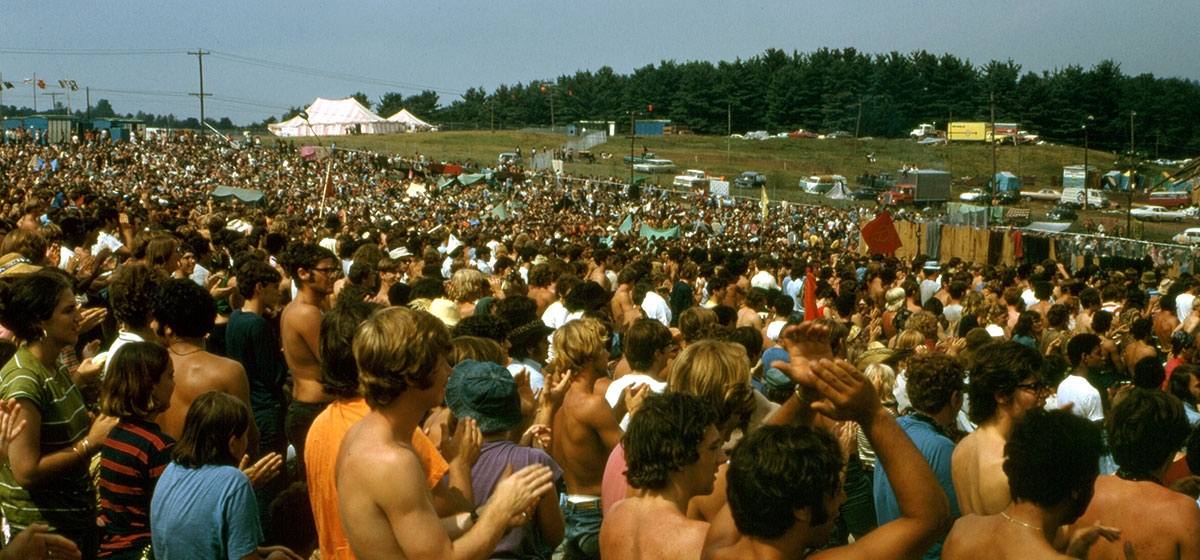 May 22, 2019
In the summer of 1969, my best friend was my transistor radio. With the radio glued to my ear, I spent hours daydreaming in the backyard, grooving to soulful sounds like Sly and the Family Stone singing "Hot Fun in the Summertime."

My humdrum neighborhood of Brookline was as far away from places like Martha's Vineyard and the California coast as it was from the silvery moon, yet by summer's end, events in all those places would affect me and invade my comfort zone in profound ways.
1969 was an eventful year. Forget the French Revolution. When Charles Dickens wrote, "It was the best of times, it was the worst of times," he could've been describing 1969.
When that summer began, I often tagged along behind my big sister and her friends as they hobnobbed around Brookline Boulevard, hitting the record stores, downing soda pops at Isaly's, and winking at cute boys on the corner.
Into this carefree teenage existence crept news mid-summer of another Kennedy family tragedy. Since I idolized President John Kennedy, when I heard Senator Ted Kennedy had a car accident in which a young woman was killed, I instantly paid heed.
The incident happened the night of July 18 after a party on Chappaquiddick Island, off Martha's Vineyard, when Kennedy accidentally drove off a bridge and into a pond. While he escaped from the submerged vehicle, his passenger Mary Jo Kopechne perished inside the car.
Unfortunately, Kennedy walked away from the scene, failing to notify police for hours. After pleading guilty to leaving the scene of an accident, Kennedy received a slap on the wrist–a light two-month suspended jail sentence.
Talk about being disillusioned. I was confused and unsettled by his behavior and deeply disappointed at the collapse of another Kennedy hero.
"Why didn't he call the police?" I asked in frustration. "Was he drunk? Does this mean he can never run for president?"
Two days after Chappaquiddick, the nation witnessed another show-stopper, this time 250,000 miles away. Astronaut Neil Armstrong became the first man on the moon.
I watched the moon landing in utter amazement. Also in utter disbelief. Keenly skeptical of anything the government said or did, I took a cue from the hippies. I didn't trust anyone over 30.
"How do we really know they're on the moon?" I queried. "How do we know they aren't in a studio faking it?"
Despite my skepticism, from then on I gazed at the night sky with curious eyes, peering at the luminous orb humans had conquered and pondering the impenetrable mysteries of the universe.
What's out there, I wondered? How far does the universe go? Is there intelligent life elsewhere? Heavy reflections for a 13-year-old.
I didn't have long to reflect before another momentous event occurred. In early August, I awoke to the shocking news that actress Sharon Tate and her houseguests had been brutally murdered in her Benedict Canyon home in Los Angeles.
What? People like her weren't murdered.
Married to director Roman Polanski, Tate was one of the "beautiful people," a Hollywood starlet leading a glamorous life. She played Jennifer North in the popular film, "Valley of the Dolls," a starring role which launched her career. I had read the book three times and was first in line at the movie theater.
When I heard she was viciously stabbed the night of August 9 while in her ninth month of pregnancy, I was horrified. Too frightened to sleep at night, afraid of being butchered in bed.
"What maniac did this?" I shrieked. "There's a madman on the loose!"
Months later, after police captured Charlie Manson and his followers, the Manson Family personified evil in the world's eyes. How ironic that Charlie and his girls were hatched in Haight-Ashbury, the hub of the "Summer of Love," where they emulated flower children, yet were anything but.
Which brings us to Woodstock. Only six days after the Los Angeles slayings and about 3,000 miles away from the California canyons, a genuine band of flower children—some 400,000—descended upon Max Yasgur's dairy farm in Bethel, New York, to get back to nature and set their souls free.
Billed as the Woodstock Music and Art Fair, the festival featured big concert acts—Joe Cocker, Jimi Hendrix, Janis Joplin, Joan Baez, Richie Havens, the Grateful Dead, among others—and promised three days of peace and love.
Everybody wanted to go to Woodstock, including me. But how? I wasn't allowed to see the Beatles at the Civic Arena. Woodstock? Unimaginable.
So I contented myself with being there spiritually, listening to my trusty transistor radio, and celebrating the movement to make love, not war, in my own backyard.
Fifty years later, it's clear that movement failed. Now we dream of living on Mars.
And what to make of 1969?
We put a man on the moon, but also mourned the slaughter of innocents. We rejoiced as half a million people joined hands in harmony, but also observed a privileged politician avoid the slammer. We saw the heights of human achievement, but also the depths of human depravity.
In fact, the period was so far like the present one, to echo Dickens, maybe we are experiencing déjà vu, and what happens in 2069 is anyone's guess.