50 Years Ago at Woodstock
Here's what it was like.

James M Shelley / Wikimedia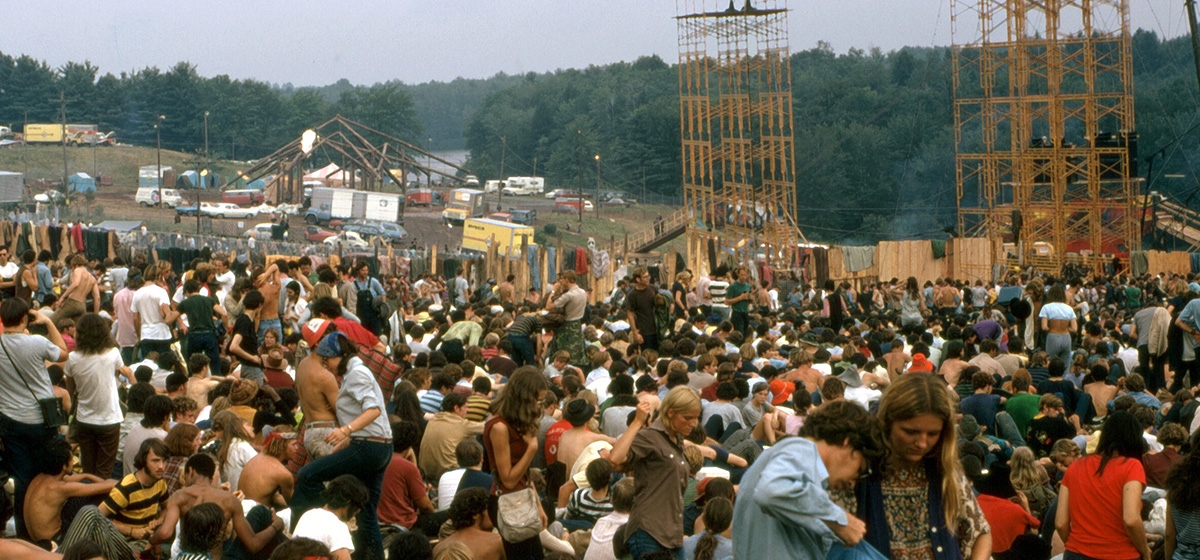 August 14, 2019
I was a skinny 20-year-old in August of 1969. My Woodstock Fever started on Monday of that week in Rochester, N.Y. I was working at St. Joe Paper Company, catching future cardboard boxes as they rolled off the corrugator. On the way home, I heard a radio ad for a three-day music festival. The ad must have mentioned the Who and the Jefferson Airplane because I absolutely had to go.

On Wednesday night, at a gathering of like-minded young'uns in someone's smoke-filled basement, I recruited my cousin, David, and his unsafe-at-any-speed Corvair. Somehow his brother's girlfriend, Betsy, also ended-up in the car on Friday night after work. There remains an ongoing dispute as to why my other cousin, Michael, was never picked up.
At midnight on Friday, we pulled in between two parked cars and into a farmer's field. Traffic had stopped cold and someone said we were still seven miles from the stage. We decided to sleep on the grass behind the tiny Corvair. We had no idea that Friday's concert would continue until long past midnight.
Next, we were stunned by the arrival of a VW Bug with four guys from the same Wednesday night basement gathering. No sooner did we all spread out on the grass than a hard rain came crashing down. David, Betsy and I could manage to sleep in the Corvair despite the stick shift, but four good-sized guys were not very happy trying to sleep in the VW Bug. With a knock on the Corvair window, one of them yelled "Hey, this is crazy. We're gonna drive to New York City and have some real fun!" If only Yogi Berra was there to warn them that "It's very hard to predict things… especially the future."
On Saturday morning, we remembered the diner we had passed before turning into the field. The three of us walked back to it and found the only empty booth. A waitress took our order and ten seconds later, someone else announced that the diner was out of food. We just stared at each other, our mouths open and in dire need of the great American breakfast. Before we could move, our waitress reappeared and whispered, "Don't worry, you got the last order." We solemnly took the win without celebrating as everyone in line for a table moved toward the door.
Back out on the road, the traffic was still seven miles from the stage but at least it was crawling along. We climbed onto the trunk of one of Detroit's larger boats—a Pontiac Catalina or something similar. No one complained. Every car and truck had long-haired barnacles.
As we approached the campsites and the festival grounds, David jumped off to complete a medicinal transaction when he heard someone hawking by the road. Becky and I followed but we soon realized that David's knapsack was still on the car. Even at a distance, it was still moving slow enough for me to catch up.
The rest of the trek involved shoe leather express. We conveniently had forgotten to buy tickets and I remember asking David where the fence was. He said "Hey, it was back there, flattened—out in the mud. We walked over it."
The sun was shining, but the grass was still damp where it hadn't changed into mud. There were short lines at green porta-potties here and white porta-potties there. Next came the mud runs: people running full speed ahead and diving into the long stretches of mud to see how far they could slide. I don't remember doing that but we somehow gathered our share of the mud on our clothes anyway. My shirt of red, white and blue peace symbols was a chocolate-colored mess.
The beauty of the first Woodstock Festival was the alternating weather pattern. You somehow got yourself muddy, then the rain came so hard that it washed the mud right out of your clothes. Then the sun came out and dried you off. You were now ready for the next mud, rain and sun cycle all weekend long.
We looked left and saw no open spaces for the three of us anywhere near the stage. So we started at stage right and walked up the hill. At the crest, there were telephone or power line poles, few and far between, across the top. At the third telephone pole, we headed down into the crowd and eventually snuggled down into a spot big enough to curl up in. We slowly stretched our legs onto the edge of our neighbor's space.
We didn't have a blanket or jackets or hats or food, but we got ourselves properly medicated and waited for the music. I looked up and the puffy clouds were making faces between the on and off rays of the sun. I was adrift on a very pleasant ride.
I had been a disc jockey on my campus radio station so I knew all of the bands. Mountain, Santana, Canned Heat, Country Joe and the Fish and the Grateful Dead carried us through the afternoon and evening. In between the electric sets, there were acoustic sets by John Sebastian and Country Joe McDonald. The stage announcers also warned us about the not-so-good brown acid and told all the Susies and Jimmies where to meet their friend who had their "medicine." Yeah, right, as if there were hundreds of diabetics in the crowd.
David and Betsy went off to find some food but somehow missed the free oatmeal provided by the Diggers, a group that traveled from San Francisco to feed as many kids as possible. They came back empty handed. I don't remember eating anything that day but hey, I also don't remember Quill, Keef Hartley or the Incredible String Band playing that day. The guys behind us from Ohio were complaining because there wasn't any beer. Nothing like that could dampen our spirits. The music was awesome enough even though the people on stage were so far away that Pete Townsend later described the Who as "mere pinpricks in the distance." The sound was so good that you felt like you were lying on your living room floor with a speaker to each side.
Midnight brought all the stars out. Credence Clearwater Revival was followed by Janis Joplin. Her wild-eyed face was projected onto a huge sheet so we got the full effect of her wailing the blues. After Janis, the Who opened with a couple of songs, played the entire Tommy rock opera, then closed with a few more songs before Pete Townsend destroyed his guitar (probably the one that he hit Abbie Hoffman over the head with).
At 5 a.m., Sly and the Family Stone made sure that no one was sleeping. Everyone jumped up and danced through their entire set. I was very tired but determined to stay awake even longer because the Jefferson Airplane was next. They hit the stage at 7 a.m. and after two songs I slept through one of my favorite bands, only catching a few more songs at the end of the set before crashing for most of the day. Even hunger couldn't interrupt my much-needed sleep.
Whenever one of us wandered off, it was always an adventure to return to our little patch of land. From the top of the hill, we had to walk across to the third telephone pole, then walk straight down until we could see a 1950s-style kitchen chair. Only then were we finally able to see our tiny space in the crowd. I wondered off on Sunday and came back with a huge $3 watermelon. But no one had a knife. After banging it around and finding no rocks or sharp objects, we couldn't get that watermelon to split open.
At 2 p.m., Joe Cocker and the Grease Band started and ended our musical day. They announced that there would be a wedding at the top of the hill after his set but the skies darkened as Joe was gyrating through "A Little Help from My Friends." Soon after the band left the stage, the clouds exploded once more. I have often wondered whether that marriage ceremony ever survived the rain.
The rain after Joe Cocker's set started out so hard that we abandoned our watermelon and drove home. We decided to make our bosses happy on Monday morning by missing Ten Years After, The Band, Johnny Winter, Blood, Sweat and Tears, Crosby, Stills and Nash, Paul Butterfield, Sha Na Na and Jimi Hendrix (who came on stage at 9 a.m. on Monday).
As we left the hill, we were walking behind the three naked white guys who were later seen in the movie. The camera never turned around to catch the three of us smiling in our soggy clothes.
After 50 years of thinking about Woodstock, I still embrace the beauty of the event. Other music festivals could not compare. In 1969, the sun dominated the rain and there was that peaceful, easy feeling everywhere. The music celebrated an idealistic counterculture of "Make Love, Not War." There were no punk bands, no heavy metal, no overly orchestrated screaming divas, no rap music, no exclusionary mindsets, no hate-filled rants, nothing being trashed or set on fire and no Hell's Angels. In 1969, the men in the red Woodstock tee shirts wandered through the crowd lighting everyone's joints because no one had dry matches. Those men were off-duty New York City policemen who never had to make an arrest or witness a negative moment. Woodstock was truly a once in a lifetime event—a huge temporary city of peace, love and understanding.