Relentless Russ and the Virtue of a Work Ethic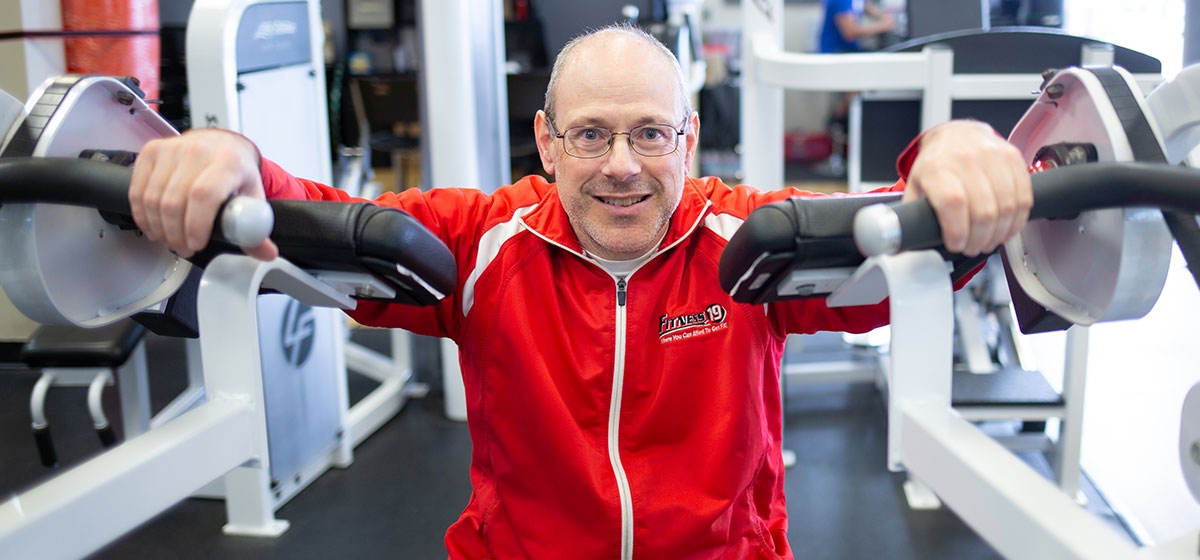 October 31, 2018
Russ has been at the gym for like, 31 years. "Since 1987," he says. White New Balance sneakers. Red track suit jacket with the words PERSONAL TRAINER written across the back. Handing people the kettle bells and the medicine balls and the 10-pound weights and the resistance bands and asking for one, come on, just three more reps.

---
---
One year and four months ago, he picked up another full-time job at Giant Eagle. Back in the deli. Cutting up meat and cheese and yes, he gets the irony.
"Filling people's bellies with processed foods," he laughs. "Call it job security."
Russ works seven days a week. No days off. About 80 hours or so.
"I'm a workaholic," he says. Personal training is his career. The job at Giant Eagle is just that. A job.
"They offer health benefits at Giant Eagle," he says. "And I have a wife and kids, so…"
And yes, he gets tired. Starting at 6 a.m. on Tuesdays and Thursdays, he'll train his clients at Fitness 19 on McKnight Road until 8 or 9 p.m. at night. On Monday, Wednesday, Friday, and Saturday, it's back at the gym at 6 a.m. again, where he'll work his clients out until 1 p.m., drive to Giant Eagle and clock in at 1:15 p.m., get people their ½ pound of this and ¾ pound of that and clock out at 9:15 p.m. Twelve to fourteen hour days except for Sunday. He only works eight hours on Sunday.
"I'm a slacker on Sunday," he says.
Russ started working out at a young age. Loved it. Went to school for health and physical education, then tried student teaching.
"I didn't really like it. They knew I wasn't the 'real teacher,'" he says.
So, he got into personal training. First at Bally's on McKnight, where he stayed for 18 years, nudging clients along, pushing them out of their comfort zones.
"Hey," he'd say, "You can do this."
He landed at Fitness 19 after Bally's closed. Has a desk right next to a huge backdrop that has The SELFIE STOP! written across the top if people want to take a break from their cardio, whip out the iPhone and snap a pic. "Yeah, no one uses that," he says. "They were supposed to move it to the tanning area but never did. Now it's just gathering dust.
Has about 25-30 clients he works with one to two times a week. Has heard every excuse in the book. Lame ones.
I'm stuck in traffic.
I have to take the dog out.
He's seen the fads, wondered why people don't just stick to good old fashioned free weights and proteins, fruits, and veggies instead of Big Macs and hot fudge sundaes and super-sized whatevers.
"There's nothing more important than your health," he says. "You have to take care of yourself. You don't have to be a gym rat, but two to three times a week is good."
He likes helping people reach their fitness goals by doing things they enjoy. "It's not a dictatorship," he says. "It's not boot camp. We're not in the army here." He'll challenge his clients, but won't push them until they're gasping for air, about to pass out. "That's kinda counter productive," he says.
And the hours? The seven days a week. No days off. Because yeah, maybe there's a chance he could get a job in some office somewhere. Do the commute. Clock in from 9 to 5, Monday through Friday, two days off with PTO and health benefits and maybe a 401(k). "I'm 51," he says. "How do I recreate myself at 51? You do what you gotta."