Queens of the Court
Pitt and Duquesne coaches bring the sports spotlight to women's basketball
Photos by Renee Rosensteel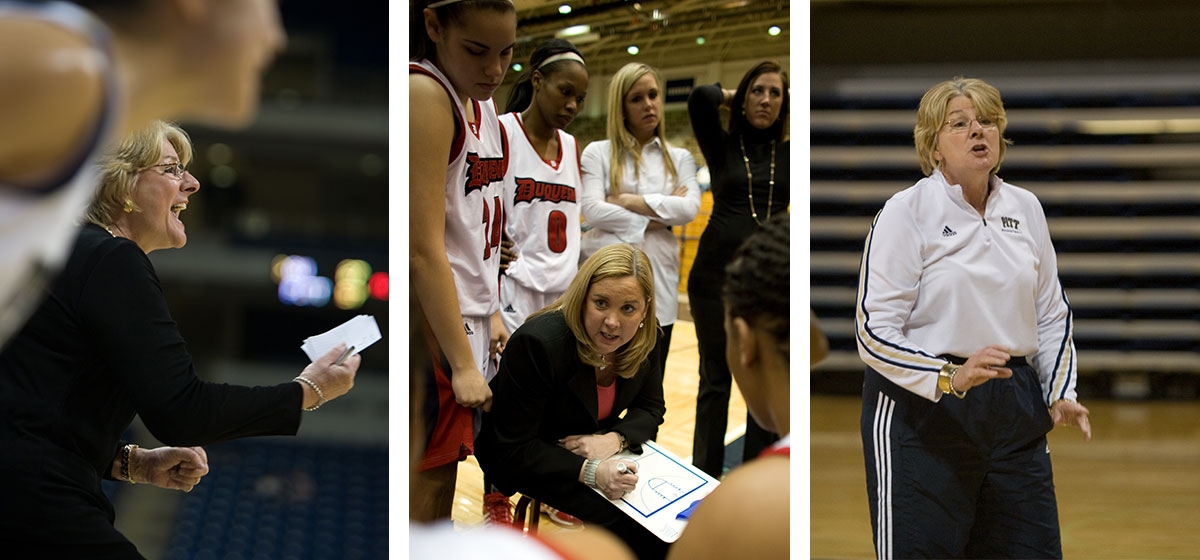 November 24, 2008
If you think it's hard to compete with the Pittsburgh Steelers on the field, imagine competing with them for a chunk of the area's sport-obsessed, male-dominated fan base. But two exceptional women, Agnus Berenato of the University of Pittsburgh and Suzie McConnell-Serio of Duquesne University, are prying some eyes away. Between them, they aim to make women's basketball a big-time local sport.

From the athletic offices overlooking the court at the Petersen Events Center, it's hard not to be impressed by the progress made by Pitt's women's basketball program under sixth-year head coach Berenato. Even before her team advanced to the Sweet 16 in last year's NCAA Tournament, she had turned the entire Athletic Department into an extended family, with security guards affectionately calling her "Coach B."
On a sunny September day, she entered her office through the back, singing a full-throated version of Neil Diamond's "Sweet Caroline" with a New Jersey accent. She was nearly into the second verse before she realized she had a visitor. "You get songs in your head," she offered. "'Sweet Caroline' was a song I was singing at the [Iowa] football game." Pointing to the Christmas decoration in her doorway, she continued, "I do believe in Christmas, and I believe in celebrating every day. If you don't do that, I think you're whacked. But then, people think I'm whacked, so it's all relative."
When Berenato arrived four years ago, she was a virtual unknown in these parts. As a player at Mount Saint Mary's College in Maryland, she planned a career as a campus minister. But her college coach, former NBA player and ESPN analyst Fred Carter, pushed her into coaching. Laughingly, she says he bullied her into it, and that she still calls him after a bad day. Following a one-year stint coaching Division III in New Jersey, she took over the program at Division I Rider College, and then went on to Georgia Tech. When she came to Pitt, Berenato had 300 victories, and as Chancellor Mark Nordenberg said, "Anyone who meets Agnus for the first time cannot help but be impressed with both her knowledge and enthusiasm."
Pitt's coach is a singular blend of brash confidence and optimism. She's part John Wooden, part carnival barker and part dreamer, with personality and drive that are almost too big to fit inside the Petersen. Against the background sneaker squeaks of her scrimmaging players, she talked instead of eating the lunch in front of her. "I mean, look at where I work!," she exclaimed, waving her arms around. "I can't believe I get to come here every day. I laugh because it's amazing. It's amazing."
Given her success in turning around the program, she'll likely continue at Pitt as long as she wants. In advancing to the Sweet 16 last year, Pitt upset 2005 champs Baylor before losing to traditional powerhouse Stanford. It meant changing a team of perennial doormats into contenders who have gotten post-season tournament invitations for the last three years. And Berenato has made the change while coaching in the toughest conference in women's hoops—the Big East. (Don't suggest to Berenato that any other conference is as good. "We compete in the best conference," she said. "Not in one of the two best. The best.")
Preseason rankings back her up: six of the top 25 are Big East teams. Other preseason news has one of her players, Shavonte Zellous, as a second-team pre-season All-American; a tremendous honor for both Zellous and the program.
Berenato has built the Pitt program by setting realistic goals and chipping away, basket by basket, game by game, player by player and fan by fan. She sticks to her vision and "never cuts corners," according to Shea Ralph, a former assistant coach. She never stops—never stops going, talking, recruiting or coaching. It might all be exhausting if it weren't a reflection of the seamless integration of the many aspects of her life, blending work and home, profession and family. Players are in and out of her house regularly, and she hugs Athletic Director Steve Pederson the way most people would hug a cousin at a family reunion. She's even turned 80-year-old benefactor John Petersen (of the Petersen Events Center) into such a rabid fan that he has taken to calling her cell phone at halftime to leave strategic tips on her voicemail.
"I knew that I wanted to be a part of what she's doing. She has a strategic plan and she never gives up," said Ralph, who returned this season to her alma mater, basketball powerhouse UConn, where she's now an assistant to Head Coach Geno Auriemma. Ralph misses Pittsburgh, however, and misses being part of the staff that created what she calls a "sustainable tradition of excellence." Berenato takes the loss of Ralph as a compliment. "She did a phenomenal job for us for five years. It's the first time Geno had an opening on his staff in 12 years, and how wonderful is it that he took an assistant from Pitt? He could have had anyone in the nation, so that's pretty cool."
Berenato's team is motivated to go further: to make the Final Four and, of course, win a national championship. "So this is a little thing," she said, pointing to her Sweet 16 ring, "but if anyone would have told me five years ago that we would have a Sweet 16 ring, I would have said, 'What are you smoking? No way.' Do you see what I'm saying?"
At first blush, Suzie McConnell-Serio at Duquesne University seems nothing like her counterpart a half mile down Fifth Avenue. In her warm-up suit and white Adidas sneakers, and even fighting a head cold, the petite 42-year-old former point guard still looks every bit a player on her way to practice. She is focused and frank, talking about where she wants to take the program. It's an uphill battle, and she knows it. It'll take patience, but patience is one of her virtues, said Tasha Butts, a former assistant who is now an assistant coach at UCLA. "You may not feel like you have to be patient with kids at the college level, but she always is patient."
In McConnell-Serio, Duquesne hired a genuine Pittsburgh basketball icon and injected its program with an instant shot of credibility. Her accomplishments are such that, were she a man, she might already have a bridge named after her.
As a high school senior, she led Seton LaSalle to a state championship. While playing college ball for the controversial Rene Portland at Penn State, her teams were invited to the NCAA tournament each year. She won an Olympic gold medal in 1988 and a bronze in 1992. After playing in the WNBA, she donned a coach's whistle and guided Oakland Catholic's girls to three state championships in 12 years, while compiling a record of 32–86. By 2003, she felt her next step might be coaching college, but "the WNBA called," and she spent three years coaching the Minnesota Lynx.
From on-court accomplishments to coaching accolades, McConnell-Serio is practically a brand name. "She knows she's the best advertisement," said Butts. "She is the best advantage that she has recruiting." And she isn't shy about her desire to land the best local talent. "This is where my name is known; this is where I have a reputation, so I want to make Duquesne a viable option for the top players here," she said. McConnell-Serio is proud to have landed top recruits such as Alex Gensler of Upper St. Clair and Jaclyn Babe of Mount Lebanon.
The first step for McConnell-Serio in creating excitement on the Bluff was to give her team a personality. "What will our identity be?" she said from across the table in her office. "I think it's a mind-set that you have to get players to buy into. I think when you work hard, you prepare yourself to be successful. I think that's what my mentality has been. I expect to win—I expect to be successful."
Growing up as one of eight children in a Brookline family, she played sports with her brothers, and they didn't take it easy on her. She learned toughness, and she's instilling that into her team. Her philosophy is basic: outwork the other team and run them off their feet if you have to. "The players we are bringing in… enjoy playing an up-tempo style. It's exciting to play, and it's exciting for the fans to watch. When you have a point guard as fast as Kristi Little, it's just playing to her strengths. When you can put points on the board within four seconds, why not?"
Another early goal was to take Duquesne to its conference tournament. Of the 14 teams in the Atlantic 10 Conference, a dozen are invited to the post-season tournament. Before McConnell-Serio's arrival, the Lady Dukes were one of the two teams left sitting at home. They were expected to finish 13th again last year, but their new coach had other ideas. As the season went on, the team started to reflect her confidence, toughness and mental acuity. The Lady Dukes ultimately tied for seventh place, and grew up a lot in the process. As McConnell-Serio said, "The more you get a taste of success, the harder you'll work to have more of it."
She's so confident this year that she let her players set the goals. They expect to finish no lower than fifth in the conference, and hope to secure an invitation to either the NIT or NCAA tournament.
For both coaches, there is always work to be done: recruiting players, increasing the fan base, building tradition, and—maybe most important—finding the strength to continue, even after setbacks, which are sure to occur.
Both women point to past coaches as sources of inspiration and say family is their foundation and periodic source of advice. McConnell-Serio's sister, Kathy McConnell-Miller, is head coach of the women's basketball team at the University of Colorado, where their brother Tom is an assistant. Another brother, Tim, coaches boys' basketball at Chartiers Valley High School. Berenato's sister, Bernadette McGlade, is commissioner of the Atlantic 10 Conference.
"[My mom] was my coach about how you treat people and about work ethic," Berenato said. "Nobody would out-work my mother. Nobody would have more vision than my mother. She did things when women didn't dare do certain things. She was Mrs. McGlade, and what Mrs. McGlade wanted, Mrs. McGlade got. We all took that attitude and said, 'you want something, go get it.' I think I really have a lot of that in me."
Berenato and McConnell-Serio both believe that fans will come, if they just keep plugging away. And as the fans come, what they will find at the A.J. Palumbo Center is a coach who simply loves the game. ""There is no doubt in my mind that we can create excitement," said McConnell-Serio, "I love being on the sideline and making changes, coming up with a game plan and preparing my team. I love teaching the game and working with players. I love seeing the improvements they can make as players. So that's something for me." And no matter what happens, Berenato will stick with her vision and work her plan in her unique way. "We all want that big moment," she admits. "My big moment… is to win a national championship. I don't know if I'm ever going to get that. But you know what? I'm going to have a great time trying to get there."