Pursuing Crime from Pittsburgh to Eternity and Back
Images courtesy of G.P. Putnam's Sons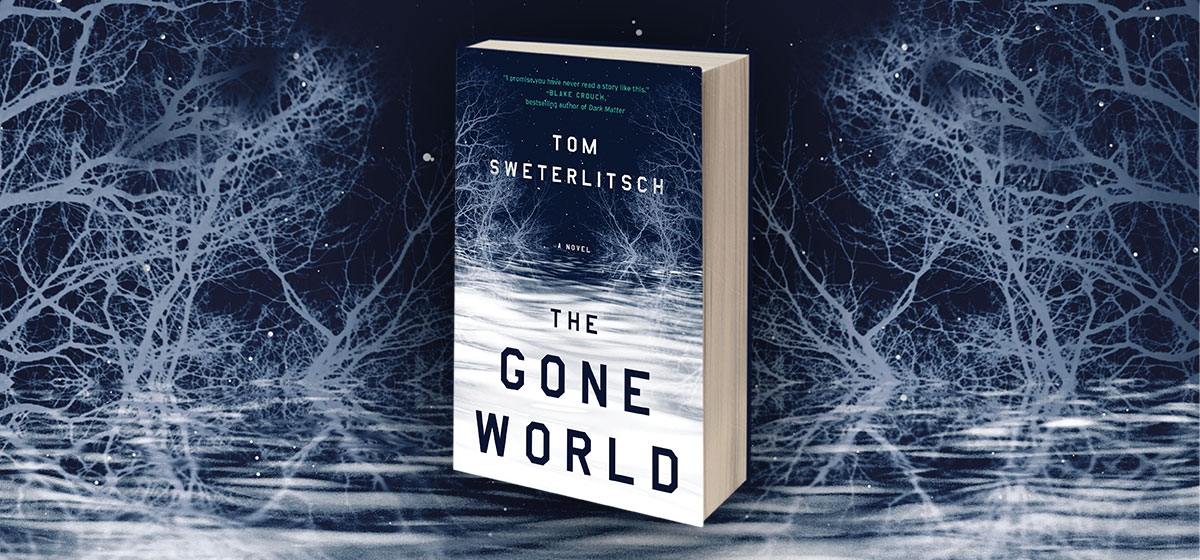 August 20, 2018
"The Gone World" by Pittsburgh novelist Thomas Sweterlitsch is about nothing less than preventing the end of world as we know it. As is often the case in real life,Western Pennsylvania is at the center of the story.

Key events take place in faraway realms. Covert U.S. military forces zip there via time travel, untold years in the future, glimpsing "the Terminus" that will wipe out existence, and work to halt it. So, sure, in that sense, it's not a local novel. But much of the action takes place around here, from Monroeville Mall gun shows to Washington, Pa., dive bars and to the woods of West Virginia. Sometimes the local spots are in alternate possible futures, yet it all binds together in the end.
The local-born heroine is NCIS super-special agent Shannon Moss. She displays the grit and work ethic we associate with our region's character, plus a healthy dose of humility. On a space mission to determine the fate of Earth, Shannon must transfer to another ship to investigate a bloody crime scene. "She worked to quell the sense of vertigo that curled through her stomach. …My God, she thought, still just a girl from Canonsburg when faced with a space walk."
"The Gone World" is a work of science fiction that can be appreciated by readers who don't gravitate toward science fiction. I write that with confidence because I am one of those readers. The last book resembling science fiction I willingly read was Sweterlitsch's "Tomorrow and Tomorrow," his 2014 debut about a future Pittsburgh leveled by a nuclear weapon, and it was sensational. If I didn't dig this effort as much, the fault may be on the consumer's side. Other reviews have been ecstatic and the stellar director Neill Blomkamp has optioned it for Hollywood.
I appreciated the intelligence and craft of "The Gone World," the police procedures of Shannon Moss and the elevating array of cultural references. Shannon watches "The Umbrellas of Cherbourg" on a space flight. A Nabokov character, Aleksandr Luzhin, pops up. A heroic space commander is named Remarque, after the author of "All Quiet on the Western Front," I presume.
But in my frumpy imagination (I don't comprehend how microwave ovens can work), the concept of time travel is simply a nonstarter. The future will happen in due time; there's no cheating with gizmos. If you're in my camp, you'll spend parts of "The Gone World" thinking, "Well, that couldn't possibly happen."
Yet Sweterlitsch the storyteller will win you over. "The Gone World" is fundamentally a highbrow thriller, driven by a badass female law-enforcement officer in the mold of Scully from "The X-Files," which Shannon likes to watch with her mother. She has empathy to spare, is prone to self-doubt, and bravely upholds her oath at every crossroads.
Following the murder of her friend Courtney during high school, Shannon becomes an introvert, and then pursues criminology at West Virginia University. On a summer job in Pittsburgh, she is recruited into the upper echelons of the Naval Criminal Investigative Service, approached by a special agent while having takeout from the Original Oyster House on Market Square.
Four pages later, she is rocketing into space, docking in a secret station on the Daedalus crater of the moon, checking out awesome ships. "Their engines were the Brandt-Lomonaco Quantum-Foam Macro-Field Generators," her officer explains, "the military technology that allowed travel to Deep Space and Deep Time." She's part of a team that travels into IFTs (inadmissible future trajectories) to help solve or prevent crimes that took, or might take, place back here on Terra Firma.
On one of those advanced missions, way in the future and rather far away, she gets swarmed by QTNs (quantum-tunnelling nanoparticles) and sucked into bitter cold, and loses part of her leg to frostbite. She gets the best prosthetics the military can offer, but the limits of her body are a constant reminder of her humanity.
Sweterlitsch deploys the mind-bending technology with matter-of-fact aplomb. I accepted the concepts of quantum foam and "thin spaces" and "echoes" of people who have traveled back from a previous future without critical resistance. The action carries you along. There is a lot of cinematic violence: epic gunplay, fisticuffs, decaying corpses in a Ryder rental truck. Just enough humor, if dark, moves the story along: The character who drinks at that dive bar in Washington works at a nearby hospice, and "whenever one of her more difficult residents finally succumbed… she celebrated with a shot of Jagermeister."
As the strands of the multiple time-zone murder mystery come together, Shannon sees that the teenage death of her friend Courtney is intertwined, and is crestfallen. Sweterlitsch lets her off the hook. "Courtney's death was random, banal viciousness inflicted by one organism upon another. There is no design. The universe isn't kind or cruel. The universe is vast and indifferent to our desires." While that won't be the motto embraced by the folks at the Pittsburgh Convention and Visitors Bureau, it's undeniable that the work of Thomas Sweterlitsch is putting Pittsburgh on the literary map.