Protecting the Parks
State parks struggle to safeguard species affected by climate change
Left and right photos courtesy of DCNR. Middle photo from Adobe Stock.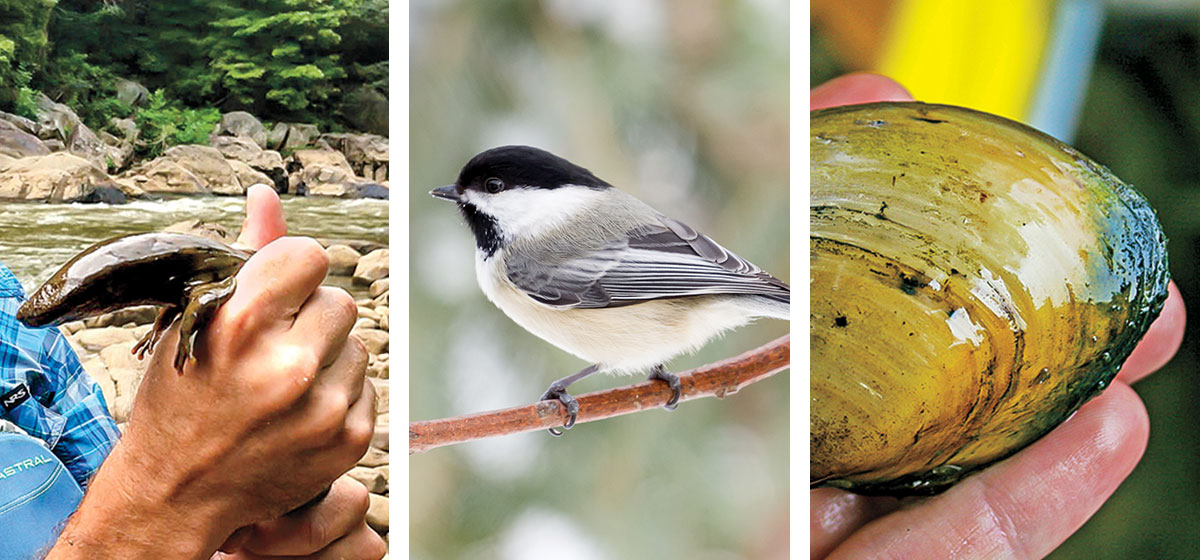 November 20, 2019
The flat-headed, mucus-covered salamander recently named Pennsylvania's state amphibian goes by many names: snot otter, lasagna lizard, devil dog, mud-devil, grampus, Allegheny alligator. Most commonly, however, they're known as the Eastern hellbender. The big, slimy amphibians are found under large, flat rocks in Pennsylvania's fast-moving rivers and streams, such as the Youghiogheny River. They rarely surface and, instead, breathe through loose folds and wrinkles around their bodies, absorbing oxygen from the water. Clean, clear, well-oxygenated streams are necessary for their survival.
"Hellbenders in the wild can live up to 30 years and for an amphibian that's a really long time," said Eric Chapman, director of aquatic science, Western Pennsylvania Conservancy. If you find a nice 27-inch hellbender in a stream, you know that the water quality conditions have been stable for quite some time."
These are risky times for the Eastern hellbender, however. It is one of the most climate-change-vulnerable species in Pennsylvania. Greater precipitation and flooding are changing the composition of stream bottoms, causing an increase in fine materials, such as silt, which can choke or bury the adult hellbenders living under rocks. Juvenile hellbenders face other dangers. They live under smaller, fist-sized rocks and when streams or rivers flood, they are tossed and churned downstream.
But the risks extend far beyond a hellbender's home under a rock in the Yough.
"Climate change is the largest threat we face to our natural and cultural resources," said John Hallas, director of the Bureau of State Parks, Pennsylvania Department of Conservation and Natural Resources (DCNR). "Climate change is a threat multiplier. We're facing many challenges in managing cultural and natural resources in state parks and climate change just exacerbates every one of them."
"Climate change is the largest threat we face to our natural and cultural resources." —John Hallas, director of the Bureau of State Parks, DCNR
The greatest risks include increased flooding in places such as Laurel Hill State Park in the Laurel Highlands. Warmer water temperatures threaten the health of cold-water species, such as the Eastern brook trout, the state fish. Invasive species are on the rise and spreading, including toxic algae blooms in lakes that can limit their recreational use and erode tourism in small towns that rely on state parks to boost their economies, according to a DCNR assessment of the vulnerabilities of state parks and forests.
The state has a plan to combat these challenges and some initiatives are underway, such as building a network of riparian buffers to cool rivers and streams.
But the challenges are far-reaching. The DCNR budget hasn't increased much over the past decade. And the agency has a maintenance backlog with a $1 billion price tag.
Species at risk
Pennsylvania is getting warmer and wetter. Precipitation patterns have changed resulting in a 70 percent increase in rain events in the state since 1958. By mid-21st century, Pittsburgh's temperatures are projected to be similar to those currently recorded in Washington, D.C., according to the Pennsylvania Department of Environmental Protection's Climate Change Impacts Assessment.
When confronted with climate change, species will adapt, move or face the risk of local extinction.
"There are some species that have a broad tolerance range, like white-tailed deer," said Greg Czarnecki, the DCNR's director of applied climate science. "They'll be fine. Some species are going to start moving to the north or to higher elevations. The black-capped chickadee, which is native to Pennsylvania, is retreating to the north while its cousin the Carolina chickadee is moving in behind it. There are state parks in Pennsylvania where you'll just see the Carolina chickadee. It's just an indicator of what's going to happen."
The Pennsylvania Natural Heritage Program inventories and maintains a list of at-risk plant and wildlife species in the state and tries to determine how each fare under various climate change scenarios. The animals most at risk are freshwater mussels. Mussels release their young as larvae and attach to the gills of certain species of fish. If the fish moved on as a result of temperature changes, the mussels aren't able to reproduce without their service.
Species forced to move have to find another suitable habitat elsewhere. And in some cases, that can be a problem. While the types of habitats vary across Pennsylvania, not every habitat type is accessible or protected. Species such as the Northern metalmark butterfly are vulnerable because they rely on habitats with alkaline soils that are less protected in Pennsylvania. "Some of the species that are looking for habitat types that haven't been protected may have nowhere to go or have some trouble getting there because the landscape has become diced up," said Charles Bier, senior director of climate science with the Western Pennsylvania Conservancy.
Recreation transformed
The warming climate also brings shifts in recreation, Hallas said. "Our warm season is extending, our amount of snow cover is diminishing, so that is shifting recreational trends on the parks—all while visitation in Pennsylvania's state parks continues to climb. How we provide our staffing—everything from emergency services, to maintenance, to front desk—is all different because of climate."
Warmer temperatures have extended the summer season, which has stressed the seasonal staff and park infrastructure, as well as the natural resources, which are used to offseason downtime.
There are fewer winter opportunities in state parks, such as snowmobiling and skiing. Some parks, such as Presque Isle State Park in Erie, no longer offer cross-country skiing due to a lack of consistent snow cover.
An increase in precipitation and heavy rain events has led to infrastructure problems in state parks ranging from landslides to roads and bridges being washed out. Ticks and mosquitoes have thrived in such conditions and as a result the prevalence of Lyme disease and West Nile virus are increasing.
The spread of invasive species is threatening native plants, putting forests at risk and impacting recreation in state parks. A number of state parks with lakes, including Presque Isle in Lake Erie, have seen an increase in harmful algae blooms as a result of warmer air temperatures and more nutrients going into the water. "These algae blooms produce a toxin that's toxic to humans in high levels, but is often present at a level that is fatal to dogs," said Czarnecki. In New Jersey, for example, an algae bloom closed Lake Hopatcong, the state's largest freshwater lake, for most of the summer.
Combating with conservation
Pennsylvania is banking on a mix of classic conservation and innovative ideas to curb the impact of climate change in state parks.
Trees, shrubs and grasslands are being planted along streams and waterways as natural buffers to help cool rising water temperatures and filter sediments and pollutants from farm fields. The state Buffer Initiative set a goal of planting 95,000 acres of riparian forest buffers by 2025.
Habitat connectivity is crucial to the survival of many species and creating those pathways requires a strategic conservation plan to identify easements or land to purchase for conservation. The DCNR is working with the Western Pennsylvania Conservancy to identify where those important areas are located and make them a conservation priority.
DCNR has come to see climate change and its possible consequences as critical topics they have a role in helping the public understand, and it has begun addressing them in the classroom and on the trails. Today, climate change is covered throughout the state park education programming. Middle school students, for example, learn how scientists study climate change, then conduct their own experiments in a winter program offered at Ohiopyle State Park.
"We're trying to get away from climate change being an independent stand-alone topic," said DCNR's Chris Kemmerer, Education & Interpretation Section chief. "You could be doing a wildflower walk and talk about how an extended growing season can impact blooming times for wildflowers. It's important for that to be part of the conversation."
Trees and other plants naturally scrub greenhouse gases, such as carbon dioxide, out of the atmosphere through photosynthesis. And Pennsylvania is looking for better ways to capitalize on that within the state's 2.2 million acres of forests. Recently, DCNR, the U.S. Climate Alliance, The Nature Conservancy and others began exploring forest management for enhancing carbon sequestration, such as waiting longer to harvest trees knowing that trees store more carbon.
"In our warming climate, our parks are not only special for the recreation they provide and the respite from the worries of our daily lives, but also for protecting parts of Pennsylvania that wouldn't be protected otherwise," said Hallas. "We don't want to see that lost."