Crown Jewels of the Commonwealth
State parks protect the wilds and fuel an industry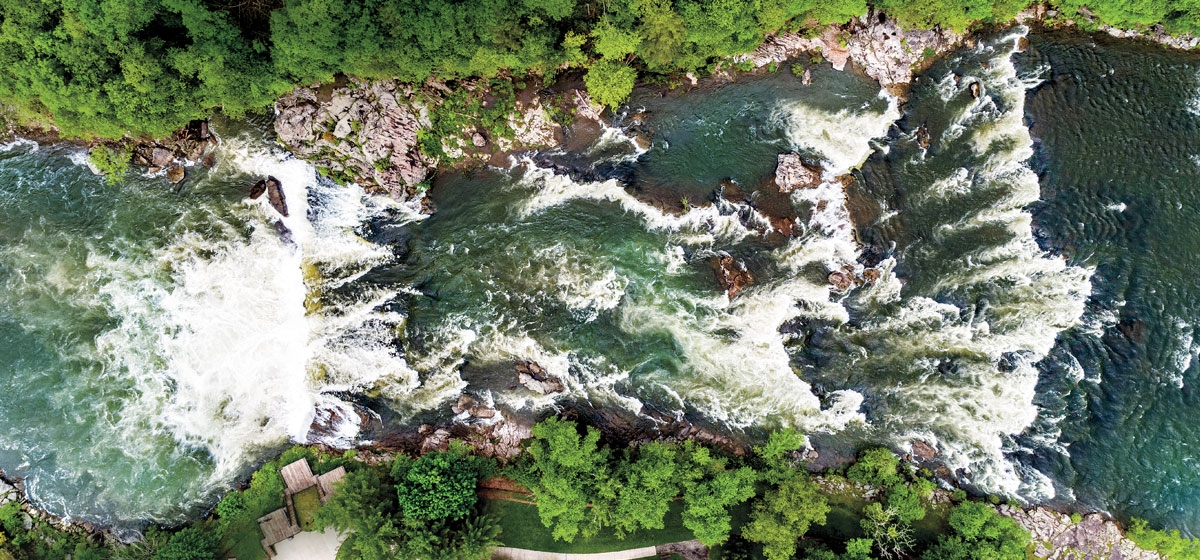 May 20, 2019
A stand of old-growth hemlocks with trunks nearly four feet in diameter towers over a trail cut along a creek shrouded in mountain laurel that ripples through Laurel Hill State Park, part of one of the largest state park systems in the nation. It rose from a Depression-era work program that employed young men desperate for income to build its camps, picnic spots, roads, trails, lake and dam. And money spent by visitors who come to camp, bike, snowmobile, swim, fish and hike on its 1,352 acres quietly fuels the economic ecosystem of surrounding communities.

---
---
"Now that the steel industry has vanished and coal is in decline, ecotourism has become the economic driver in Somerset County," said Len Lichvar, manager of the Somerset Conservation District. "And that's because of efforts put in place in the last few decades to enhance our land and water resources."
Parks are prolific in Pennsylvania and range from Presque Isle on Lake Erie, one the nation's most visited state parks, to Allegheny Islands, three tiny undeveloped islands on the Allegheny River in Harmar that can only be reached by boat. In total, the state's portfolio of 121 state parks and 2.2 million acres of state forests occupies an area twice the size of Delaware.
"The state parks are the crown jewels of the Commonwealth," said Davitt Woodwell, president of the nonprofit Pennsylvania Environmental Council. "They're used mostly for recreation, but they're also a way to conserve and preserve access to the best natural settings we have."
Liberal access to nature is a Pennsylvanian value that dates back to William Penn in the 17th century and is protected in the state constitution. And it has paid dividends, preserving the state's natural beauty, burnishing its reputation as a vacation destination and contributing revenue to nearby communities, many of which are in remote parts of the state where economic opportunity is scarce. However, a serious budget shortfall clouds the park system's future.
Economic engines
More than 40 million people each year visit Pennsylvania's state parks, a number that's been growing since the 2007–2009 recession. And it's not just Pennsylvanians camping in woods or fishing in the streams. Residents of other states comprise 20 percent of the visitors, according to the Department of Conservation and Natural Resources, which manages the state park system.
Whether they're from the Keystone State or elsewhere, visitors spend money. And state park visitors spend more than $1 billion a year, which includes indirect spending, such as dining at a nearby restaurant or shopping at a store in town, according to an economic impact study by Pennsylvania State University researchers.
"In a lot of rural communities in Pennsylvania, it's the state park nearby that allows the general store to be successful," said DCNR Secretary Cindy Adams Dunn.
Tourism is Pennsylvania's second biggest industry, and business generated by the state parks and other outdoor recreation is a key driver of that industry. Outdoor recreation accounted for $21.5 billion in consumer spending in Pennsylvania, and $1.6 billion in state and local tax revenue, according to a 2016 analysis of U.S. Bureau of Economic Analysis data by the Outdoor Industry Association.
Pennsylvania ranks fifth in the nation in recreation spending. That is more impressive when the state's visitor-friendly revenue policies are considered. Pennsylvania is one of only a handful of states where park visitors are not charged for admission. "We don't charge an entrance fee," Dunn said. "That's something that Pennsylvanians have come to expect and love. We feel strongly that they have the right to access the parks that they own."
It's a policy aligned with a philosophy about the value of the state's forests and waters that is four centuries old.
'The benefit of all people'
Preservation and access to the state's natural beauty flow through its history. William Penn, in his 1681 Charter of Rights, stipulated that one acre of trees should be preserved for every five acres of land cleared.
State park building began in 1893, when the historic site of Valley Forge near Philadelphia became Pennsylvania's first state park, a designation it kept until it was dedicated as a national historic park and became part of the National Park Service.
But it was the Great Depression that delivered the first boom in park building. The Roosevelt Administration, looking for ways to address skyrocketing unemployment, created the Civilian Conservation Corps and put unemployed men to work creating new state parks. They built dams, fought wildfires and replanted state forests that had been devastated by unrestrained logging in the early 20th century. Laurel Hill Park was one of the parks they built and today a bronze statue stands at the park entrance to remind visitors of the CCC's work.
By the close of 1934, the CCC had built 130 buildings, made 663 other facility improvements in Pennsylvania's state parks and forests, approved 28 water infrastructure projects and planted more than 60 million trees.
Setting aside space for recreation and conservation was a top priority of Maurice Goddard, who in 1955 became secretary of the Pennsylvania Department of Forests and Waters—the DCNR's predecessor—and, later, secretary of the state Department of Environmental Resources. He wanted to bring the parks to the people and set a goal of having a state park within 25 miles of every Pennsylvanian. There were 50 state parks when he took office, mainly in rural areas. He added another 45, including McConnell's Mill, Ohiopyle, Moraine and Point State Park in western Pennsylvania.
"One thing Pennsylvania has done is to make sure that the parks are accessible to people," Woodwell said. "It's a long-term vision that goes back to Goddard. Our state parks aren't just stuck off in the hinterlands somewhere where nobody can get to them."
The commitment of Penn and Goddard to conservation led to a 1971 amendment to the Pennsylvania Constitution that guarantees Pennsylvanians the right to preserve the state's natural bounty. "The people have a right to clean air, pure water, and to the preservation of the natural, scenic, historic and esthetic values of the environment," Article 1, Section 27 of the constitution states. "Pennsylvania's public natural resources are the common property of all the people, including generations yet to come. As trustee of these resources, the Commonwealth shall conserve and maintain them for the benefit of all the people."
Parks with personality
The park system that evolved in Pennsylvania is diverse in character, which helps broaden its appeal. Presque Isle State Park in Erie, for example, hosts a competitive triathlon every August that routinely sells out. It's also been named by "Birder's World" magazine as one of top birding destinations in the United States.
"People are looking for different things in parks," Woodwell said. "Sometimes, it's solitude. Sometimes, it's a place to have a big gathering or a specific recreational opportunity. When people think about Ohiopyle, they think of whitewater rafting on the [Youghiogheny River] and biking on the Great Allegheny Passage, but probably not sledding in the middle of the winter."
Pennsylvania's state parks vary in size, amenities and crowds. There is no camping at Oil Creek State Park, a couple hours drive north of Pittsburgh. But backpackers can hike its backwoods trails and sleep in the lean-to shelters along the way. It's a park rich in history, the site of Edwin Drake's oil well that inspired the first commercial oil boom in America. Cross-country skiing is popular. And a bike trail runs along Oil Creek, an encouraging story of how a stream once killed by industrial pollutants can recover.
Moraine State Park in Butler County is home to Lake Arthur, a popular summer beach destination for many in the region that offers swimming, boating and lakeside picnicking, as well as nearly 30 miles of trails for hiking and another 20 miles of trails for horseback riding.
"It's encouraging people to see what else is out there and get out of their comfort zone," Woodwell said. "In a couple of hours from Pittsburgh, you can be up in the northern tier of Pennsylvania with a different set of park opportunities, places like Sinnemahoning State Park or Black Moshannon."
The next generation
Pennsylvania's state parks have also become the most popular way to learn about the flora and fauna in the Commonwealth and foster the next generation of residents who appreciate it. Park visitor centers and naturalists introduce tens of thousands of people to the wonders of the Pennsylvania wilds every year.
And the four-year-old Pennsylvania Outdoor Corps follows the legacy of the CCC, putting young people to work for months at a time maintaining trails, planting trees and fighting fires. "It helps improve the parks and forest infrastructure in a very efficient way," Dunn said, "and exposes them to a range of careers in conservation."
DCNR is also exploring more sustainable approaches to improving park infrastructure. Energy and water conservation is a priority. At Ohiopyle, the office and visitors' center were built to LEED-certified energy efficiency standards and include an environment-friendly solution to wastewater treatment. At Moraine, a large solar array takes several park buildings off the grid, saving money and reducing the park's carbon footprint.
Challenges loom
Solar panels and LEED buildings cost money, however, and it remains to be seen whether there will be enough of that in the coming years to cover the upkeep of Pennsylvania's state parks, let alone the innovative infrastructure projects DCNR officials envision.
A recent report by the Pennsylvania Parks and Forests Foundation revealed a $1 billion funding shortfall for maintenance of state parks and forests. The consequences of the backlog could be widely felt. "Safety could be compromised," Dunn said. "We're looking at the number of high-hazard dams in poor condition. We're looking at bridges and roads that may no longer be able to support the capacity they once were able to."
Campground closures, sewage runoff in once-healthy streams popular with fishermen and the loss of tourism-related jobs near the parks are other possible consequences. "It's like the story of the goose and the golden egg," said Marci Mowry, president of the Pennsylvania Parks and Forests Foundation. "Our parks are the goose and we're starving her."