Pittsburgh's Huge Flathead Catfish Rule the Rivers
Photo courtesy of Pennsylvania Fish and Boat Commission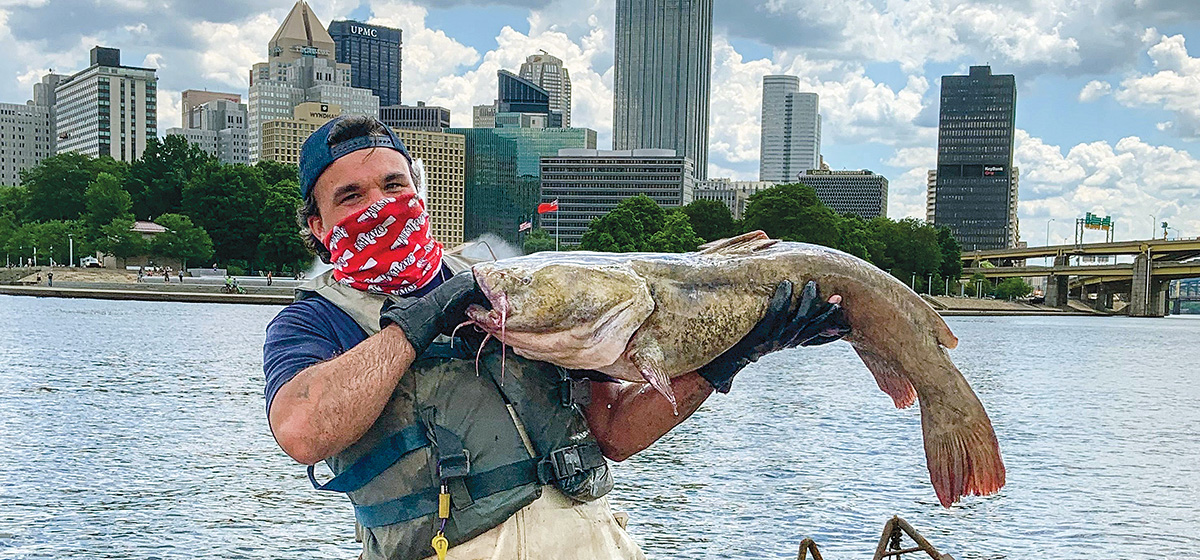 September 15, 2021
Late one August night last year, Dusty Learn, an Indiana County farmer and factory worker, caught what is, perhaps, the most spectacular catfish Pittsburgh's Three Rivers have been known to ever yield.

Although not the VW Beetle-sized beast of urban legend, Learn's flathead — nabbed on a piece of cut bluegill — might have beaten the 56-pound, 3-ounce state record set on Philadelphia's Schuylkill River just a few months earlier.
But with his live-well pump on the fritz and no tackle shop with certified scale open at midnight, Learn, 38, opted to weigh the behemoth on his boat — where it measured a whopping, if unvetted, 60.56 pounds — and return it to the Ohio River, unharmed, rather than try to keep it alive until morning.
Recounting the experience on Facebook, Learn posted that, as much as he hated to let the fish go, he did what he felt "was right," drawing kudos from conservation-minded cat anglers.
"The good of letting it live outweighed killing it just to get into the record books," he later said. "What matters is that people could see what's possible to catch right near Downtown Pittsburgh."
While Learn's mega-trophy is no doubt rare, it is emblematic of a transformed fishery, say anglers who chase big, bruising flatheads on the Allegheny, Monongahela and Ohio.
Long dissed as a riverine lowlife, this ancient native with the whiskery barbels and smooth, scale-less skin has come into its own as a coveted sportfish, gaining in size, number and popularity with the greening of local waterways.
Legacy metals still linger in the sediment but water quality has dramatically improved, spawning an increasingly robust food chain with Pylodictis olivaris (olive-colored mud fish) on top.
"They're the apex predator," says Monaca-based tournament angler Joe Granata, 38, of his obsession with monster cats, which he has released locally up to 47 pounds. "They have such impressive size and strength, and nothing pulls and fights like they do."
Joe Gordon, 40, another angler knee-deep in huge cats, likens flatheads to a train moving full steam ahead. "There's no acrobatics or head shaking when you hook one. No twists and turns, no back and forths. They're not even very fast," he says. "But they're pure power."
Gordon started the 3 Rivers Catfish Club in 2010 as an online information-sharing hub and to spark interest in tournaments, which also have taken off. Similar sites, like Northeast Catfish Addicts and Pennsylvania Catfish Hunters, have proliferated since, helping to fuel flathead fever.
"Before Facebook, you'd take a picture of your fish to show a couple of friends," says James Swearingen, 39, of Steel City Anglers. "Now you can post them online for everyone to see. That's what gets people interested."
And there is plenty to brag about these days.
"Twenty years ago, a 30-pound flathead was rare," Gordon says. "Today you're bummed if it's not over 30 pounds. The fish have progressively gotten bigger. Standards have changed."
Although catching a 20-pound flathead anywhere in the state merits an Angler Award from the Pennsylvania Fish and Boat Commission, recent surveys show they are common around Pittsburgh, and fishermen say they are easy enough to land, old-school style, on a chunk of cut bait tossed from any riverbank.
The quest for 40-pounders, though, requires a deeper level of commitment and, typically, a boat.
"I'll start scouting the riverbeds in early spring to see how they've changed over winter and to map out spots I'll put to the test once the bite turns on," says Granata. "We use electronics just like the bass guys — the fish finders with structure scans that keep getting more sophisticated."
Quality bait — not the store-bought kind — is the other key to an awesome catch, says Gordon, who fishes with gizzard shad he nets himself, or with suckers, mooneyes or creek chubs he catches hook and line from undisclosed waters. "I'd rather tell people where to find flatheads than where I get my bait."
The boom in catfishing prompted the Fish and Boat Commission to launch a major study of flatheads and their smaller cousin the channel cat in the rivers around Pittsburgh.
"The results have been pretty eye-opening," says fisheries biologist Mike Depew, whose findings corroborate angler reports. "It's not uncommon to handle flatheads of 20 pounds in our nets and we even had one on a trot line last year that might have pushed 50 pounds."
Learn's catch is the largest he is aware of locally, although, he says, "I've heard of two or three others over 50 pounds caught last year and I wouldn't be surprised if there were a few more in the 50- to 60-pound range lurking in the Three Rivers, as well."
Because western Pennsylvania waters are colder and less fertile than those in the Midwest and South, local flatheads are some of the slowest-growing on record, taking about 15 years to reach just 24 inches, but they're also some of the longest-lived, commonly attaining 30 years or more, says Depew.
Prior to his study, the oldest known flathead was a 34-year-old from Lake Wheeler, Ala., but Depew caught three in one net even more senior, including a 45-year-old. "Then we beat that record with a 52-year-old!" he says.
Survival can be chalked up, in part, to how few catfish anglers — just 3 percent — harvest their catch. Although there are limited-consumption advisories for all sportfish, including walleyes, on the Allegheny, Mon and Ohio, bottom-dwelling flatheads have never had a following as table fare because of the contaminants they are likely to accumulate during long lives of eating other fish and burrowing during winters in the mud.
But their reputation as scavengers is undeserved and "even disrespectful to a species with no equal in the river," says Depew, who is himself a recreational flathead enthusiast. "They'll take fresh cut bait, but they'll crush live bait. They forage on live prey, and everything that swims is pretty much on their menu."
For flathead fanatics, catch and release is a conservation strategy.
"When you realize how long it takes to grow a quality flathead, you don't want to remove it from the gene pool," says Gordon, who uses circle hooks to avoid gut-hooking his catch.
"If I can't weigh and measure a fish quickly, I return it to the water. I wouldn't risk having it die even if I thought I had a state record."
Learn obviously agrees: "We've got to protect the resource because who knows where it will stop as far as size goes around here?"