Pittsburgh Tomorrow Podcast: Vivek Kumar, CEO and Founder of Qlicket
Choosing Pittsburgh and seeing the possibilities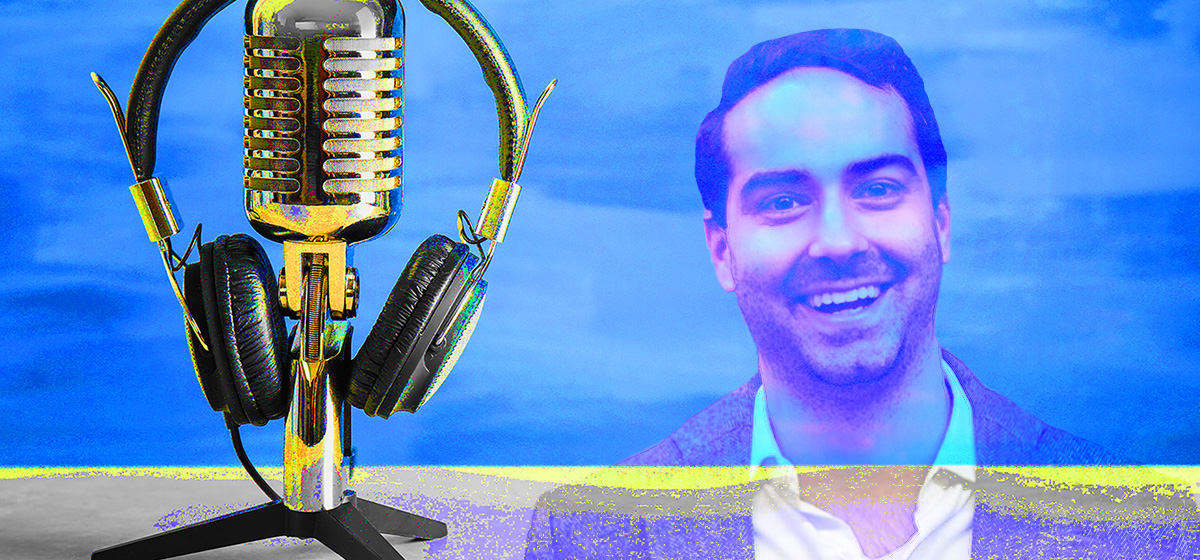 July 8, 2020
Donald Bonk interviews Vivek Kumar, CEO and founder of Qlicket, as part of the Pittsburgh Tomorrow podcast series. The transcript is abridged and edited for clarity.

View the episode archive here. Read Vivek Kumar's full bio here.
"Paul Graham… A founder of Y Combinator (national start-up accelerator), who's from Pittsburgh, actually went to Gateway High School. (He said) 'To have a proper startup ecosystem, you need Angel Investors.' I'm not even talking large scale dry powder; a couple hundred thousand dollars…Then you need successful companies to then re-invest those proceeds back into the system." —Vivek Kumar
Donald Bonk: Welcome, everyone, to Pittsburgh Tomorrow. I'm here at Hamburg Hall at Carnegie Mellon to meet Mr. Vivek Kumar. Vivek, would you give us a little bit of your background and tell us who you are and what you do?
Vivek Kumar: Thanks so much for having me here today. I am a tech entrepreneur based here in Pittsburgh. Actually boomeranged back to the city. I grew up here in Murrysville and went to Franklin Regional (High School). Went across the state for undergraduate studies at the Wharton School at the University of Pennsylvania, spent some time in New York, San Francisco and India doing private equity, management consulting and starting this tech startup called Qlicket that I now run today.
Bonk: Can you explain what Qlicket is, what they do, and how does Qlicket work?
Kumar: Qlicket is an enterprise SaaS company—software as a service—that makes it easy for large organizations to know what's affecting their frontline workforce. So we are talent retention for very high turnover workers. One in every four people in the United States, believe it or not, is in high turnover work environments where the entire labor force is replaced each year.
Think distribution centers, call centers, retail, certain fast food, health care and more. What we do is set up physical kiosks in these environments where workers can actually go up and interact by responding to a question or two about what's affecting them, both inside and outside of the workplace. We then deep dive on those problematic areas and we come up with solutions that workers vote on, that management implements, and that ultimately lead to better working environments and lower worker turnover.
Bonk: That's great to hear about a creative, interesting company that's working on the frontline. It's technology, but it's also human potential and human development. Well, that gives a context for the discussion we're going to have about Pittsburgh and its future.
If you can, imagine Pittsburgh in its ideal form. What would make Pittsburgh the best city in the world?
Kumar: This is actually great conversation because, I recently got engaged, am getting married, and we have couple offices for Qlicket. We have an office in New Delhi, India. We have our main headquarters here in Pittsburgh. And we have an office in San Francisco. And so I split time between San Francisco and here. And one of the questions for my fiancé and me to answer was where we want to live when she comes to the U.S.
She's currently abroad. We were heavily considering San Francisco at first and then more recently have been leaning and will probably be based here in Pittsburgh. Part of the reason we are making that decision has to do with the fact that when we think about a good place to live, for all of the good qualities for technology startups in San Francisco, it's probably not a great place most people would describe to live. The homelessness issues, the cost of living, the decrease in diversity… it's not the kind of environment that was more conducive to young couples first moving, whereas Pittsburgh, on the other hand, with the increase in restaurants, the FNB scene…
Bonk: The FNB. Can you explain that?
Kumar: Food and beverage scene, new restaurants. The cost of living, obviously it helps to have parents here in the area and it's nice to be from here originally, but I think we're pleasantly surprised and others are as well about the draw that's brought us back and not seeing Pittsburgh as, "Oh, I couldn't make it on the coasts." I mean, I lived in New York. I lived in San Francisco.
Our decision is to be based here to start. We're pretty excited about it. The opportunities today, when you think about when we were growing up and you grew up earlier than I did possibly, that I remember the Waterfront was the place to be when I was in high school. And now you've got Lawrenceville, you've got Garfield, you have what's going on in East Liberty, what's going on in the Strip District. It's exciting. People want to actually be here. And I think if the opportunities continue to grow here with high tech jobs…
Bonk: Artificial intelligence, robotics, machine learning, drones, and software, in your case.
Kumar: Yes. Software gets a little less love in Pittsburgh; we're known more for the hardware, the robotics, the A.I., the deeper tech, you could say.
Bonk: But it's an ecosystem of technologies and some of the crossover skills in business development and sales and marketing. Obviously, tech companies may share that pool of talent.
Kumar: Absolutely. We're less than two miles from Carnegie Mellon and Pitt. We are in East Liberty's Bakery Square: the same building as Google, the same coworking space where Facebook (Pittsburgh) started out of. And when you think about that, you know the differential in terms of talent, we are able to get top level talent here that, as an early stage start-up, we would have to compete a lot more heavily within the Bay Area and pay a lot more than we'd have to pay here.
Bonk: So what were you really saying, what's interesting is this arbitrage thing of locations in the sense that you're Pittsburgh centric, but you also have ties to the rest of the world and feel easily able to fly and get there and work back and forth, literally between New Delhi, between San Francisco, between Pittsburgh.
Kumar: Yes. We have a live arbitrage with an engineering team in India and kind of a go to market sales product development team here in the states. When we think about that talent arbitrage, the ability to have this kind of talent right here with Carnegie Mellon and Pitt. There are other cities, you know—we also participated in an accelerator program in Minneapolis, also a great city, with numerous fortune 500s.
But we love the universities, the young talent, the fact that we can be a magnet for some of that talent here, that we would struggle to probably recruit and retain in some of these other environments, makes a ton of sense for us to be here. And we hope to continue to do more of that.
Bonk: How many employees do you have, total company-wide?
Kumar: We have about 15 total. About 10 are international and five here with four full-time in the U.S., one or two part-time contractors. We're very lean. Although mostly the executive team is here in the U.S.
Bonk: So let me talk more about Pittsburgh and this moonshot idea. You're the king of the world and you're in charge of the moonshot for Pittsburgh. You've got one big idea for Pittsburgh. What is it?
Kumar: Well, a couple of things come to mind. First, I think the challenge with Pittsburgh today is getting people to come here who don't have roots, who don't have ties. The greatest thing we're doing right now is getting the boomerangs to come back here.
Bonk: Before, they had to leave. They had no choice because of jobs. Now, there are jobs here. And even though they might be in D.C. or New York at some point in their career trajectory, they might decide that Pittsburgh is the right fit for their skills and their abilities and quality of life.
Kumar: It's no longer just, "Hey my parents are here. Hey, I know it didn't work out from the coast. I want to come here." And I think that's really, really great. And if we can get people who don't have ties to come here, and then to stay and continue, found a company and re-invest in the ecosystem, and not be like some of the traditional investment folks we have in Pittsburgh. No offense to anyone or any group. But the sad realities from the tech Ecosystem perspective is there's less dry powder in Pittsburgh today than there was a few years ago. There might be more startups, but there's less investment capital.
Bonk: Money has been an issue over and over again. All the discussions that the talent is so enormous here that if we could find a regular source of funding—consistent—we could really go through the roof, as it were.
Kumar: I think to build an ecosystem, and Paul Graham has talked about this—a founder of Y Combinator who's from Pittsburgh and actually went to Gateway High School. To have a proper startup ecosystem, you need Angel Investors. I'm not even talking large scale dry powder; a couple hundred thousand dollars. People beyond the Alpha Labs, Alpha Lab Gears, Innovation Works of the world, who can help really fund the ecosystem here. Then you need successful companies to then re-invest those proceeds back into the system.
Bonk: So it's a virtuous cycle, if you will. Yes, success leads to success, wisdom and an understanding of the ecosystem then can grow more entrepreneurs and the next generation pipeline.
Kumar: I think that's an issue that's really, really important and relevant to me, like wanting to have more going on in the startup ecosystem. In fact, one of the things that I think would be interesting—say Qlicket does well—would be to maintain a presence here and take high growth companies and get them connected to people on the coasts, if they meet the criteria of higher growth.
What happens here is there's not always an emphasis on growth rates, particularly in software companies. There is emphasis on other criteria. Yes, that might be interesting and meaningful, but they aren't at the scale necessary to attract the large capital that's needed. And that's something that I think is personally interesting to me.
Although, in terms of a moonshot—to answer your question specifically—I think Pittsburgh in some ways is distinguishing itself from other cities and saying we want to be known as the top robotics hub in the world. We want to be known as the place for autonomous vehicles.
Bonk: So the renaissance is here because of the computer industry. One of the first artificial intelligence machines was here at Carnegie Mellon. The reality is, it had a foundational interest in it, partly because of the technology industry here. You actually couldn't do the number crunching, even with the best mathematicians; You needed a machine basically to automate the math for material science.
Out of there grew Herb Simon and other foundational figures. He's a foundational figure in artificial intelligence, started that revolution, but it was more academic. And now the big difference is the connection to the commercial world and also the defense world and also the world of national defense. So with that, those intersections of original research done in manufacturing, then translated into commercialization at a later time, and then layered on with this new defense interest.
Kumar: That makes a ton of sense. Obviously the world I live in is something I constantly think about in that perspective. But look at our office. That whole Bakery Square development is now anchored around Google, continuing to expand.
Bonk: Which brings us to Andrew Moore. The former dean of the school of computer science at Carnegie Mellon was Andrew Moore. They (Google) asked him if he wanted to go to California. He said no, he liked it here. They offered him lots of incentives to do that. He ended up saying, "No, I'd rather be in Pittsburgh." And that's why we have Google in Pittsburgh.
Kumar: In terms of moonshots, increased public transit options would help. I would increase that. Part of the reason that precludes me from taking the bus home is that there's a cutoff time. I miss that express bus. I have to figure out another option to get home and pay $24 for an Uber. And I'd love to have Uber pool here, by the way, too. I don't know about the ROIs on all those. Pittsburgh has a lot for the size of city; it is the population.
Bonk: OK. Those are those are two really profound ideas. One is more capital in the ecosystem, and the other is getting people to where they need to be and able to have both an urban and suburban existence with public transit.
Lastly, I want to wrap up here with just anything in the next 10 to 20 years thinking of three practical ideas outside of the ones we've talked touched on or talked about, that you think would make for a better Pittsburgh, and a better future for Pittsburgh.
Kumar: It's a good city. I mean, cost of living is great. There's a lot to do. I know there's been some talk about the air here, although I always check this on my watch. It seems OK.
A better Pittsburgh? I think getting more young people excited to come here constantly. Just energy, excitement, confidence. Just to get on in the same discussion as cities like, I want to go to Austin. I want to go to Denver. I want to go to Portland.
Bonk: We know Seattle in the '90s became that kind of hot city that everybody wants to come to. And Amazon came later. Boeing was always there. And then you added Microsoft and Amazon it went through the roof. People made the Pacific Northwest and Seattle a place to be. It became a cultural hub as well.
Seattle became that hub. So, yes, I think Pittsburgh, with people like you, Vivek and others, maybe it's our time before we know it. The 2020s could be our decade. I guess that time will tell. But with people like you and the people that I've been talking to for this Pittsburgh Tomorrow series, I think we are here at the forefront of the revolution that's coming to Pittsburgh in terms of the rest of the world knocking at our door.
Kumar: I think we care a lot about inclusion for everybody in Pittsburgh, which I don't see in every other city. I see a lot more inequality. And to be a 100 percent sustainable city, with this whole focus on climate change.
Bonk: We could have the greenest city in the world. Well, Vivek, I really appreciate your spending time with me today. You've shared a lot of creative, powerful ideas. I love your enthusiasm, your energy, your confidence and your belief in Pittsburgh. It's really a pleasure to host you today.