Pittsburgh Today & Tomorrow 2014 Regional Annual Report
The facts and the future of our region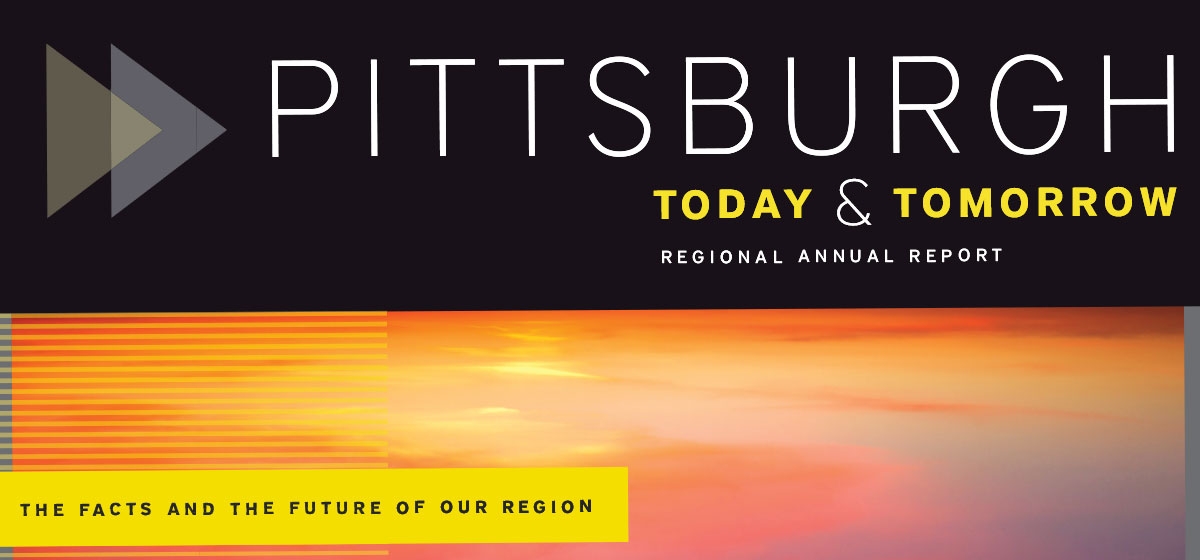 February 21, 2014
How does Pittsburgh compare with these 14 similar cities?: Denver // Kansas City // Milwaukee // St. Louis // Minneapolis // St. Paul // Indianapolis // Detroit // Cincinnati // Cleveland // Charlotte // Richmond // Washington, D.C. // Philadelphia // Boston
The 2014 Pittsburgh Today & Tomorrow report, produced by Pittsburgh Today, analyzes recent data to assess the Pittsburgh region's standing compared with 14 U.S. cities in 10 categories. Also included are numerous in-depth reports focusing on the most important issues facing Greater Pittsburgh.
Pittsburgh Today asked 20 local leaders across a variety of disciplines and industries to weigh in on Pittsburgh's future by briefly answering this question: What obstacles do we need to overcome and/or opportunities do we need seize in order to ensure a strong future for the region? Through the pages of this report, you'll find their insights.
Please download the PDF to read the full report.
Pittsburgh Today and the benchmark regions: In order to zero in on opportunities for progress, the journalists and researchers of Pittsburgh Today compare our region with the 14 metro areas listed above. We chose the competitor regions because of a variety of sometimes overlapping similarities: geography, demographics and industrial mix. We compare these 15 regions in 440 regional indicators, which can be viewed at pittsburghtoday.org. In most of these indicators, we define the Pittsburgh region as the Pittsburgh Metropolitan Statistical Area (MSA), which includes Allegheny, Armstrong, Beaver, Butler, Fayette, Washington and Westmoreland counties. But in many of our reports, we take a broader view of the region, including counties surrounding the MSA in Ohio, Pennsylvania and West Virginia.
Pittsburgh Today is part of the University of Pittsburgh's University Center for Social & Urban Research. Pittsburgh Today believes that the best decisions about Greater Pittsburgh's future can only be made when we first understand the region's current strengths and weaknesses. We augment this statistical portrait with explanatory journalism—including this Pittsburgh Today & Tomorrow report—which gets behind the numbers to help further an in-depth understanding of key topics for Pittsburgh's future.