PICT Classic Theatre Triumphs with Fresh, Exhilarating Treatment of Oedipus Rex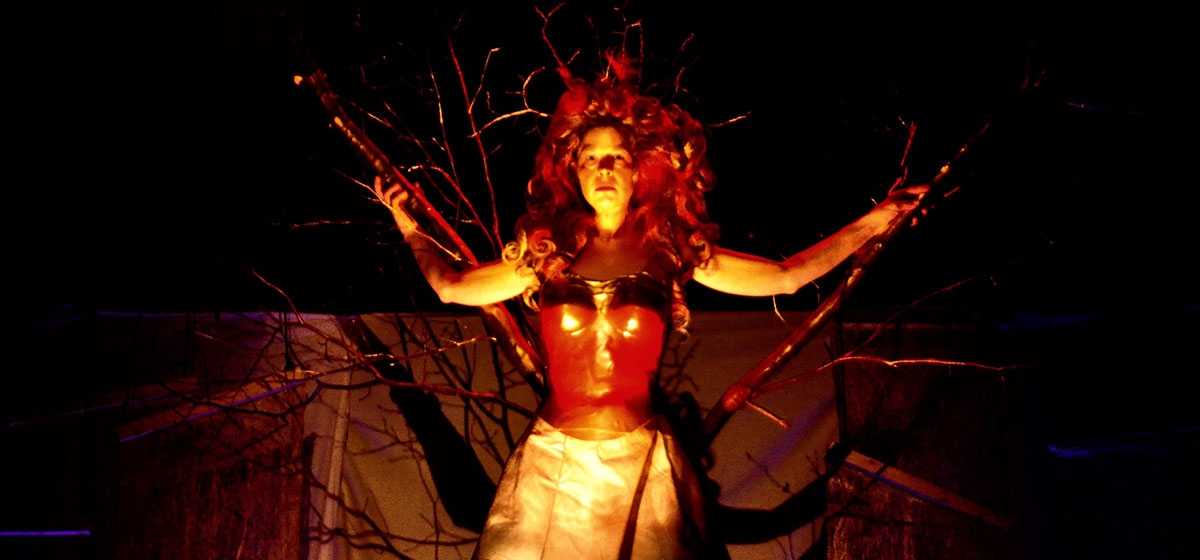 April 3, 2017
Although thirteen ancient Greek poets wrote Oedipus tragedies, only Sophocles' play, "Oedipus Rex," has survived. The Roman philosopher Seneca wrote a version, as did Julius Caesar. So did the 17th century poet John Dryden, as well as the 18th century philosopher Voltaire.

It has been a foundational story of Western consciousness since Homer referenced it in the "Iliad," and has captivated many of the greatest critical minds in history, from Aristotle to Nietzsche to Freud. Oedipus is one of those rare characters—like Shakespeare's Hamlet—who elicits such a universal and timeless appeal, ironically, because of his uniqueness. His is a story of incest, patricide, and the struggle for royal power that would seem to have no relationship to any human, but is absolutely intrinsic to an understanding of humankind.
And now we have a new adaptation of "Oedipus Rex" by Alan Stanford, performed by PICT Classic Theatre (running through April 8). It is as faithful to those things that made Sophocles' work so moving as it is fresh in the mechanisms of its language and staging. For example, the City of Thebes is set in North Africa, instead of Greece, which changes the dynamic of context and, according to Stanford, "enabled me to work with a group of remarkable actors who have brought considerable influence to the development of this text."
Stanford, who also directs, offers what the theatre of every age demands—reinvention through the sublime, not the sentimental. This is certainly what Sophocles would have wanted. As the eminent classical scholar Werner Jaeger wrote, "Sophocles thinks of drama as the instrument through which men reach a sublime knowledge."
Nietzsche, in his seminal book, "The Birth of Tragedy," describes how "the language of Sophoclean heroes surprises us with its Apolline precision and lucidity," and I would apply those same adjectives to Stanford's adaptation, even though, as he states in the program notes, he "tried to create a more vernacular text." What he actually creates—by shortening speeches and distributing lines to individual members of the nine-person chorus—is a minimalist style that appeals to our modern sensibilities, as if Raymond Carver had a hand in the shaping.
This extends to the physical realm, as his chorus is arranged in a circular, versus the more traditional linear arrangement, and its members are freed to move both individually, and in unison: undulating with serpentine—almost jazz-like—rhythms. At times it seems that the production is trying to set the poetry free by infusing it with movement, lines dancing from one part of the profile stage arrangement to another, echoing Nietzsche's belief that the nature of Sophocles' language "is revealed in dance."
This approach also has the effect of humanizing these roles; for example, after the Leader of the Chorus (Linda Haston) says, "We need you now. We need our King," we feel a sympathetic response, instead of the hollowness that would have resulted from an ensemble proclamation. And furthermore, such choral individuation elevates the numerous moments of lyrical intensity in the dialogue, as when another member (Alexis Cash) utters "Rags of clothing are become the leaves of trees." (Note the resonance with Isaiah 64:6).
There are four principal characters in this play. Each has evolved into a literary archetype, and it takes the strength of each actor playing them to hold up the tent of this drama, like four solid poles.
Justin Wade Wilson plays Oedipus, a part, like Hamlet, demanding tremendous resources, and Wilson is exemplary in evolving this character from the naïve but virtuous king, to the wise but doomed exile that he ultimately becomes. The arc of this process is long and arduous, and could literally suck the life out of a lesser actor.
Shammen McCune is stunning as Jocasta, Oedipus' wife. She is also—it is revealed—Oedipus' mother. McCune carries these two currents inside her with such passionate restraint that we feel we are watching someone give birth to a new kind of consciousness during the course of the play.
As Creon—Jocasta's brother and former ruler of Thebes—Johnny Lee Davenport delivers a sense of gravity essential to this character, like he alone is holding Oedipus and the city of Thebes to the earth, with his faultless sense of piety to the Gods, and a virtue so weighty that not even the threat of exile or death can lift it from him.
James FitzGerald portrays the blind seer Teiresias, whose white robes, white face, and accent suggest Peter O'Toole as if he had been cast in Fellini's "Satyricon." FitzGerald's words tremble out of him in his one remarkable scene, arresting the audience in such a way that to hear him almost requires one to breathe with him. "My gifts are curses," he tells Oedipus. "You do not know yourself and there is your curse."
Johnmichael Bohach's stark set is infused with a Saharan, orange-adobe glow that feels gloomy even in daylight scenes. Antonio Colaruotolo's lighting seems to emanate from the ground like heat rising off of sand, while Almeda Beynon's sound designs are ethereal, as if they have come from a vast distance. Working together, these sensory elements allow the language to unfold in the space between the actors, like smoke sculpting itself in a room where the air is still.
Michael Montgomery's costumes are likewise restrained: his white linen garments would be stylish in any pre-Christian desert city. The one exception is the terrifying Sphinx (Karen Baum), who is dressed like Judy Jetson if she were maid of honor at the Bride of Frankenstein's wedding.
There are myriad interpretations of "Oedipus Rex," but PICT never says, "Pick one." Is it a drama of fate, or hubris, or perhaps, might it be the Ur-Whodunit detective story? As we watch, Oedipus answers the riddle of the Sphinx, becomes king, murders his father, marries his mother, and loses everything. Ironically, Freud argues that "His fate moves us only because it might have been our own, because the oracle laid upon us before our birth the very curse which rested on him."
It is Sophocles' gift to find the everyman in the story of an extraordinary man. PICT has found a way to retell this ancient myth in a language that sounds very much like our own.