Of Irish Roads and Distant Kin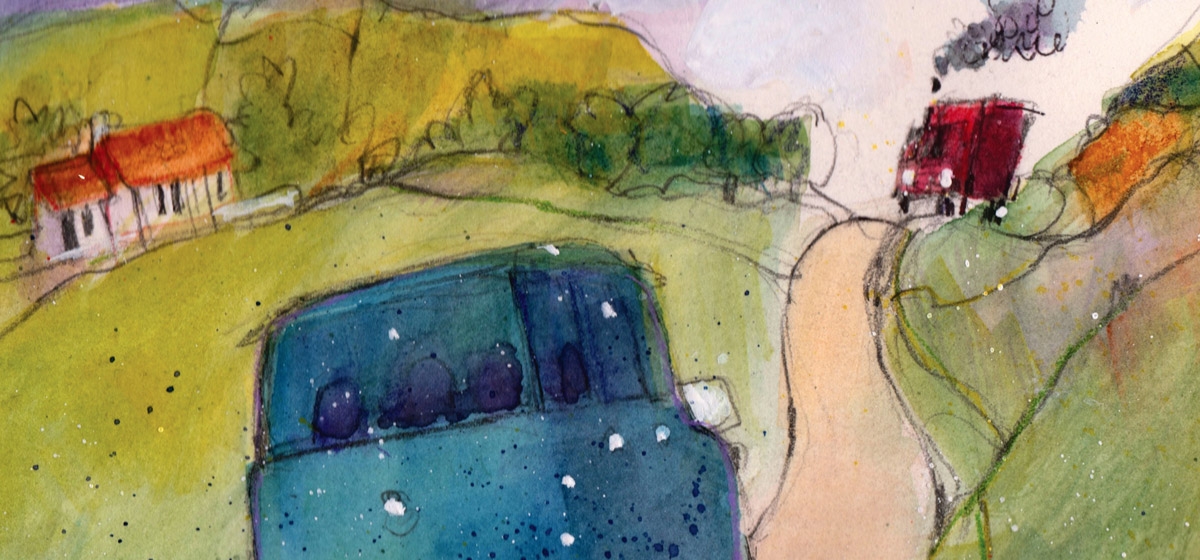 August 20, 2015
So I'm hauling eight of us—my wife Kay, her brother and his wife, her sister and her husband, and their two Irish cousins Ann and Peggy—down this dinky road in the farmland outside Galway, Ireland, in a blue beast the rental agency calls a "mini-bus." Peggy is riding shotgun ("Careful of this turn now!") and flicking the turn-indicator for me.
We turn onto a lane ("Mind the ditch!"), and as the cows across the way check us out, we stop in front of the cottage.
Its stone walls are barely standing, windows and doors and thatched roof long gone, and has been invaded by saplings and blackberries. The family pushed in the roof to prevent looting, but thieves still made off with the stone fireplace and its nooks and iron hooks for cooking pots.
Ann and Peggy and their two brothers grew up here.
It was once postcard picturesque, if you like no electricity or running water or indoor plumbing. The family used its fireplace for cooking and heat. The girls lived here as high school kids in the 1970s. Their parents kept cows for milk and chickens for eggs.
When Ann brought home a date one night, her Dad called from one of the cottage's two bedrooms, "Make me a cup of tea."
During Ireland's 1995­–2000 "Celtic Tiger" economic boom, show-off houses sprang up like shamrocks. Then the bubble burst. Down the road, one stands empty, abandoned by a family who, says Peggy, headed for Canada.
Some 150 years ago, during what many Irish still regard as the bad old days when English landlords ruled the country and the countryside, four Connolly sisters left the cottage for another sleepy hamlet, Lonaconing, in the hills of western Maryland. One of them, Catherine, married a lad from their village in Ireland who had crossed the Atlantic earlier and was waiting for her when she got off the boat.
Catherine was my wife Kay's great-grandmother.
Many of Catherine's offspring stayed in Maryland; some later moved to Pittsburgh. Neither Catherine nor her sisters returned to Ireland, so Kay's mother took to writing letters for them to mail home. Sometimes she heard them keening on their front porch.
In 2011, Ann and Peggy visited Lonaconing and their American kin. We were out of town, but Ann emailed us: "We'll see ye in Galway." Two years later, on a Sunday morning in October, they arrived at our rental apartment near Galway—and immediately made themselves tea. This would be standard operating procedure: Visit kin, have a cuppa, hit a castle, have a cuppa, hit a pub, have another cuppa.
We traveled from the cottage to the Cliffs of Moher and over roads most visitors will never navigate. Sometimes I drove ("Mind the roundabout!"); sometimes Ann and Peggy did. As we sped along backwater byways, we understood most of what they were telling us, but got lost when they spoke rapid-fire with family and friends and (as we all do) talked over each other and slipped into shorthand.
Take Monaghan's visit. He turned up to check the apartment's fire extinguisher. I asked about a thatched-roof pub out among the stone walls of Connemara. He studied a photograph I'd taken in 1985 and says, "I know exactly where it is." He's on the clock but has a cuppa. (So do the cousins.) As he draws a map he warns, "Watch for the garda. One bugger was sittin' other side of Spiddal."
Peggy: "Did he do ye?" Says Monaghan: "Not this time."
And wouldn't ye know it? They grew up near each other and recalled the same folks, including two girls who wore miniskirts. Says Monaghan, "I was havin' some bad thoughts."
So Peggy and I later stand on the apartment's balcony, the wind pushing raggedy clouds over Galway Bay, she having a smoke and a cuppa. "Why do you think," she asks, "so many Americans come over here?"
She knows the answer. So do we all.