NFL Week Three: No Fantasy for the AFC North
Karl Roser / Pittsburgh Steelers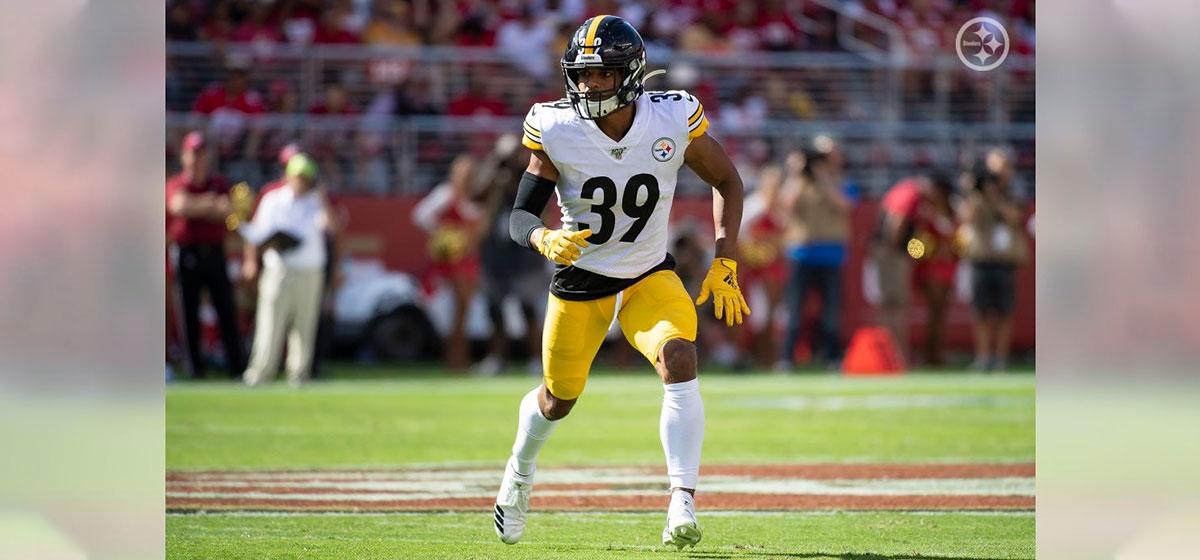 September 23, 2019
Close football games made for some exciting headlines after the week three Sunday slate. For the second week in a row, nine games were decided by one score or less, with a handful coming down to the final minute.

More important, the quarterback carnage seems to have leveled off—all starters made it through Sunday unscathed.
Unfortunately, not all teams went completely unaffected. The Falcons lost their Pro Bowl safety Keanu Neal for the season to an Achilles injury, while the Giants will have to march on without the game-changing ability of running back Saquon Barkley.
While the Steelers came away mostly healthy, the result was less than ideal.
Steelers corner
"We lost the game today," Mike Tomlin said following the 24-20 defeat in San Francisco. Aside from the pure matter-of-fact nature of the statement, there's more to be inferred—the Steelers absolutely blew this opportunity. The 49ers could not stop tripping over themselves, turning the ball over five times and accumulating over 70 yards in penalties. This game shouldn't have been close.
All the negatives are obvious and widely publicized. The debut of the Mason Rudolph show flopped, lacking both velocity and all too often accuracy. James Conner struggled once again to get going on the ground and fumbled in a critical moment. When the 49er running backs weren't fumbling, they were slicing through the D-line like a hot knife through butter. A healthy inactive on Sunday, Donte Moncrief looks to be the most ineffective offensive signing since Ladarius Green. Mike Tomlin's hot seat has been set to a Crock Pot simmer.
While that's all true, there were also plenty of good things being overlooked. For example, the rest of the AFC North took a beating over the weekend, and Chris Boswell remains perfect on the season. Let's discuss the positives from the weekend.
He wasn't flawless, but rookie WR Diontae Johnson already looks as if he possesses the tools to exceed expectations. His touchdown was a bit of a fluke as the cornerback simply guessed incorrectly, but the speed is evident. Despite the heavier playtime and the college chemistry with Rudolph, James Washington was actually targeted two fewer times than Johnson on Sunday. Through three weeks, we've already seen a handful of rookie wideouts make significant impacts for their teams (49er rookie Deebo Samuel was the top WR against Pittsburgh). Johnson has closed the gap each week on Washington in snap count—his progress is something to monitor, but the early returns have been encouraging.
The defense also made a big splash by the bay. While a couple of San Francisco's turnovers were certainly self-inflicted, QB Jimmy Garoppolo felt the pressure early and often. The stat line shows 1 sack for the defense; it very easily could have been more. LB Devin Bush continues to show a lot of promise, recovering 2 fumbles and racking up 11 tackles on the day—he now ranks 6th in the league in that category. Collectively, there's a lot to be excited about on this side of the ball. The final score isn't indicative of the overall effort—if you hold an opponent to three points at halftime, the offense should be expected to capitalize on that.
Finally, safety Minkah Fitzpatrick looks pretty good in black and gold. In his first game in a Steeler uniform, he played every defensive snap, picked off a pass and forced a fumble.
Since the trade with Miami last week, there's been a lot said and written on the price to acquire Fitzpatrick. People who waste their time focusing on the first round price are surely going to miss a good show—he's the real deal. Draft picks are often no more than a coin flip in terms of success rate—despite the thousands of hours of scouting, a seamless transition from college to pros is not guaranteed. It's only foolish at this point to act as if the front office lacks the foresight to anticipate the next draft class. After only a year in the league, Fitzpatrick has already demonstrated his caliber, and Pittsburgh cashed in a future coin flip for four years of a guy we already know is good in a position of need.
After we all scratched our heads initially, virtually every trade the last few years has worked out in our favor. Tackle Marcus Gilbert is currently on injured reserve in Arizona, Martavis Bryant remains unsigned, and Vance McDonald has become a fan favorite. There's also that Antonio Brown guy they traded in March. It's time to stop second guessing the move and start cheering our heads off for our new future Pro Bowl safety.
There will be growing pains here, especially if Rudolph doesn't take steps forward in his sophomore campaign. The front office is owed some patience, however challenging this season turns out. In the meantime, let's get back to Steeler football—establish the run game and keep forcing turnovers.
Pittsburgh will take on the Bengals on Monday night. A win gives this team the boost of confidence it so desperately needs. A loss likely results in media pandemonium. While two 0-3 teams duking it out is an unfortunate fit for prime time, you have to think the stakes have never been higher for Tomlin.
The youth movement continues
For those keeping track at home, that's eight new quarterbacks making starts through three weeks. The one in Carolina seems to be temporary, but QB Cam Newton shouldn't get too comfy. Second year undrafted free agent Kyle Allen stepped in to the tune of four touchdown passes and accomplished one thing Newton could not: a win.
Another couple of guys keeping the seat warm filled in admirably for New Orleans and Jacksonville. QB Teddy Bridgewater took a 14-point lead spotted by his defense and special teams, and kept his foot on the pedal the rest of the way. With his popularity growing by the day, rookie Gardner Minshew notched his first win in rainy Jacksonville on Thursday night.
Giant's rookie Daniel Jones, on the other hand, will likely not relinquish his starting role. The rookie stepped up and shined in his debut for the Giants on Sunday, including a game winning scamper with just over a minute left in the game. The loss of the sensational RB Saquon Barkley to a high ankle sprain will make repeat performances tough in the interim, but Jones inserted an instant spark into an offense that had simply stalled out under Eli Manning. Rookie struggles are ahead, but Giant fans have to be excited for the future.
Then there's the guy who seemingly mocked the Daniel Jones selection in August, turning in yet another lackluster performance against the Rams on Sunday night. The shine has worn off of QB Baker Mayfield and Browns fans are starting to groan. It's tough to tell what's going on in Cleveland—Mayfield is running for his life behind a porous line, and the play calling is vanilla. Twitter was set ablaze when Cleveland, down four points in the fourth quarter, ran the ball on fourth and 9. Head coach Freddie Kitchens must be feeling the pressure, but the front office has to be wondering at this juncture if this hire was an outright mistake. Mayfield endorsed Kitchens for the gig, and now is enduring the effects.
Coincidentally, Roethlisberger endorsed current offensive coordinator Randy Fichtner. Maybe we're not all that different after all.
Fantasy forecasting
Buy: opportunistic WRs and stand-in RBs
The Patriots offense is always tricky to project, but there is some value to be had without Antonio Brown as a mainstay. WR Phillip Dorsett is an interesting guy to pick up right now—he's notched 148 yards and three TDs in the two games without the aforementioned Brown. Both Julian Edelman and Josh Gordon were a little banged up in this game. Neither are expected to miss time, but Dorsett has proven to be productive even while they're healthy. Stash him and see if Brady keeps looking his way—he's a former first round pick with a ton of speed.
Saquon Barkley is going to miss some time. If you have him, you likely used a top-three pick on him in drafts—that's not easily replaced. Whether you own him or not, a starting RB no matter the name holds value in fantasy football. For the next handful of weeks, that name is Wayne Gallman. The third year back out of Clemson is nothing to write home about, but will have a couple favorable matchups in Barkley's absence. He should be owned, but not heavily relied upon.
Sell: Houston RBs
Which of RBs Carlos Hyde or Duke Johnson will step up on a week-to-week basis is going to be impossible to predict. Hyde notched a TD this week, but both look incredibly uninspiring. Houston has some intriguing matchups coming up before tough sledding against New England, Jacksonville and Baltimore. Find a selling opportunity if you can.
Hold: Browns Offense
If you're on this train, there's no getting off it now. This team is still trying to figure things out, and it's just too early to jump ship if you're a Mayfield or Odell Beckham Jr owner. The slate doesn't get much easier in the immediate future, so definitely find some backup plans particularly if Mayfield was your QB1. No matter which Browns assets you have, just keep this in mind: if they can figure it out and get back clicking, Cleveland has incredibly favorable matchups during the fantasy playoff stretch (Miami, Arizona, Cincinnati).